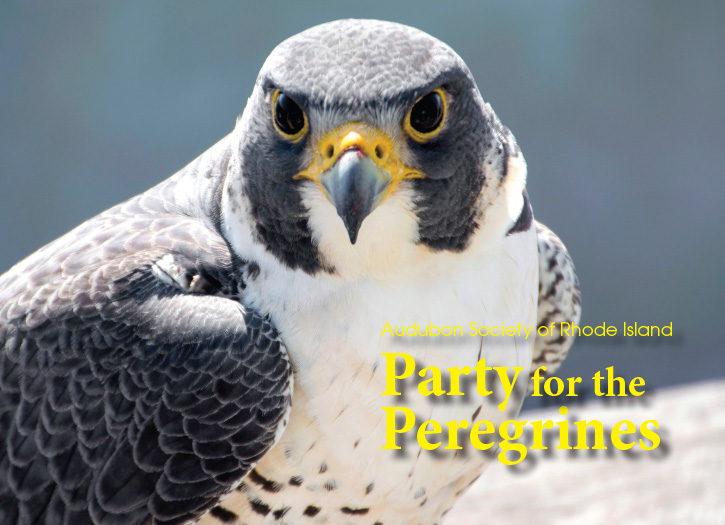 Friday, April 21, 2017
from 7:00 to 9:30 pm
Squantum Club
1 Squantum Road
East Providence, Rhode Island
Please Note: The date of the event has changed to Friday, April 21st.
The Audubon Society of Rhode Island will host Party for the Peregrines on Friday, April 21, 2017 at the Squantum Club in East Providence. This festive celebration of Rhode Island raptors will begin at 7:00 pm. An advance VIP Reception at 6:00 pm will feature a special presentation with a live eagle.
Party for the Peregrines will include live and silent auctions as well as scrumptious hors d'oeuvres and cocktails. Audubon's live raptors (owls, hawks and a kestrel) will be presented during the evening, and the Providence Peregrine Webcam will be featured. Dozens of interesting and desirable items will be on display for auction bidding. Proceeds will support the Audubon Society of Rhode Island raptor care and education programs and will help to protect thousands of acres of valuable habitat for these birds and other creatures.
The public is invited to Party for the Peregrines. Tickets ($80 per person, VIP Reception tickets $150 per person) may be purchased online.  Dress is smart casual.
Purchase your Party for the Peregrine Ticket Here
For sponsorship, donation of auction items, or more information on the event, please contact Jeff Hall at jhall@asri.org or (401) 949-5454 ext. 3017.
---
Live and Silent Auctions
Discover the great items in store for the 2017 Party for the Peregrines Auction
All proceeds will support Audubon's raptors.