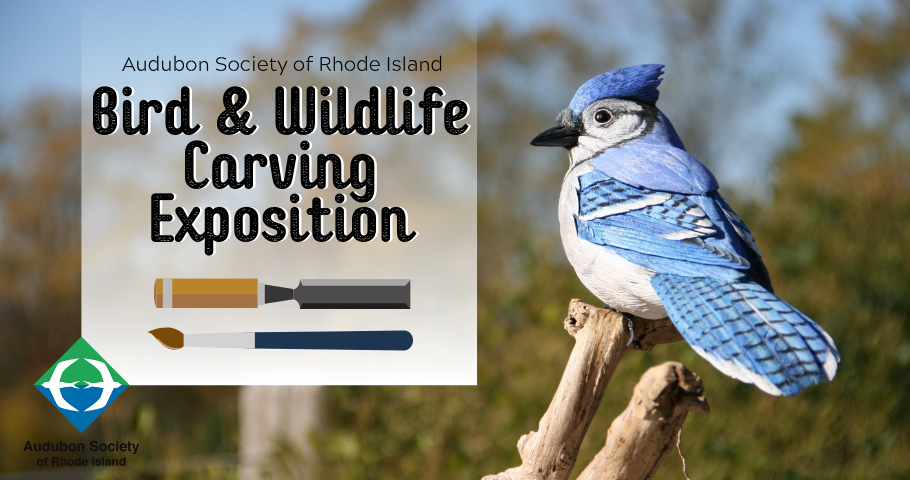 Audubon Bird and Wildlife Carving Exposition
November 2 & 3, 2019; 10:00 am - 4:00 pm
Audubon Nature Center and Aquarium
1401 Hope Street, Bristol, RI
They may have chiseled features and feathers of wood, but these amazing works of art seem ready to flap their wings and fly!
Exquisitely carved songbirds, raptors, waterfowl and other wildlife will be showcased at the Audubon Society of Rhode Island Bird and Wildlife Carving Exposition on November 2nd and 3rd, 2019 at the Audubon Nature Center and Aquarium, 1401 Hope Street (Route 114) Bristol, Rhode Island.   
Acclaimed and award-winning artists from throughout New England and the Northeast will exhibit their incredibly life-like carvings of birds and other wildlife throughout the facility. Carving demonstrations will be held. A wide selection of pieces ranging from beautiful hand-carved feather pins to larger works valued from the hundreds into the thousands of dollars will be offered for sale. Carvings by various artists will also be raffled off. For many collectors, this exposition is one of the most admired in New England.
Admission is $5/per person online or at the door.
Are you a bird and wildlife wood carver? Showcase your work at this year's event! Apply here.
---
Meet the Carvers
Randy Conner, Candor, NY
Randy has always enjoyed working with his hands and wood as well as art. About 20 years ago, he combined his interests and began woodcarving. He started using knives and gouges to carve reliefs and caricatures, but then was introduced to bird and duck carving. He was hooked. The amount of detail that can go into birds and waterfowl amazed him. Additionally, bird carving required knowledge of realistic painting. He started attending shows and competitions and has steadily progressed from novice through intermediate and now to open class. He has won quite a few awards and ribbons along the way, but still feels that he has a lot to learn. He feels that to grow, it's necessary to challenge yourself against better carvers, so that's what he has aimed to do. "I hope everyone finds my work interesting and appealing," he said.
Website: www.candorhillwoodcarvings.com | Contact: (607) 659-4352; woodnkids@frontiernet.net
Ed Desrosiers, Auburn, MA
Ed started wood carving in 1988. He was inspired by another Massachusetts wood carver. Ed's interest in hunting, fishing and taxidermy helped in his carving. He prefers Tupelo wood and uses acrylic for his carvings. No two carvings are alike.
Ed has competed and won several ribbons at the Ward World Championship Competition in Maryland, he also shows in Massachusetts, Connecticut and Maine.
Contact: (508) 832-6806; edjanet@hotmail.com
Janice Fernandez, Fairhaven, MA
Janice Fernandes' passion for oil painting blossomed into the new field of bird carving in 1996 when she began lessons with Ron Johansen. Using tupelo wood for the carving and painting the songbirds in oils, she tries to capture their true colors.
Janice has received awards in carving competitions from the New England Woodcarvers Shows.
The Bierstadt Art Society of New Bedford, MA, invited her to display her work and give informal demonstrations. Janice's work has also been exhibited at the Arthur Moniz Gallery in New Bedford, MA.
Contact: (508) 992-0649
Randy & Elaine Fisher, Dennis MA
Randy and Elaine Fisher are a husband and wife team of naturalists from Cape Cod, MA, who bring skill and discipline to their craft. Both are avid bird watchers and devote as much time as possible to the study and photography of their subjects. Currently they are Field Assistants for Mass Audubon Costal Waterbird Program monitoring Piping Plovers and Least Terns.
Fisher birds have been exhibited at the Ward Foundation Wildfowl Carving & Art Exhibition in Salisbury, MD; The Academy of Natural Sciences Wildfowl Art Expo in Philadelphia, PA; and the Bird Carvers' Exhibit at the Cape Cod Museum of Natural History in Brewster, MA; Audubon Bird
Carving Shows in MA, CT & RI; Carving professionally since 1978, their work is in private collections all over the world. Each piece is a one-of-a-kind, signed original.
They have won awards at the World Championship in MD, Professional Class; the Connecticut Wildfowl Competition; as well as at most major art shows in New England and Florida including Winter Park, Los Olas and Coconut Grove Art Festivals.
A large percentage of their business comes from commissioned work. In such cases, the customer may request specifics, such as size and setting of the carving.
Shop on Etsy: www.etsy.com/shop/FisherWoodCarvings | Contact: (508) 367-4575; randy0147@gmail.com
Al Jordan, Rochester, NY
Al has been studying and enjoying birds his entire life.  While growing up. he spent many hours with his father watching birds at local Audubon facilities and many hawk migration points including Hawk Mountain in Pennsylvania, the south shore of Lake Erie in New York, and Hawk Cliff in Ontario, Canada. 
Al briefly wandered away from birds to pursue a career in the art of cooking, graduating from the Culinary Institute of America (CIA) in 1983.  During his stint at the CIA, he managed to return to nature spending a year as a chef for a research team in Antartica.  While working in the food service industry, he began his career in bird sculpture.  Al's first creation, a Bufflehead decoy, won every competition it entered. It was then that his love for the art form exploded.  Subsequent successes enabled him to retire from the Chef world in 2006 to pursue his love of bird sculpture fulltime. 
In 2004, after spending many hours working in a raptor banding station, Al dove into the world of Falconry.  He has since attained the acclaimed status of Master Falconer and is recognized as one of the most successful falconers on the east coast.  As a result, Al is viewed as one of the country's leading experts in raptors.  That said, he maintains an interest and ability to capture all orders of birds in his lifelike sculptures.  Hawks, owls, shorebirds, and songbirds have all been subjects of his highly sought after pieces.
Al is a gifted teacher and many of his students have gone on to win awards at the local and national level.  He is willing to share all his "secrets" and techniques.  His intimate knowledge of bird anatomy make his classes lessons in both art and nature.\
He is the author of one of Stackpole's best selling workshop guides, Half-Sized Osprey.  Al regularly writes articles for Wildfowl Carving and Collecting Magazine.  His articles include:  Carving a Screech Owl, Carving a Downey Woodpecker, Painting a Downey Woodpecker, Carving a Saw-whet Owl, and Painting a Saw-whet Owl.
Al is an accomplished and highly sought after judge.  He judges at shows all over the country including the Ward World Wildfowl Carving Championships.  His critical eye, knowledge of birds and their anatomy as well as his high level of craftsmanship enable him to thoughtfully critique each piece.  Al judges at all levels ranging from Novice to Professional.
Website: www.ajordanbirds.com | Contact: (585) 227-2235, ajordanbirds@yahoo.com
Mark Knapp, North Kingstown, RI
Mark began his career in wood art by creating unusual bowls and platters on the lathe. For the past several years, Mark has been concentrating on highly detailed bird carvings in interesting habitats. He has studied with great artists such as Floyd Sholz, Al Jordan, and Josh Guge. Marks work is represented in Spring Bull Gallery, Newport and Scrimshanders in Wickford. He has won several awards at fine venues such as Wickford Art Association, Jamestown Art Association, Spring Bull Gallery and the Ward World Championships.
Website: markknapp-photos.com
Mark Madden, Wareham, MA
There is something mystical and magical about owls. Mark is a skilled graphic artist, working in the printing industry for a number of years. Mark became interested in carving after seeing a carving of a Saw-whet Owl in a shop in North Conway, NH where his parents lived.
Mark has been woodcarving since 1992. "I feel truly blessed to have a creative outlet to help share my love of nature," He lives near the ocean on Cape Cod, where he comes across driftwood on a regular basis. Mark likes to envision how the driftwood can be used in a composition with one of his carvings. What better compliment to nature than using it to put a carving on.
Mark won a number of ribbons at the recent New England Woodcarvers Show. Plus this past spring, Mark won a number of ribbons at the 46th Ward World Championship Carving Competition and Art Festival in Ocean City, MD.
Mark is available to give lessons and start a carving club in the area. Please contact Mark if you would be interested in carving your own owl.
Website: obsessedwithowls.com | Contact: (617) 633-9747; obsessedwithowls@comcast.net
Michael Marinelli
Michael Marinelli is a semi-retired husband and father that enjoys golf, spending time with his grandson Michael, and carving. He can frequently be found sitting in his shed at his work bench carving away! When he is not carving, Mike is a Home Improvement expert that enjoys bringing his creativity to life in the homes of his friends and family. Mike started his first carving in 1985 and has been carving on & off for 34 years, and has a true passion for the beauty of bringing nature to life through the art of carving.
Michael McCarthy, Mattapoisett, MA
Michael McCarthy has been carving for over 30 years, having started as a young Boy Scout. He exhibits his work in 30 to 35 shows a year, mostly along coastal Maine, New Hampshire, Connecticut and Massachusetts. He has won numerous ribbons at New England competitions. He particularly enjoys carving antique style shorebirds and wildfowl decoys.
Years ago he picked up a book on American wildfowl decoys, and that's all it took for him to fall in love with 19th-century Atlantic Flyway bird decoys. His love of the antique style involves the imaginations of the masters: Elmer Crowell, Joe Lincoln, Shang Wheeler, Harry Shrouds, Lee Dudley, Nathan Cobb, and of course, the Ward brothers.
Michael lives in Mattapoisett with his wife Jackie and their two children. When he is not carving, he can be found coaching basketball and baseball or teaching his art form.
Contact: (508) 728-2638; mattbirdworks@yahoo.com
John A. Mello, Jr., Warren, RI
John A. Mello, Jr. began carving professionally in 1980 using Basswood and oil paints. Recently, he has been carving many of his birds using Tupelo Gum, a wood grown in the Louisiana swamps, and painting them with acrylics.
Having practiced taxidermy for forty years, his experience with mounted birds provided a reference to accurately carve and precisely paint each of his works. For songbirds and other protected species, he uses study skins borrowed from museums.
John has exhibited in many of the major carving shows in the United States and won many awards in local, national and world competitions. In 1996, he won the prestigious "A. Elmer Crowell Award." His work is in many museums and private collections around the world.
Contact: (401) 245-7441
George Russas, South Dennis, MA
George Russas enjoys the bird life on Cape Cod. His love of carving began as a student of June Noll in 1990. George has received numerous local and national awards, including Best in Shows, 1st places, President's Choice Award and the George Sousy Memorial Plaque Award. George likes to capture the unusual situations that birds get into and incorporate them into his carvings. He enjoys the challenge of bringing his work to a level of fine detail and realism.
Contact: (508) 385-8765, grussas@msn.com
Paul Schonhart, Forestville, NY
Paul, a retired college administrator, started carving in 1990. His many years in the duck blinds provided him with the incentive to start carving. His carving skills needed help so he enrolled in a few adult education carving classes at a local community college. There he learned the basics and has improved over the years to a point where Decoy Shows and commissioned pieces are done yearly. Paul is also a proud Vietnam veteran. It is important to preserve and continue the conservation measures embraced by the many sportsman and outdoor organizations and Paul holds lifetime memberships in several of these organizations. It is especially important to involve young boys and girls in achieving those goals. To that end Paul works with Ducks Unlimited on Green Wing projects.
Contact: paulschonhart@gmail.com
Raymond Tameo, Attleboro, MA
Well-known wildlife artist Raymond Tameo is a perfectionist in his work. Songbirds are his favorite subject to paint and carve. He is a self-taught artist and accomplished bird carver. His carvings are noted for their accuracy and for the natural settings on which the birds are displayed. In early morning springtime, he loves to go to the marshes to paint the harbinger of spring, his favorite bird — the red-winged blackbird. A farm scene painting of a red-winged blackbird swaying on a cattail took first place in the Sharon, Massachusetts Art Festival.
Since boyhood, Ray's interests have been bird watching, painting, duck hunting and fly fishing, which he has skillfully combined into his artwork. He is a collector of antique duck decoys and has entered artwork for the Massachusetts Duck Stamp competition. Ray has taught bird carving classes for the Audubon Society of Rhode Island at the Caratunk Wildlife Refuge in Seekonk, Massachusetts. He is a member of Ducks Unlimited and has donated many paintings for the organization's fundraisers.
Contact: (774) 218-0704, dawnmari28@aol.com
Ryan "DucBoy" Torbett, East Haven, CT
I am a traditional Decoy Carver, hand-carving working contemporary decoys and semi-decorative waterfowl as well as shorebirds. I have been carving for 8 years now after learning from master carver Roe DucMan Terry in Chincoteague, VA. I use primarily hatchet, draw knife and long blade tools, priding myself in using minimal power in the production of all my work. The primary media is White Cedar and Cottonwood (Palowinia) that I harvest locally. My working decoys are functional and used every fall for hunting and photography. I produce around 100-125 pieces annually and do custom orders delivered as far as Alaska.
Website: ducboy.wixsite.com/ducboydecoys | Contact: (386) 366-1409, ducboydecoys@gmail.com
Art Wolff, Vermont
As a military brat, Art Wolff had an opportunity to experience a diverse range of wildlife and ecosystems. During that time Art found solace in his connection with wildlife and nature wherever he happened to be at the time. Enamored by the joy of sharing his discoveries with family and friends, he would often return from the woods with his discoveries and stories about "things that spoke to him" during his adventures. Animals may not be able to speak, however they all have a story that leaves us amazed, inspired and reverent.
Art earned a degree in Biology from George Mason University in Virginia at which time he also worked at the Smithsonian Museum of Natural History, in the Division of Birds. Having the ability to work in one of the largest bird collections in the world cemented Art's intrigue and appreciation of the diversity of birds. While eating lunch in the cafeteria, Art would often look for families with young children and offer to take them upstairs and behind the scenes for a tour of the collection of birds. "I'd ask the kids what bird they would like to see. When I opened the cabinets, the look on their faces made me realize what I wanted to do. Sharing the joys of nature had stayed within me from my childhood and I had to find a way to keep it alive." Whether it is a carving or sculpting wax for a bronze piece, I strive to replicate the wide-eyed, open mouth smile of amazement that people get when they see the spirit and soul of a wild animal. If their excitement leaves them with the desire to share the experience with others, then I have been successful and more importantly our natural environment has a little more chance of being protected and preserved.
Art Wolff is self-taught by his effort to carve gifts for family members and friends. He read a lot and practiced when he could. After a long career with the American Cancer Society, Art returned to the Green Mountains of Vermont to get more serious about his artwork. Now as an emerging artist, he is finally getting a chance to do what he loves best… creating artwork that awakens the appreciation of wildlife in people who have forgotten the magical discoveries of their childhood.
Website: wildlifesculpting.com | Contact: (802) 755-9043; art@wildlifesculpting.com