Audubon Bird and Wildlife Carving Exposition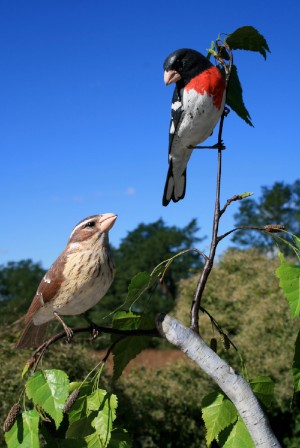 November 3 & 4, 2018; 10:00 am - 4:00 pm
Audubon Nature Center and Aquarium, 1401 Hope Street, Bristol, RI
They may have chiseled features and feathers of wood, but these amazing works of art seem ready to flap their wings and fly!
Exquisitely carved songbirds, raptors, waterfowl and other wildlife will be showcased at the Audubon Society of Rhode Island Bird and Wildlife Carving Exposition on November 3 & 4 at the Audubon Nature Center and Aquarium, 1401 Hope Street (Route 114,) Bristol, Rhode Island.   
Acclaimed and award-winning artists from throughout New England and the Northeast will exhibit their incredibly life-like carvings of birds and other wildlife throughout the facility. Carving demonstrations will be held. A wide selection of pieces ranging from beautiful hand-carved feather pins to larger works valued from the hundreds into the thousands of dollars will be offered for sale. Carvings by various artists will also be raffled off. For many collectors, this exposition is one of the most admired in New England.
Admission is $5/per person.
---
Meet the Carvers
Randy Conner, Candor, NY
Randy has always enjoyed working with his hands and wood as well as art. About 20 years ago, he combined his interests and began woodcarving. He started using knives and gouges to carve reliefs and caricatures, but then was introduced to bird and duck carving. He was hooked. The amount of detail that can go into birds and waterfowl amazed him. Additionally, bird carving required knowledge of realistic painting. He started attending shows and competitions and has steadily progressed from novice through intermediate and now to open class. He has won quite a few awards and ribbons along the way, but still feels that he has a lot to learn. He feels that to grow, it's necessary to challenge yourself against better carvers, so that's what he has aimed to do. "I hope everyone finds my work interesting and appealing," he said.
Contact: 607-659-4352, email: woodnkids@frontiernet.net
Ed Desrosiers, Auburn, MA
Ed started wood carving in 1988. He was inspired by another Massachusetts wood carver. Ed's interest in hunting, fishing and taxidermy helped in his carving. He prefers Tupelo wood and uses acrylic for his carvings. No two carvings are alike.
Ed has competed and won several ribbons at the Ward World Championship Competition in Maryland, he also shows in Massachusetts, Connecticut and Maine.
Contact: 508-832-6806, email: edjanet@hotmail.com
Janice Fernandez, Fairhaven, MA
Janice Fernandes' passion for oil painting blossomed into the new field of bird carving in 1996 when she began lessons with Ron Johansen. Using tupelo wood for the carving and painting the songbirds in oils, she tries to capture their true colors.
Janice has received awards in carving competitions from the New England Woodcarvers Shows.
The Bierstadt Art Society of New Bedford, MA, invited her to display her work and give informal demonstrations. Janice's work has also been exhibited at the Arthur Moniz Gallery in New Bedford, MA.
Contact: 508-992-0649
Randy & Elaine Fisher, Dennis MA
Randy and Elaine Fisher are a husband and wife team of naturalists from Cape Cod, MA, who bring skill and discipline to their craft. Both are avid bird watchers and devote as much time as possible to the study and photography of their subjects. Currently they are Field Assistants for Mass Audubon Costal Waterbird Program monitoring Piping Plovers and Least Terns.
Fisher birds have been exhibited at the Ward Foundation Wildfowl Carving & Art Exhibition in Salisbury, MD; The Academy of Natural Sciences Wildfowl Art Expo in Philadelphia, PA; and the Bird Carvers' Exhibit at the Cape Cod Museum of Natural History in Brewster, MA; Audubon Bird
Carving Shows in MA, CT & RI; Carving professionally since 1978, their work is in private collections all over the world. Each piece is a one-of-a-kind, signed original.
They have won awards at the World Championship in MD, Professional Class; the Connecticut Wildfowl Competition; as well as at most major art shows in New England and Florida including Winter Park, Los Olas and Coconut Grove Art Festivals.
A large percentage of their business comes from commissioned work. In such cases, the customer may request specifics, such as size and setting of the carving.
Contact: 508-367-4575, email: randy0147@gmail.com

Gary Genticore, Manchester, CT
Gary Gentilcore began bird carving in 1981 and has been in national and world competition since 1985. Gary has won best in class at many of these events. At the 2016 World Championship he won Best of Show Upland Gamebirds.
He exhibited at Anguilla Gallery, Stonington,CT, Cape Cod Museum of Natural History, and the Maritime Gallery at Mystic Seaport in Connecticut. Carvings are specialized in realistic birds and fish, using power tools and oil paints.
Gary is a graduate of Central Connecticut State University and a lifelong resident of Manchester, Connecticut.
Contact: 860-874-7111, email: gentilcoregn@cox.net

Eric Kaiser, Cotuit, MA
Eric Kaiser's fondness for waterfowl came from growing up on the water and involvement with competitive sailing. In the 1980s he was introduced to the art of carving, and from then on sculpting waterfowl would become his life's work. After more than two decades of dedication, Eric has established himself among New England's finest decorative decoy makers and wildfowl artists. His work has been featured in magazines and calendars and is found in private and public collections internationally.
On the world stage, Eric is among an exclusive group to have earned the title of 'Master,' awarded by the Ward Foundation, an honor earned only by those receiving top honors in the World Championships. He creates the satiny, inviting look that is his hallmark by using a warm pallet and many thin glazes of oil paint layered over fine detailing applied to Tupelo wood. He makes his home on Cape Cod with his wife, their son, and the birds that frequent the backyard pond and nearby bays.
Contact: 508-428-7442, email: eandrkaiser@comcast.net

Mark Madden, Wareham, MA
There is something mystical and magical about owls. Mark is a skilled graphic artist, working in the printing industry for a number of years. Mark became interested in carving after seeing a carving of a Saw-whet Owl in a shop in North Conway, NH where his parents lived.
Mark has been woodcarving since 1992. "I feel truly blessed to have a creative outlet to help share my love of nature," He lives near the ocean on Cape Cod, where he comes across driftwood on a regular basis. Mark likes to envision how the driftwood can be used in a composition with one of his carvings. What better compliment to nature than using it to put a carving on.
Mark won a number of ribbons at the recent New England Woodcarvers Show. Plus this past spring, Mark won a number of ribbons at the 46th Ward World Championship Carving Competition and Art Festival in Ocean City, MD.
Mark is available to give lessons and start a carving club in the area. Please contact Mark if you would be interested in carving your own owl.
Contact: 617-633-9747, email: obsessedwithowls@comcast.net

Michael McCarthy, Mattapoisett, MA
Michael McCarthy has been carving for over 30 years, having started as a young Boy Scout. He exhibits his work in 30 to 35 shows a year, mostly along coastal Maine, New Hampshire, Connecticut and Massachusetts. He has won numerous ribbons at New England competitions. He particularly enjoys carving antique style shorebirds and wildfowl decoys.
Years ago he picked up a book on American wildfowl decoys, and that's all it took for him to fall in love with 19th-century Atlantic Flyway bird decoys. His love of the antique style involves the imaginations of the masters: Elmer Crowell, Joe Lincoln, Shang Wheeler, Harry Shrouds, Lee Dudley, Nathan Cobb, and of course, the Ward brothers.
Michael lives in Mattapoisett with his wife Jackie and their two children. When he is not carving, he can be found coaching basketball and baseball or teaching his art form.
Contact: 508-728-2638, email: mattbirdworks@yahoo.com

John A. Mello, Jr., Warren, RI
John A. Mello, Jr. began carving professionally in 1980 using Basswood and oil paints. Recently, he has been carving many of his birds using Tupelo Gum, a wood grown in the Louisiana swamps, and painting them with acrylics.
Having practiced taxidermy for forty years, his experience with mounted birds provided a reference to accurately carve and precisely paint each of his works. For songbirds and other protected species, he uses study skins borrowed from museums.
John has exhibited in many of the major carving shows in the United States and won many awards in local, national and world competitions. In 1996, he won the prestigious "A. Elmer Crowell Award." His work is in many museums and private collections around the world.
Contact: 401-245-7441
Raymond Tameo, Attleboro, MA
Well-known wildlife artist Raymond Tameo is a perfectionist in his work. Songbirds are his favorite subject to paint and carve. He is a self-taught artist and accomplished bird carver. His carvings are noted for their accuracy and for the natural settings on which the birds are displayed. In early morning springtime, he loves to go to the marshes to paint the harbinger of spring, his favorite bird — the red-winged blackbird. A farm scene painting of a red-winged blackbird swaying on a cattail took first place in the Sharon, Massachusetts Art Festival.
Since boyhood, Ray's interests have been bird watching, painting, duck hunting and fly fishing, which he has skillfully combined into his artwork. He is a collector of antique duck decoys and has entered artwork for the Massachusetts Duck Stamp competition. Ray has taught bird carving classes for the Audubon Society of Rhode Island at the Caratunk Wildlife Refuge in Seekonk, Massachusetts. He is a member of Ducks Unlimited and has donated many paintings for the organization's fundraisers.
Contact: 774-218-0704, email: dawnmari28@aol.com