The History of the Christmas Bird Count
Well over a century ago, the beloved Christmas Bird Count that we know today looked quite different. During the holiday season, hunters around the northeast participated in a tradition once known as the Christmas Side Hunt. Belonging to different sides, hunters would take off into the forest and fields – whoever amassed the largest quarry won.
Conservation was gaining a foothold during this time and many scientists and bird enthusiasts were becoming concerned about declining bird populations. Frank M. Chapman, an ornithologist and officer of a group that would become National Audubon Society, proposed a "Christmas Bird Census" to be held on Christmas day in 1900.
The idea took off and during that first year there were 25 counts – ranging from Toronto and California to many cities around the northeast. Around 90 species were counted in total from all of these counts.
Today, counts are held around the country from mid-December to early January. After braving the season's elements, participants submit their data which is then used by many organizations to assess the health of bird populations and guide conservation efforts.
Combined with other similar surveys and with 118 years worth of data, the Christmas Bird Count has played a role in many important reports siting the health of our environment and the species within it. These include the North American Bird Conservation Initiative and U.S. Fish & Wildlife Service's 2009 State of the Birds, National Audubon Society's 2007 Common Birds in Decline report, and even the Environmental Protection Agency's 2012 Climate Change report in which the data was cited as one of 26 indicators of climate change.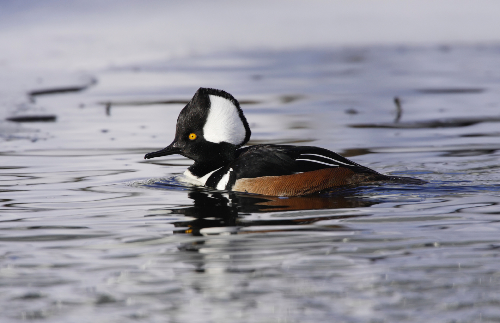 The 118th Bird Count
Although many Audubon staff members, volunteers and supporters participate in the Christmas Bird Count, Audubon Society of Rhode Island does not organize this annual citizen science event.
This year, Rhode Island counts will take place at the locations listed below. If you would like to participate in a count, please contact the individual(s) listed.
• Scituate, January 5th, 2019, Contact Daniel Berard
• Conanicut Island, December 29, 2018, Meeting place: Jamestown Police Station, Contact: Wayne Munns (401) 569-5604 or Candy Powell (401) 423-1492.
• Newport County-Westport, Date TBD. Contact: Robert Emerson
• South Kingstown, December 22, 2018, Contact: Scott Tsagarakis
• Napatree, Date TBD, Contact: Shai Mitra
• Block Island, Date TBD, Contact: Scott Comings