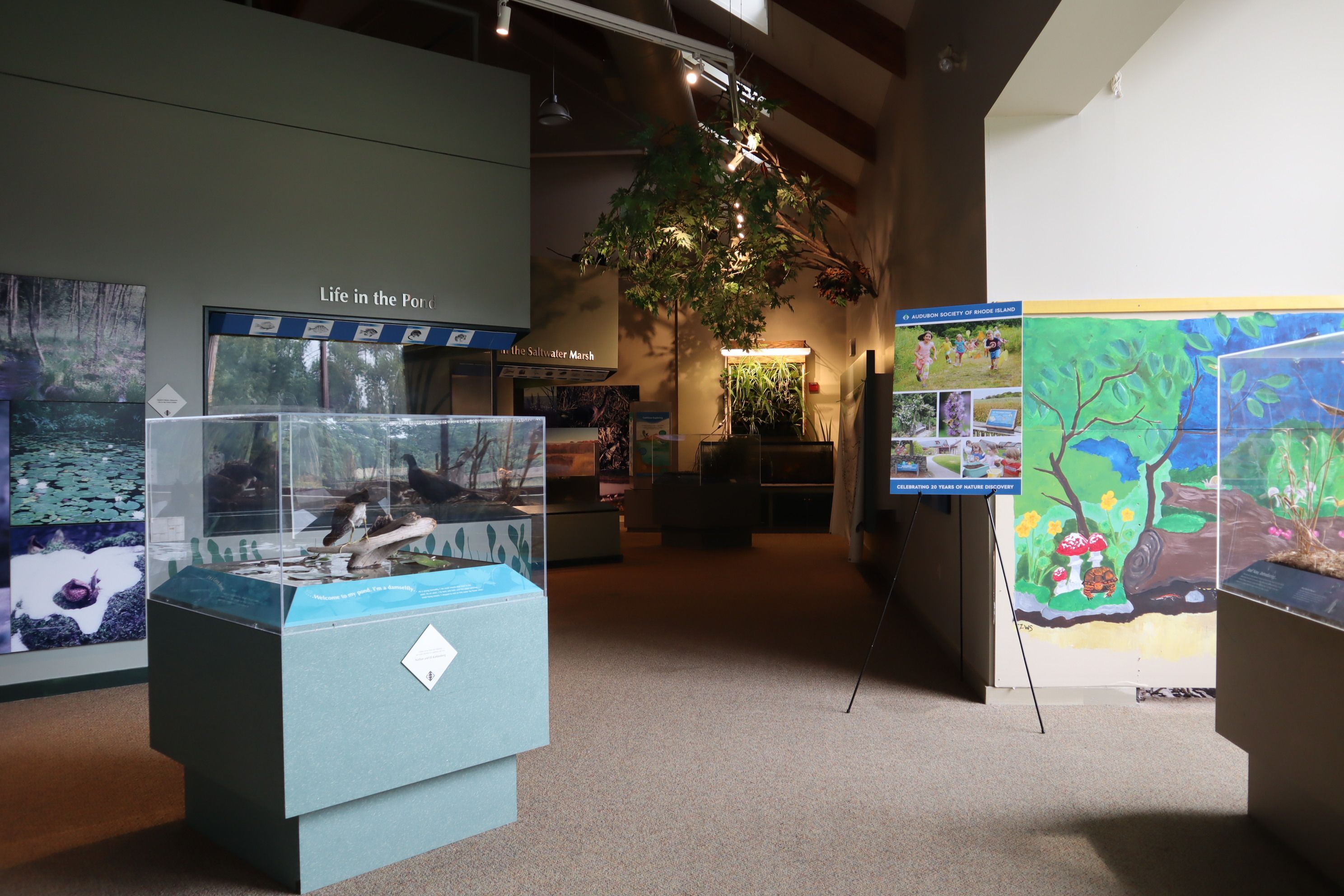 April School Vacation Week Nature Activities
Meet cool critters and get outside during April School Vacation Week at Audubon! Come to Audubon for pond explorations, get up-close with cool critters, take a guided birding walk geared just for kids, and more. Audubon offers plenty of activities to keep the kids engaged during April School Vacation Week. Come join the fun!
Events are offered at Audubon Wildlife Refuges in Bristol, RI, Smithfield, RI, and Seekonk, MA
Seekonk, MA

Caratunk Wildlife Refuge
301 Brown Avenue, Seekonk, MA

Registration required for each program. Program fees vary. Click the program titles for details and to register.

Birding for Kids
April 15, 2023; 9:30 – 11:00 am
Join an Audubon naturalist and discover the joy of birding! Families will identify local year-round birds and a few migratory species through sight and sound. Learn how to use binoculars, field guides, and birding phone apps. Dress for the weather. Binoculars will be available to borrow during the program. Parents must accompany children. Fee: $5/member child; $7/non-member child. Ages: 7 and up. Visit the events calendar at asri.org/calendar to register.
Bristol, RI

The Audubon Nature Center and Aquarium
1401 Hope Street, Bristol, RI

Admission Fee: Members (2 adults and up to 4 children) free; Non-Member Adults $6.00; Non-Member Senior $5.00; Non-Member Child (4-12) $4.00; Children 3 and under free.
Registration is not required. Ages: All.

Daily Schedule:
10:00 am: Nature Story
10:00 am - 3:00 pm: Nature Crafts
11:00 am: Animal Interview
1:00 pm: Special Program (see below)**
2:30 pm: Animal Interview

**The following special programs are available each day at 1:00 pm and are geared for children ages 6+:

Monday, April 10: Spring Nature Walk
Explore the wildlife refuge and use your senses to find signs of spring. Look for spring colors, smells, animals, and more!

Tuesday, April 11: Owl Pellet Dissection
Join Audubon naturalists in dissecting real owl pellets and discover what owls like to eat!

Wednesday, April 12: Fairy Fort Building
Head outside to our woods with a naturalist and build tiny forts and shelters for fairies and other small critters.

Thursday, April 13: What's a Bug?
Learn the difference between different types of bugs, link insects, arachnids, and more! Explore bug specimens and play some buggy sorting activities.

Friday, April 14: Turtle Races
Join Audubon naturalists while we race some of our turtles to see who can reach the finish line first!

Note: The Nature Center and Aquarium will be open from 9:30 am - 4:30 pm during school vacation week.

Smithfield, RI

Powder Mill Ledges Wildlife Refuge
12 Sanderson Rd, Smithfield, RI

Registration required for each program. Program fees vary. Click the program titles for details and to register.

Tuesday, April 11

Owl Babies
11:00 am-12:00 pm
Where is Momma owl? Her three fuzzy owlets search and wait in the dark of night for her return. Come listen to the award-winning story Owl Babies by Martin Waddell and meet a live owl. Fee: $5/member child; $7/non-member child. Ages: 3 and up.

Turtles are Terrific
2:00-3:30 pm
Turtles are amazing, armored beasts and Rhode Island has some pretty cool species. Come learn about these interesting creatures and meet some live turtles. Fee: $5/member child; $7/non-member child. Ages: 4 and up.

Wednesday, April 12

The Wild Garden - Storytime and Planting Seeds
11:00 am-12:00 pm
Jilly and her grandfather live in a village where people love their community garden. Listen to a story by Cynthia Cliff and find out what happens when Jilly and her grandfather show others the Wild Garden that lives beyond the edge of the village. After the story, plant some seeds to take home and watch them grow. Fee: $8/member child; $10/non-member child Ages: 4 and up.

Thursday, April 13

Two Toad Tales
11:00 am-12:00 pm
Come experience two transformative tales about the "lowly" toad. In one, a toad is first viewed as vile and gross; but in the end, his adaptations save his life. In the other, all the toads are bewitched in a hilarious wordless fantasy that all happens one Tuesday night. After our tales, meet a live giant marine toad and a tree frog and learn all about these amazing amphibians. Fee: $5/member child; $7/non-member child. Ages: 3 and up.

Big Hawk - Little Hawk
2:00-3:30 pm
Come and meet two live raptors - a Red-tailed hawk and a Merlin - the largest and the second smallest hawks that are found in Rhode Island. Learn about the lives of these amazing birds and examine preserved feathers, wings, and talons. Fee: $10/member adult, $5/member child; $14/non-member adult, $7/non-member child. Ages: 4 and up.

Friday, April 14

Pond Exploration
11:00 am-12:30 pm
You may know that frogs and ducks and turtles live near ponds, but have you ever looked for the small creatures that live in the mud and skate across the water surface? Come along on this search for ALL the life of a pond. Using nets and magnifiers, check out pond plants and animals that often elude the naked eye. Come dressed for mud and wet (water boots recommended). Fee: $10/member adult/child pair; $5 each additional member; $14/non-member adult/child pair; $7 each additional non-member. Ages: 5 and up.

Nature Photo Scavenger Hunt at Powder Mill Ledge
2:00 - 3:30 pm
How many scavenger hunt items can you find and photograph out on the wildlife refuge within an allotted time? Easy items are one point. Harder ones are five or ten points. Special prize for the most points, but all participating children will get a nature treat bag. Bring your smartphone or a digital camera with a view screen for photos. Fee: $10/member team (min 1 adult/1 child; max 5 people); $14/non-member team (min 1 adult/1 child; max 5 people) Ages: 5 and up