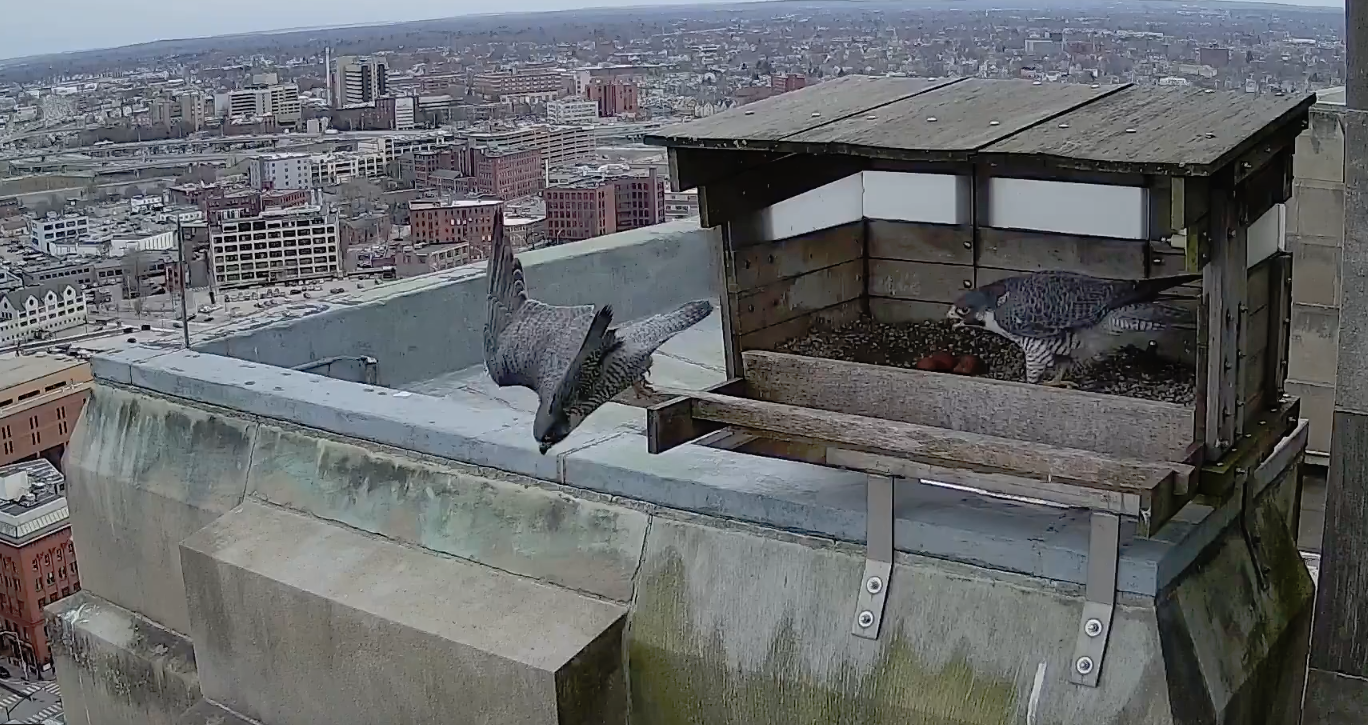 Live Stream Now Available!
Click "play" to stream live footage and the square icon in the lower right corner of the window to view full-screen.
Having trouble viewing? You can also access the live stream on our Youtube channel. 

Updates From the Nest Box
May 7, 2019
Scenes from the first day of life, 30 floors above the city of Providence! Although only two eggs have hatched so far, the parents are already working around the clock to provide enough food for the eyases. They will double in weight in the first week alone!

Screenshots captured by Jo-Ann Therien. Share yours by tagging us on Facebook (@AudubonRI) or Twitter and Instagram (@RIAudubon)!
---

May 5, 2019 Happy Hatch Day!

The Providence Peregrine clutch has begun to hatch! Tune in and watch as the eyases emerge. If you are having trouble viewing you can try our live stream on

Youtube

The first chick started hatching up to three days ago! Egg hatching is a strenuous activity that consists mostly of resting time. It is also the first survival test of each bird's life, thus the chicks do not receive any assistance from their parents.

---

April 19, 2019

The feed is currently unable to stream on iOS (mobile Apple) devices. We are in the process of troubleshooting this issue. Thank you for your understanding.
---

April 17, 2019

The webcam is streaming live as of this morning! We are aware that some viewers are experiencing problems viewing the feed and we are investigating the issue.

As you may be able to see, there are four eggs, the final of which was laid around April 2nd! Incubation lasts around 32 days from the date of the first egg laid (unknown). This puts the hatch date at around May 3rd or sooner. It appears to be the same unbanded adult pair as last year. The female is permanently missing a few feathers on her left wing, and the male is currently missing the tip of his beak (it will grow back slowly).

---
April 12, 2019
We are working diligently to get the live Providence Peregrines stream to you, but have run into multiple issues in the process. Thank you for your patience.

---

April 3, 2019

Thanks to our generous donors, we were able to install a new webcam yesterday. We are still working to get the video stream online. Thank you for your patience!

---

April 2, 2019

Heading up! Today we are replacing the Providence Peregrine Webcam and getting a new streaming service online. We apologize for the delay.

Thank you Danetech, Inc. for your time and support through this process! Visit their website:

http://www.danetechinc.com

---

March 19, 2019

A new, high quality camera and better streaming capabilities are on their way to the Superman Building, thanks to our generous donors and DaneTech, Inc. We hope to be back online this week!

Today's journey to the nest box revealed an unbanded pair ready to mate. It looks like the same female as last year; the indicator is a few missing feathers on her left wing! She may have sustained permanent (but minor) damage in the mating battle which took place last season, prohibiting a couple feathers to regrow. It does not effect her flight.

This beautiful Providence Peregrines breeding timeline was created by Peter Green of Providence Raptors. Click the image to see the original, high-quality version on his website.
---
The Providence Peregrines Webcam is powered by: