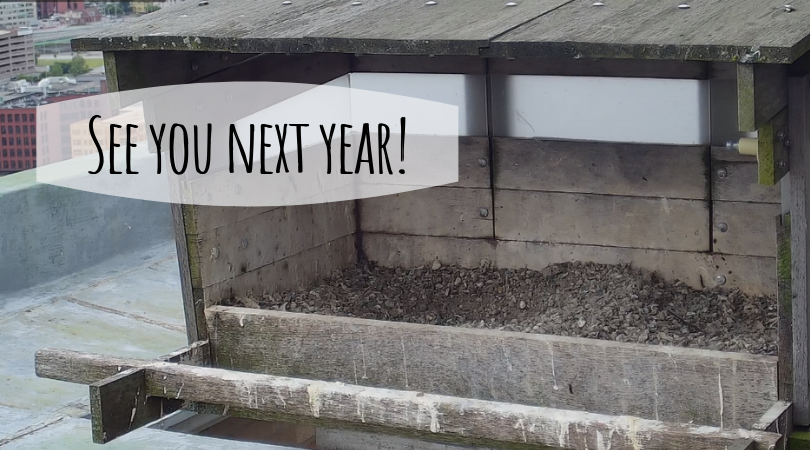 Your donation keeps the camera streaming!

You're invited to our annual fundraiser, benefitting thousands of acres of Peregrine Falcon habitat conservation, Audubon Raptor Care and Education Programs.

Sign up to receive Audubon Bird Cam updates and the monthly eWing newsletter.
Updates From the Nest Box
January 22, 2020

We're getting the camera ready for another exciting nesting season!

Relive last year's nesting season!

2019 Updates

2019 Updates from the Nest Box

March 19, 2019
A new, high quality camera and better streaming capabilities are on their way to the Superman Building, thanks to our generous donors and DaneTech, Inc. We hope to be back online this week!

Today's journey to the nest box revealed an unbanded pair ready to mate. It looks like the same female as last year; the indicator is a few missing feathers on her left wing! She may have sustained permanent (but minor) damage in the mating battle which took place last season, prohibiting a couple feathers to regrow. It does not effect her flight.

April 2, 2019
Heading up! Today we are replacing the Providence Peregrine Webcam and getting a new streaming service online. We apologize for the delay.
Thank you Danetech, Inc. for your time and support through this process! Visit their website: http://www.danetechinc.com

April 3, 2019
Thanks to our generous donors, we were able to install a new webcam yesterday. We are still working to get the video stream online. Thank you for your patience!

April 17, 2019
The webcam is streaming live as of this morning! We are aware that some viewers are experiencing problems viewing the feed and we are investigating the issue.

As you may be able to see, there are four eggs, the final of which was laid around April 2nd! Incubation lasts around 32 days from the date of the first egg laid (unknown). This puts the hatch date at around May 3rd or sooner. It appears to be the same unbanded adult pair as last year. The female is permanently missing a few feathers on her left wing, and the male is currently missing the tip of his beak (it will grow back slowly).

May 5, 2019
Happy Hatch Day! The Providence Peregrine clutch has begun to hatch! Tune in and watch as the eyases emerge. If you are having trouble viewing you can try our live stream on Youtube

The first chick started hatching up to three days ago! Egg hatching is a strenuous activity that consists mostly of resting time. It is also the first survival test of each bird's life, thus the chicks do not receive any assistance from their parents.

May 7, 2019
Scenes from the first day of life, 30 floors above the city of Providence! Although only two eggs have hatched so far, the parents are already working around the clock to provide enough food for the eyases. They will double in weight in the first week alone!

Screenshots captured by Jo-Ann Therien. Share yours by tagging us on Facebook (@AudubonRI) or Twitter and Instagram (@RIAudubon)!

May 22, 2019
BANDING DAY
Today, we successfully banded and determined the sex of both eyases: both are male. At this point, when the chicks are around two weeks old, their legs have stopped growing. This is the perfect time to band the birds because it ensures they will not grow out of their bands, and they are still very docile and easy to handle. Leg size is also the determining factor of the sex of the bird. Females are substantially larger than males - the bigger the leg, the bigger the bird.

Kathy and Gurdon Wattles, George Kortyna and his son Ian were able to experience the falcon banding this year after placing winning bids on the experience at our Party for the Peregrine fundraiser on May 10th. Thank you, Joe Zybrowski for banding this year's brood and Peter Green of Providence Raptors for taking photos!

How many and what kinds of leg bands do peregrines get and what do the codes mean?
Peregrine falcons banded in North America typically receive 2 leg bands-one on each leg. The first band is a U.S. Fish & Wildlife Service (USFWS) band which contains a number unique to that individual falcon (similar to a Social Security number). The numbers are small and hard to read unless you have the bird in hand. A second band is placed on the leg opposite of the USFWS band. This band is usually one or two colors and may have a few numbers and/or letters. This is done to increase the number of possible combinations of letters and numbers on these special color bands. These are made to be read from a distance, usually using a camera or spotting scope.

Bird banding allows scientists to track the life history, migration and reproductive behavior of bird individuals and overall populations. The data that bird banding provides is increasing valuable as we aim to better understand the climate and biodiversity crises.

Do the leg bands hurt the falcons or affect the way they hunt?
The bands placed on peregrine falcons are a very lightweight aluminum material and are specially sized to fit a falcon's leg. They do not hurt the bird in any way and are comparable to a human wearing a bracelet. The leg bands do not interfere with flight or grasping of prey.

May 30, 2019
At 25 days old, these chicks are right where they need to be developmentally. Their body contours and back feathers are beginning to take shape. Although they still rest on their tarsi (lower leg) quite often, they have begun walking on their feet!

June 16, 2019
The first nestling has fledged early this morning! The second will be close behind, mostly likely fledging today or tomorrow.

June 17, 2019
Both Peregrine Falcon chicks have fledged as of this morning. Although they will not return to the nest box at all once they have fledged, you may be able to spot them on the live webcam stream for a couple days since they don't venture far. The fledglings will be dependent on their parents for food for another 4-6 weeks. During this time, they will first get more comfortable flying and then they will attempt to hunt, mostly unsuccessfully! Good luck to the newest Providence Peregrines!
---
This beautiful Providence Peregrines breeding timeline was created by Peter Green of Providence Raptors. Click the image to see the original, high-quality version on his website.
---
The Providence Peregrines Webcam is powered by: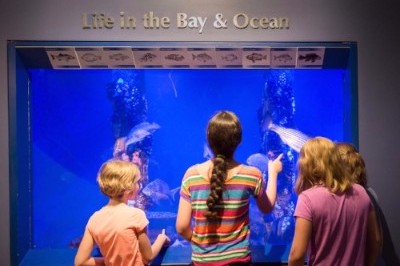 Audubon Nature Center and Aquarium
Visit Rhode Island's largest nature center and aquarium. Walk the trails through meadows and marshes to Narragansett Bay. Say hello to Finn and Atlanta, our resident Red-tailed Hawks.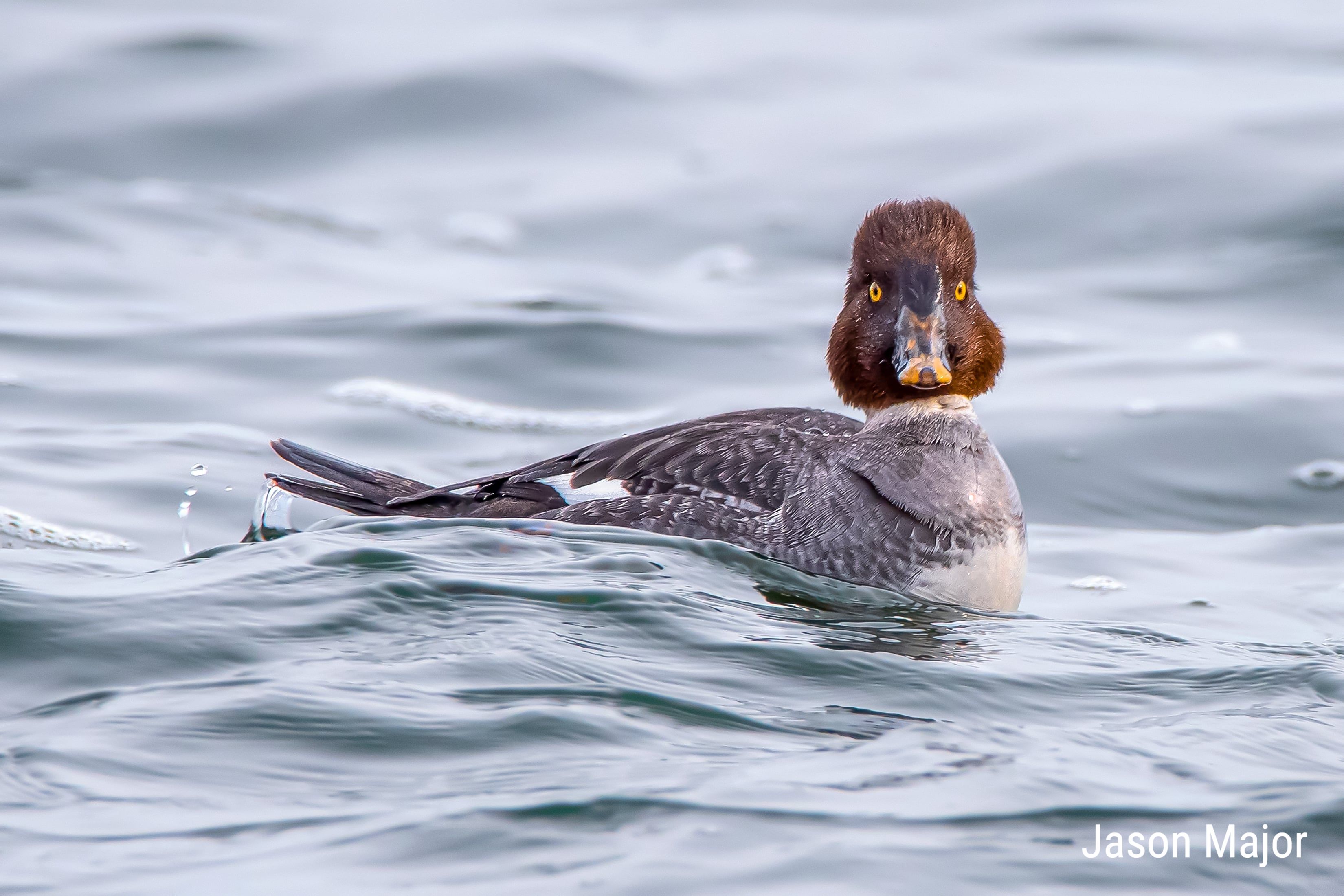 Birding in Rhode Island
Stay involved with Audubon's birding programs and resources:
Wednesday Morning Bird Walks →
Providence Birding Adventure →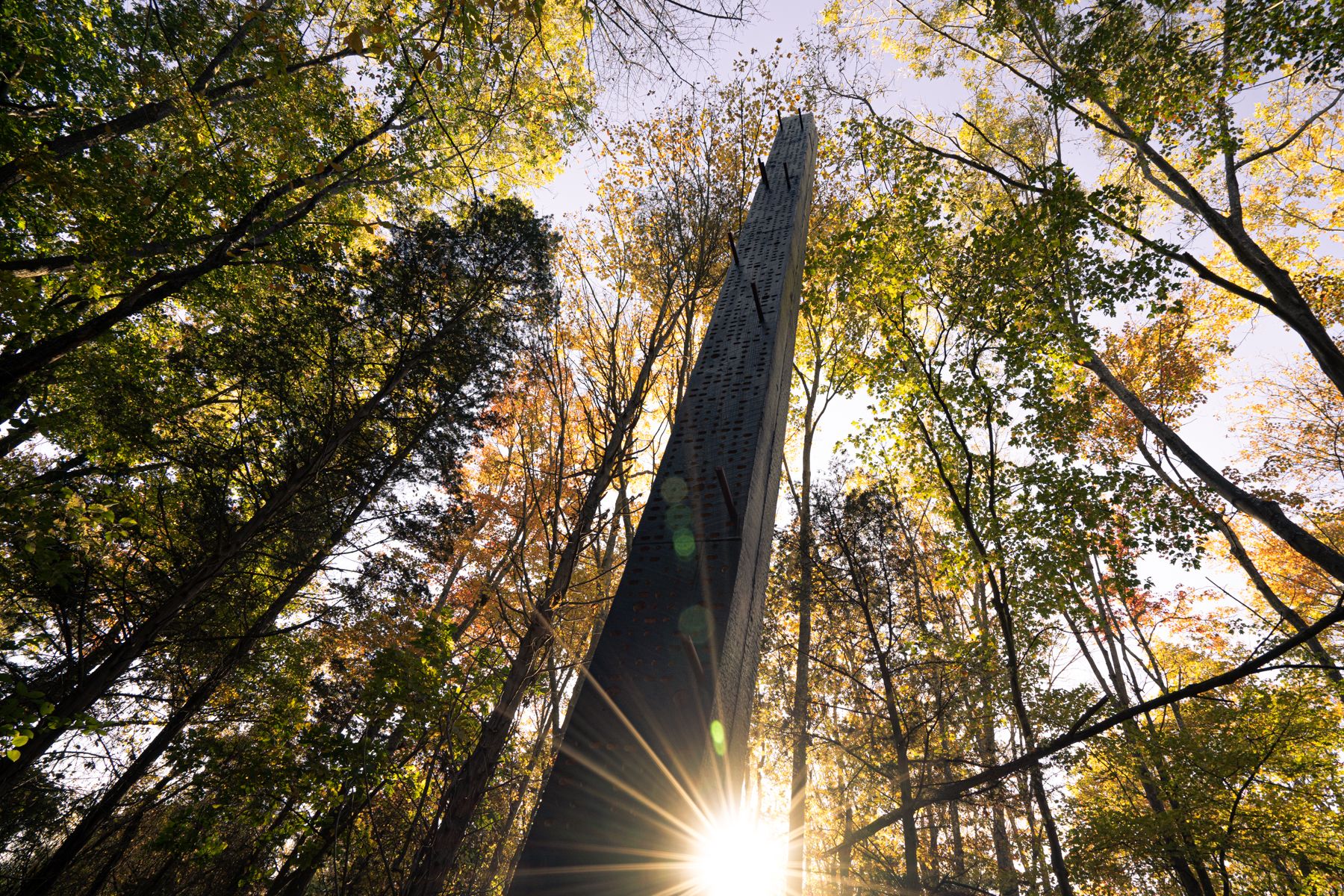 5 Ecological Piers
An ecological art installation depicting future sea level rise now shares the diverse habitat at the Audubon Touisset Marsh Wildlife Refuge in Warren, Rhode Island. This year-long project was designed by Leonard Yui, Assistant Professor of Architecture at Roger Williams University. We hope you will visit soon!