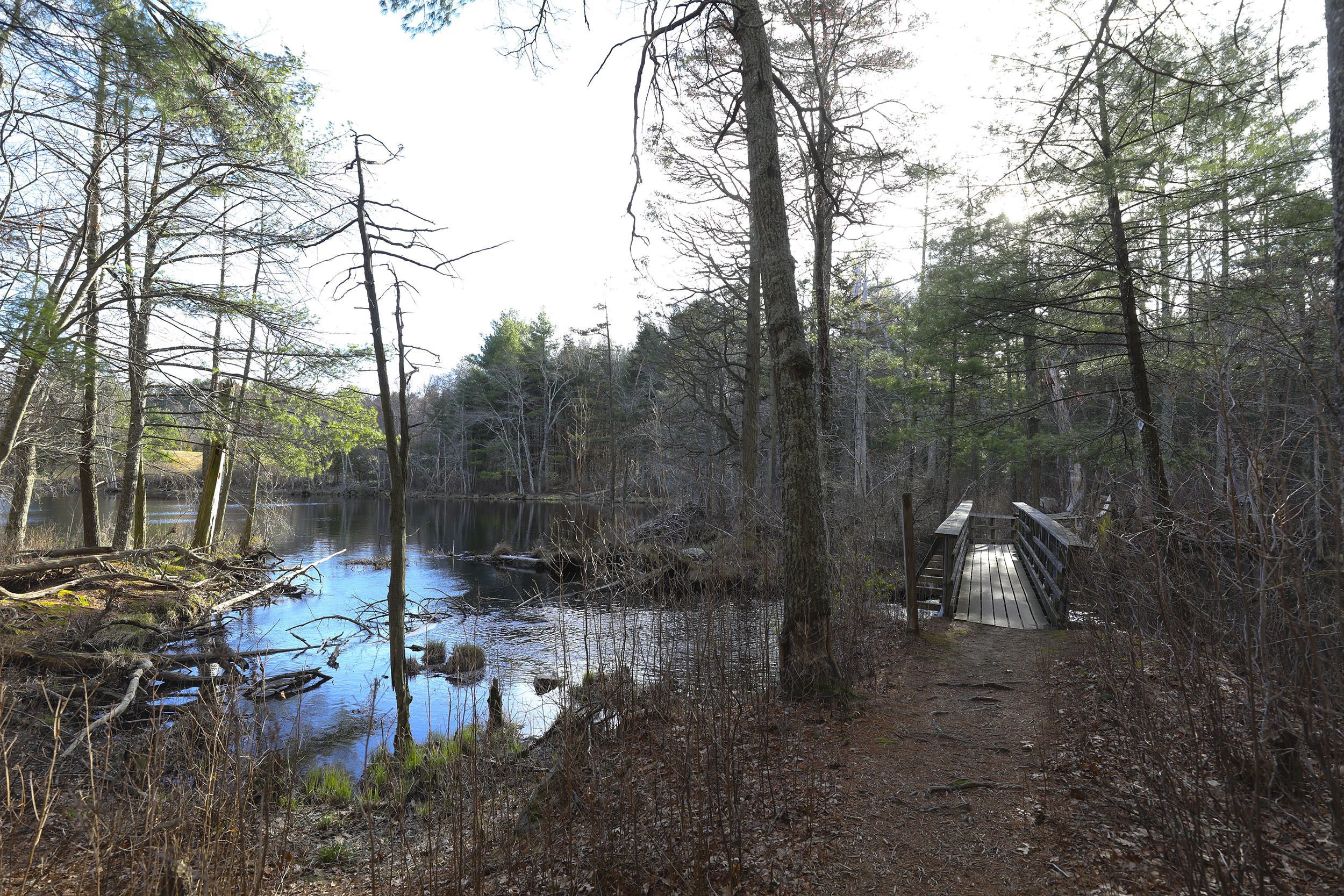 Fisherville Brooks Wildlife Refuge
 Glenn Osmundson 
Fisherville Brook Wildlife Refuge
Address: 99 Pardon Joslin Road, Exeter, RI 02822
Hours: Open Sunrise to Sunset
Acres: 1,010
Trails: 5 miles
Trail Difficulty: Easy to Moderate
 
Dogs are prohibited. Click here to learn why and review other trail guidelines.
Audubon's largest public property, the Fisherville Brook Wildlife Refuge contains a wide variety of habitat including fields, upland beech forest, cedar swamp, ponds, and streams. Bridges bring visitors over a small waterfall as well as clear running streams. A lovely historic cemetery can also be found on the property. In addition to hiking and bird watching, Fisherville Brook is a popular destination in the winter months for snowshoeing and cross-country skiing.
Please Note: GPS, including Apple Maps and other mobile directions, are not  always accurate due to the road conditions. Please follow the directions below to arrive safely at the wildlife refuge.
Directions: Take Route 95 to Route 4 to Route 102 north. Turn right onto Widow Sweets Road (just after the Exeter's Town Clerk's Office and across from Anderson's Place). Take second right onto Pardon Joslin Road (a dirt road). Travel approximately 1 mile. Parking lot is on the right side of road by a large Fisherville Brook Wildlife Refuge sign.
Refuge Highlights
Habitat: white cedar swamps, upland beech forests, ponds, streams, white pines
Wildlife to watch for: beaver, otter, muskrat, fox, deer, wood frog, spring peeper
Birds commonly found: Barred Owl, Great Horned Owl, Wood Duck, Hooded Merganser, American Woodcock, Pileated Woodpecker, Arcadian Flycatcher, Indigo Bunting, Hooded Warbler, Northern Waterthrush, Ovenbird, Scarlet Tanager,
Offerings: Birdwatching, Nature Center, Programs, Snowshoeing/cross-country skiing, restroom (portable restroom available)
Kettle ponds dot the landscape. These shallow bodies of water were created thousands of years ago when chunks of ice broke free from the glacier that covered the state.
Nature Center (open for programs only)
Available for birthday parties. Contact Laura Carberry at lcarberry@asri.org or (401) 295-8283.