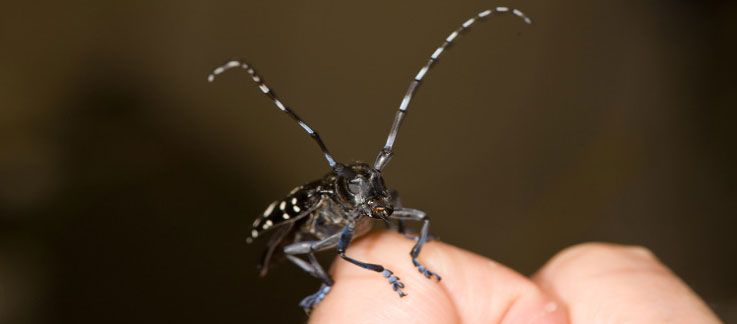 Asian Longhorned Beetle
The Asian Longhorned Beetle (ALB) is an invasive insect that feeds on certain species of hardwood trees, eventually killing them. The ALB most likely came to the United States inside wood packing material from Asia. Since it was first discovered in Brooklyn, New York in 1996, the beetle has caused tens of thousands of trees to be destroyed in Illinois, Massachusetts, New Jersey and New York.
If the ALB were to become established here, it could become one of the most destructive and costly pests ever to enter the United States. If we don't find and stop the ALB, we'll lose more than trees. We'll lose industries worth billions of dollars - and wildlife habitats too. Our yards and neighborhoods will take decades to recover.
Spot the Beetle. Stop the Beetle.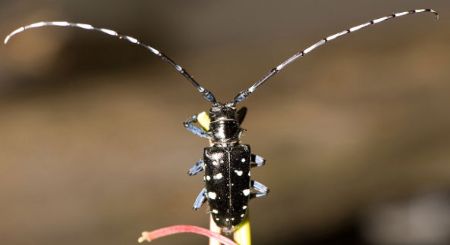 One of the most important ways you can help stop the ALB is to look for it and report it . Adult beetles are most active during the summer and early fall. They can be seen on trees, branches, walls, outdoor furniture, cars, and sidewalks. While the ALB may appear threatening, it is harmless to humans and pets. With these unique characteristics, it's easy to identify the ALB:
- 1 to 1 ½ inches in length
- Long antennae banded in black and white (longer than the insect's body)
- Shiny, jet black body with distinctive white spots
- Six legs
- May have blue color on feet
Resources
Download the RI Department of Environmental Management Fact Sheet
United States Department of Agriculture
REPORT IT
Use RI Department of Environmental Management's Invasive Species Sighting Report Form to report online.
You may also contact RI DEM's Cynthia Kwolek
235 Promenade Street, Providence, RI 02908-5767
Phone: (401) 949-1770
Cynthia.Kwolek@dem.ri.gov
 Please be sure to include all of the following information:
Your full name
Your phone number
The specific location of pest sighting
A physical description of the pest
A list indicating the types of trees/crops being damaged