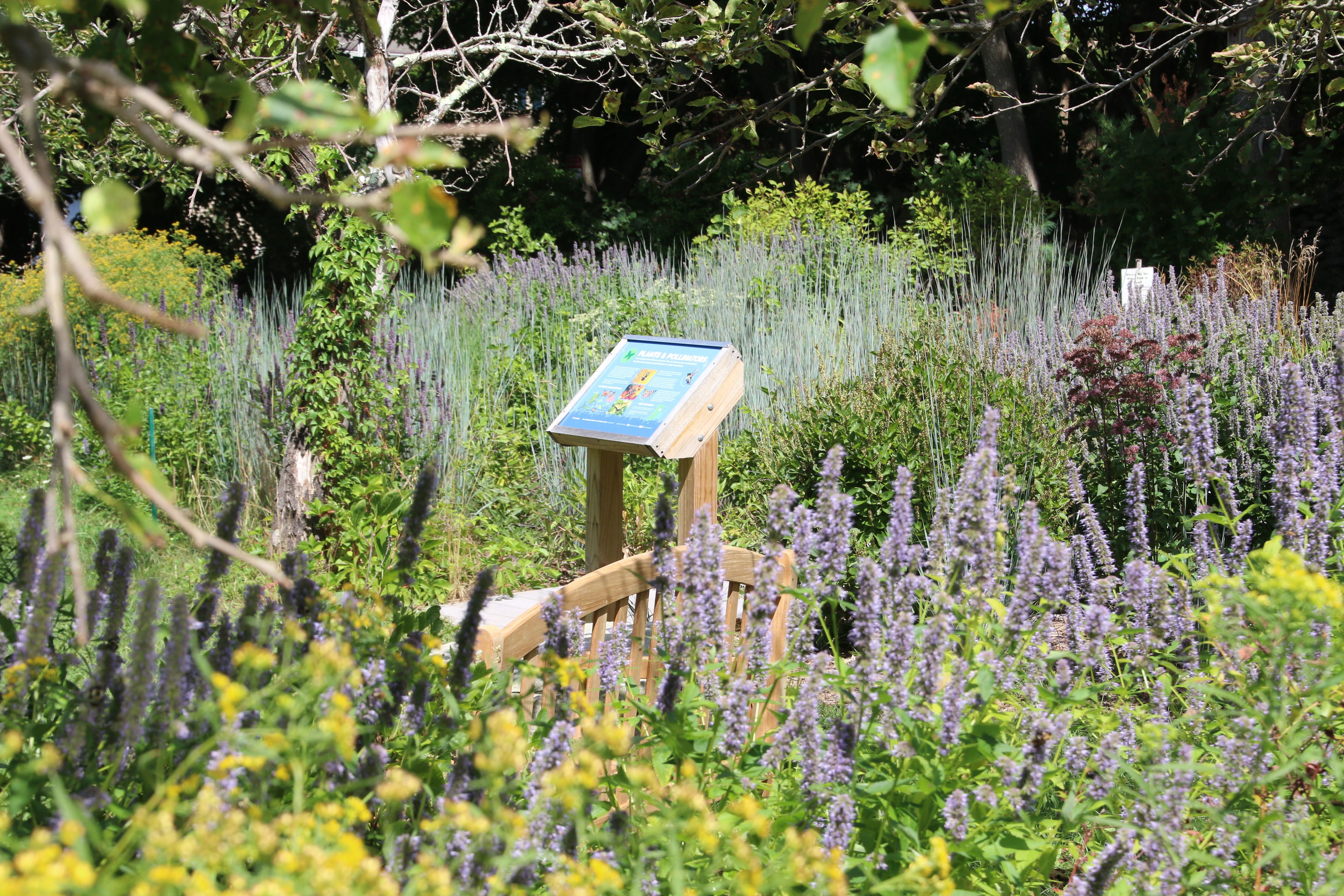 The Palmieri Pollinator Garden
at the Audubon Nature Center and Aquarium
The Palmieri Pollinator Garden combines beautiful native flowering plants and trees with a small pond and herb garden. The garden provides food, water, shelter, and habitat for a diverse array of wildlife. Many species of birds, insects, aquatic life and mammals call it home.

The garden was designed in 2018 by world-renowned landscape architect John Gwynne. He described the project as a model for rewilding backyards by providing natural habitat for wildlife.
Rewilding is a form of environmental conservation and ecological restoration that has significant potential to increase biodiversity, create self-sustainable environments and mitigate climate change. Rewilding aims to do this by reintroducing lost animal species to natural environments.

Tended by Audubon volunteers and University of Rhode Island Master Gardeners, please enjoy this space for learning, play, or simply for quiet appreciation. Visitors are encouraged to stroll and enjoy the garden, sit on a bench below the rose-covered pergola, watch bees and butterflies alight on the blossoms, and learn about the current pollinator crisis and what they can do to help.

---

"The Rose-Pollinator Discovery Garden and pond demonstrates what we can all do in our own back yards. With native planting, less mowing, and no chemical treatments, we can 're-wild' the suburban garden area. This condensed habitat provides the food, water, shelter and space required by a diverse array of fauna, including insects, birds, aquatic life and mammals. This concentration of wildlife activity enables visitors of all ages, backgrounds and abilities to witness the colors, smells, sounds, textures and complexities of nature in a setting just steps from the Nature Center. The gardens can serve as a destination for learning and play or as an inspiration to explore the field, forest and shoreline of the refuge beyond."

- Landscape Architect John Gwynne

---
Exploring the Garden
What is a pollinator?

Pollinators play a crucial role in flowering plant reproduction and in the production of most fruits and vegetables. They include most species of bees, some birds, bats, butterflies, beetles, moths, ants, and even a number of small mammals.

Many pollinating species are at risk of or currently in decline due to pests, diseases, habitat loss, climate change, and pollution. The conservation of these species is crucial. Although it may seem like a big task, we can all help pollinating species by growing pollinator-friendly flowers, providing nest sites, avoiding pesticides, and spreading the word. Learn more here!

What is an insect hotel?

Native pollinators need places to shelter and over-winter. Audubon's large insect hotel (Buggingham Palace) is full of holes, cavities and tunnels that bees and other insects can use for nesting and shelter year-round.

Resources for Building Your Own Nesting Hotel: 

- Building and Managing Bee Hotels for Wild Bees, Michigan State University Extension Program
- Nesting Resources, The Xerces Society

The Palmieri Pollinator Garden includes the following plants:

- Agastache 'Blue Fortune'
- Butterfly Weed, Asclepias tuberosa
- Bee Balm, Monarda fistulosa
- Broomsedge, Andropogon virginicus
- Snakeroot, Eupatorium rugosum
- Foxglove, Penstemon digitalis
- Joe Pye Weed, Eupatorium fistulosum
- Goldenrod
- Whirling Butterflies
- Prairie Blazing Star, Liatris pycnostachya
- Whorled Milkweed, Asclepia verticillate
- Common Milkweed, Asclepias syriaca
- Swamp milkweed, Asclepias incarnata
- Verbena bonariensis
Bringing Nature Back
Why are pollinator gardens important?

Most plants, including those we eat, depend on pollinators to reproduce. Bees, butterflies, beetles, flies, moths, bats and birds are all pollinators, and many are facing critical declines in population. Pollinator gardens provide the native plants, food, water, shelter and nesting habitat that many native wildlife species need to survive.

Why use native plants?

Native plants can be attractive and easy to grow. They often eliminate the need for excessive watering, mowing and pesticides. A large array of beneficial birds and insects are attracted to native plants. With many pollinator populations in decline, these species support bee density and diversity.

Select plants based on your site, paying careful attention to sun and shade. Consider building an insect hotel and offering a source of water.
---

"Native plants and animals are what create the ecosystem services we all require. They generate our oxygen, clean our water, and delay its journey to the salty sea. They sequester carbon that would otherwise wreak even more havoc with our climate."

- Entomologist Doug Tallamy

---
Create Your Own Pollinator Garden
Careful planning is essential to creating a successful pollinator garden. Follow these easy steps to make sure you have everything covered before you make your investment.
Choose Your Location
Many pollinators like to bask in the sun. A variety of their favorite wildflowers grow best in full or partial sun with some protection from the wind.
Identify Your Soil and Sunlight
Look at your soil. Is it sandy and well-drained or more clay-like and wet? Your soil type and the amount of sunlight it gets will help determine the kinds of plants you can grow. The University of Rhode Island offers soil testing throughout the state. Visit their website for a schedule of dates and locations.
Choose Your Plants
Varieties of wildflowers are native to our state. These plants are the ideal choice as they require minimal maintenance, water, and fertilizer. They also tend to be heartier. It's essential to choose plants that have not been treated with pesticides, insecticides or neonicotinoids. You'll also want to select perennials to ensure your plants come back each year.
Remember to consider more than just the summer growing season. Pollinators need plants that bloom early in the spring, throughout the summer and even into the fall. Choosing the plants that bloom at different times will help you create a bright and colorful garden that both you and pollinators will enjo for many months of the year!
Resources to Get Started
New England Wild Flower Society
Rhode Island Natural History Survey's Rhody Native
Rhode Island Wild Plant Society
---
The Palmieri Pollinator Garden is maintained by community volunteers, the Audubon Society of Rhode Island staff, and further supported by volunteers with the URI Master Gardener Program. Funding is provided by the Palmeri Charitable Trust.