Solar
Energy from the sun can be captured in numerous ways. Passive solar uses the thermal energy of the sun to heat homes and buildings. Active solar systems use photovoltaic (PV) devices, or solar cells, that convert sunlight into electricity. Arrays of photovoltaic devices can be mounted on buildings, carports, or open spaces.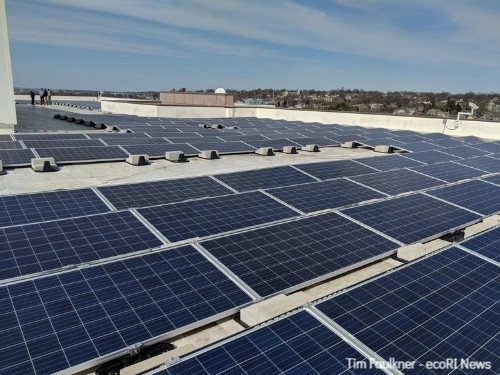 Photo: A solar array on the roof of the Office of Administration
in Providence, RI - Tim Faulkner - ecoRI News
The intensity of daily sunshine is highly dependent on geography and climate. The largest reserves of solar energy in the United States exist in the southwest, where the latitude and climate are conducive to long periods of intense sunlight, and thus optimal for solar. Rhode Island has comparatively little potential for solar. However, Rhode Island's State Energy Plan suggests the development of 1800 megawatts of solar by 2035, which would make solar a significant source of electricity in the state—there were just 37 megawatts installed in 2016.
Solar has little environmental impact, since the technology is emissions-free and can be placed atop pre-existing structures. Detriments of solar include: intermittency, or varying availability through the day; a low capacity factor, with efficiency optimistically around 25%; and coverage of a large surface area (1 megawatt covers roughly 4-5 acres). There is little doubt that solar must be widely integrated into the Rhode Island and United States energy systems in order to avert the most harmful effects of climate change. Given its small area, an issue in Rhode Island remains in finding the best ways to introduce solar without clearing and sacrificing Rhode Island's invaluable forests and natural spaces.
---
Sources:
http://www.energy.ri.gov/renewable-energy/solar/learn-about-solar.php
https://www.eia.gov/energyexplained/index.php?page=solar_home