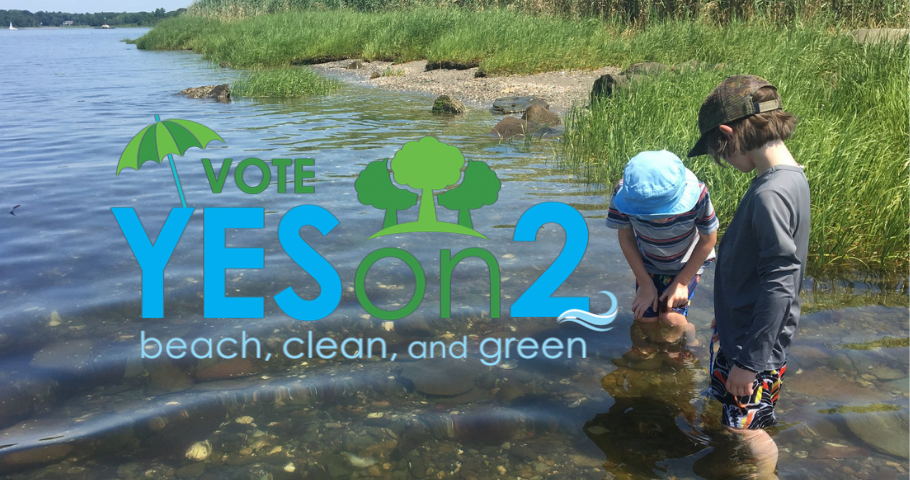 Published January 22, 2021
2021 Special Election: Vote Yes on 2!
Due to the coronavirus pandemic and uncertainty around federal funding to cover statewide budget shortfalls, the General Assembly was unable to pass the Governor's proposed FY 2021 budget in time for the bond questions to be put before Rhode Island voters in the November 2020 election. The General Assembly passed the FY 2021 budget in December 2020, triggering a need to hold a special election to put the seven bond referenda contained in the budget to Rhode Island voters for approval.
Rhode Island is holding a special election on March 2, 2021 on a series of proposed bonds, including the Beaches, Clean Water and Green Bond. If approved by the voters, the bond (Question 2 on the ballot) would invest $74 million in clean water infrastructure, forest protection, helping communities prepare for climate change, and improvements at Rhode Island state parks and beaches.
Rhode Island's parks, beaches, waterways, have been there for us and our families throughout the pandemic. Now is our chance to be there for them. Please vote YES on Question 2 to protect and preserve these valuable resources!
Ways to Vote
All Rhode Island voters were recently mailed a mail ballot application which must be returned by February 9th. Voting by mail is the easiest and most convenient way to vote yes on Question 2, but voters also have the option to:
Vote early at their local City or Town Hall from February 10th to March 1st.
Vote in person on Election Day, March 2nd (a very limited number of in-person polling locations will be open on March 2nd, as few as one per town.)
Drop off your mail ballot at an official local ballot drop off box.
Completing your mail ballot application takes about 2 minutes. Be sure to sign your application, and place it in the paid return envelope as soon as possible. Mail ballot applications must be RECEIVED by Tuesday, February 9th.
Included in this $74 million Beaches, Clean Water and Green Bond is:
$33 million for state parks, beaches, and campgrounds
$15 million for drinking water and clean water (upgrades to drinking and wastewater treatment facilities, CSO prevention, stormwater management, etc.)
$7 million for municipal resilience (matching funds for towns and cities to improve municipal climate resilience)
$6 million for additional dredging in the Providence River
$4 million for parks on the former I-195 properties in Providence
$4 million for local recreation grants (community parks and recreation facilities)
$3 million for natural and working lands (forest and farmland preservation)
$2 million grant for the Woonasquatucket River Watershed Council
Important Dates:
Week of January 18th – Rhode Island voters will receive mail ballot applications
January 31st – Voter registration deadline
February 9th – Mail ballot application deadline
February 10th – In-person early voting begins (hours vary by municipality)
March 1st – In-person early voting ends. Mail ballots must be received by the Board of Elections OR must be placed in a ballot drop box by this date