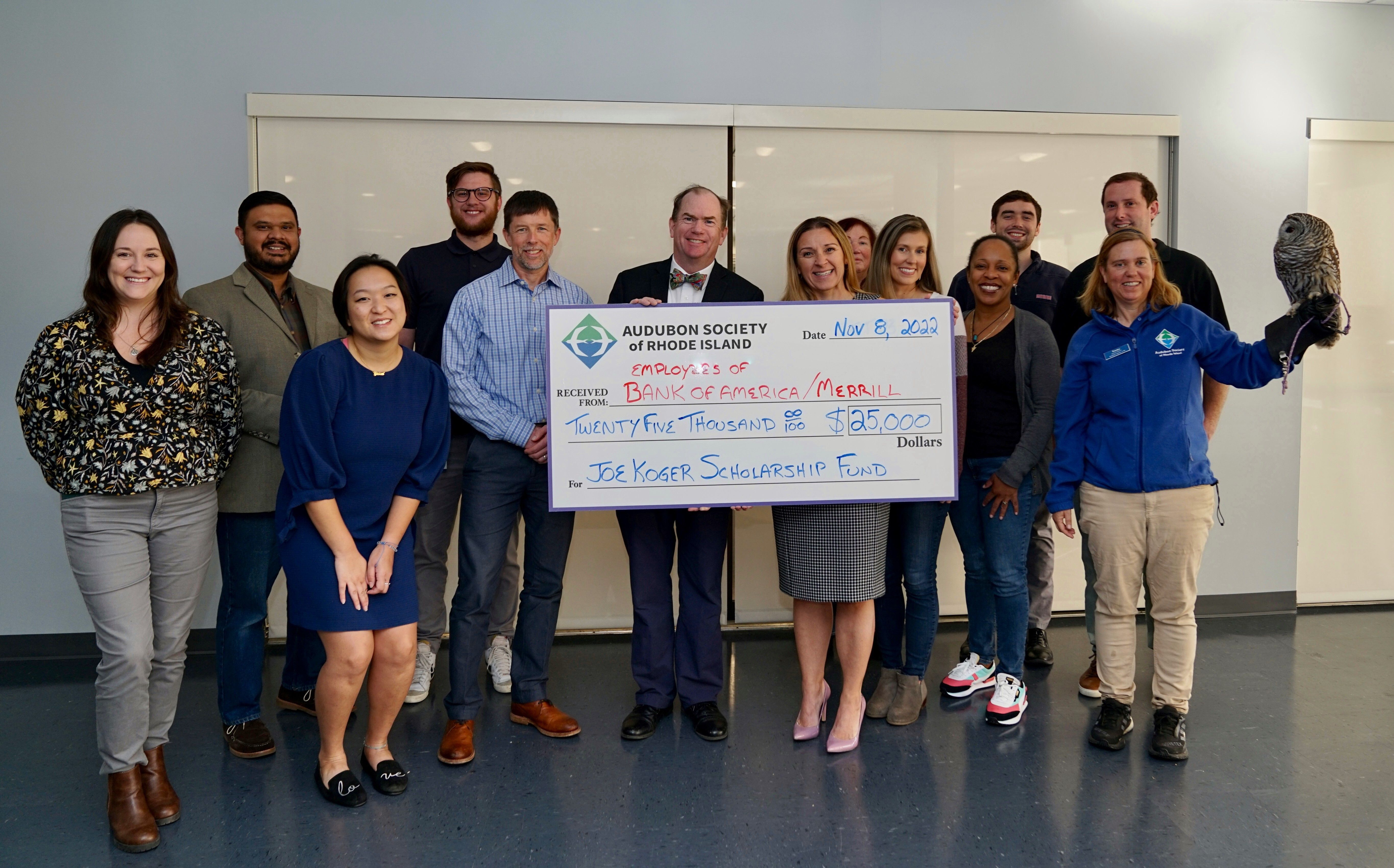 Published November 8, 2022
Employees of the Bank of America / Merrill Call Center Raise $25,000 at Charity Golf Tournament to Support Audubon
Employees of the Bank of America/Merrill Call Center in Lincoln, RI held their annual employee charity golf tournament on Wednesday, September 14, 2022, at the Crystal Lake Country Club in Burrillville, RI. The event, organized and orchestrated by team members of the two companies, was attended by more than 185 staff members.
Funds collected at the event from hole-in-one contests, putting challenges, and a gift basket raffle were donated to the Audubon Society of Rhode Island. The event raised $25,000 which Audubon will use to fund summer camp scholarships for youth at wildlife refuges in Rhode Island and nearby Massachusetts.
Speaking at the event, Audubon Senior Director of Advancement Jeffrey Hall thanked all those in attendance and praised the spirit shown by all. "The enthusiasm was contagious," Hall said. "Everyone had a great time and the generosity shown by all members was amazing. Audubon presented a giving challenge: send 100 children to camp next summer. By the end of the day, we exceeded every expectation. We are grateful to the many members for their support during this philanthropic event." 
"The employees of Bank of America/Merrill appreciate the importance of connecting young people to nature," said Kevin Tracy, President, Bank of America Rhode Island. "Introducing children to the outdoors can positively impact their well-being for a lifetime.  Aside from the physical and emotional benefits, the Audubon Society of Rhode Island is also helping to create the next generation of conservationists by getting youth to spend more quality time outdoors."
Golf tournament volunteer organizers got to meet Audubon's Barred Owl ambassador Serena at the check presentation event. Images courtesy of Merrill staff.
Thank you to the sponsors of the 2022 golf tournament:
ABC Supply Co., Inc.
Brewster & Shuster Associates
DSM Realty
Mr. Fence, Inc.
Technology Advisory Group
Trouble