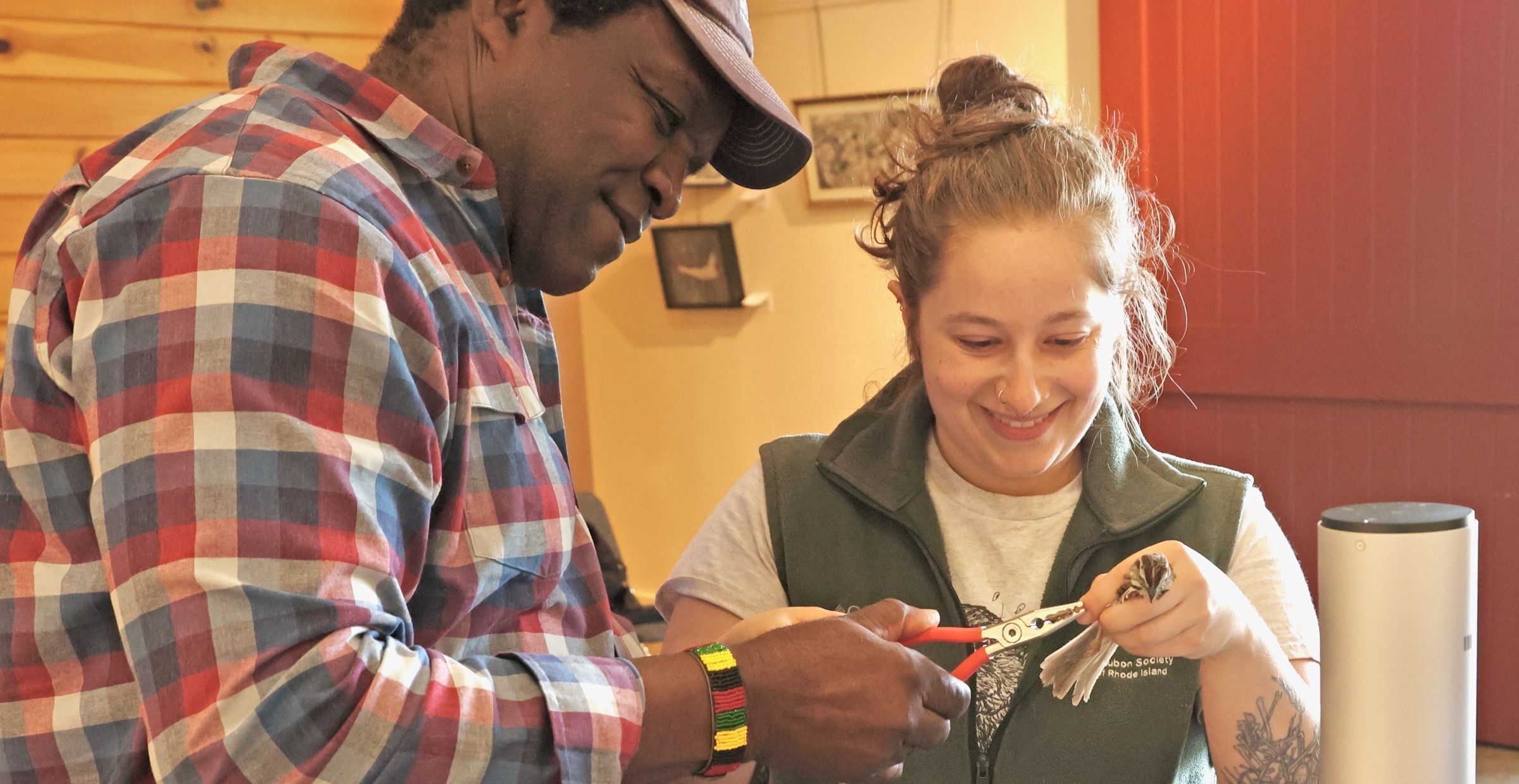 Beverly School Founder Abdi Lidonnde and Audubon Educator Ianna Leshin Szewczok at the Bird Banding.
Published on June 8, 2023
Audubon Educators Bring Virtual Bird Banding Experience to Students at the Beverly School in North Kinangop, Kenya
Audubon believes that EVERY child should have the opportunity to explore nature and develop connections with the natural world, including those a world-away from the Ocean State.  

Audubon's outreach recently extended across the globe as the organization connected with students at the Beverly School in North Kinangop, Kenya, one of four STEM-based* schools in that country. From the Audubon Nature Center and Aquarium in Bristol, RI, Audubon Educator Ianna Leshin Szewczok presented a virtual bird banding program to the students on June 10, 2023. "Bird banding is an important practice utilized by biologists world-wide for monitoring avian behavior, migration, and more," said Leshin Szewczok. "As both a biologist and educator, this was an amazing opportunity to reach students I never imagined I would have to opportunity to work with. The students were enthusiastic, patient, and focused during the virtual presentation. They asked insightful questions and were incredibly respectful. It was a pleasure being able to work with them."  

 Audubon Volunteer and Beverly School Board Member Kathy Mills.
Audubon connected to the Beverly School through Massachusetts resident Kathy Mills, an enthusiastic birder and volunteer in Audubon's bird banding programs. She is a currently a Beverly School Board Member who recently taught a program at the school and hoped to bring the science of bird banding to the students in a virtual presentation. "When I introduced birding to the students, it was so well received that the school's new principal, Sande Olocho, a birder himself, decided to start a birding club at the school," explained Mills. "Presenting a live banding demonstration for these young student birders provided a learning opportunity that they otherwise would not have had." In addition to Leshin Szewczok and Mills, Audubon Council of Advisors Member Steven Reinert, Beverly School Founder Abdi Lidonde and Beverly School Board Sue Swanberg were present at the program and enthusiastically engaged with students through the big screen in the auditorium at the Center.

 Ianna Leshin Szewczok banding an American Goldfinch in front of the camera during the program.
Bird banding is a popular Audubon program where songbirds are captured, banded, measured, and released by experts. For this program, birds were gently removed from tall "mist nets" set in the shrubby habitats on the grounds of the Audubon Nature Center and Aquarium in Bristol. The techniques of identifying, measuring, weighing, and banding the birds were demonstrated for the Kenyan students before they were released. The migratory habits and life history of each captured species were also discussed.   
Audubon reaches over ten thousand students each year in Rhode Island and nearby Massachusetts, offering school programs, family events and summer camps that are science-focused and grade level appropriate. These experiences provide youth with opportunities to explore the natural sciences and engage in hands-on, inquiry-based learning. For information on bird banding and other Audubon nature programs, visit the events calendar at asri.org/calendar.

*STEM Education is an approach to learning that uses Science, Technology, Engineering, and Mathematics as access points for guiding student inquiry, dialogue, and critical thinking.

Audubon Educator Ianna greets the Kenyan students virtually.
Now through July 30th, the Audubon Society is hosting a binocular drive for these students! Our goal is to collect at least 15 pairs for 15 kids who have shown an interest in birding and nature. Young birders often do not have access to proper optics to pursue their passion for wildlife; help us help them! The binoculars must be in good working condition and can be dropped off at the Audubon Nature Center and Aquarium in Bristol, RI. Let's bring their passion to the next level.
Images taken by Richard Staples