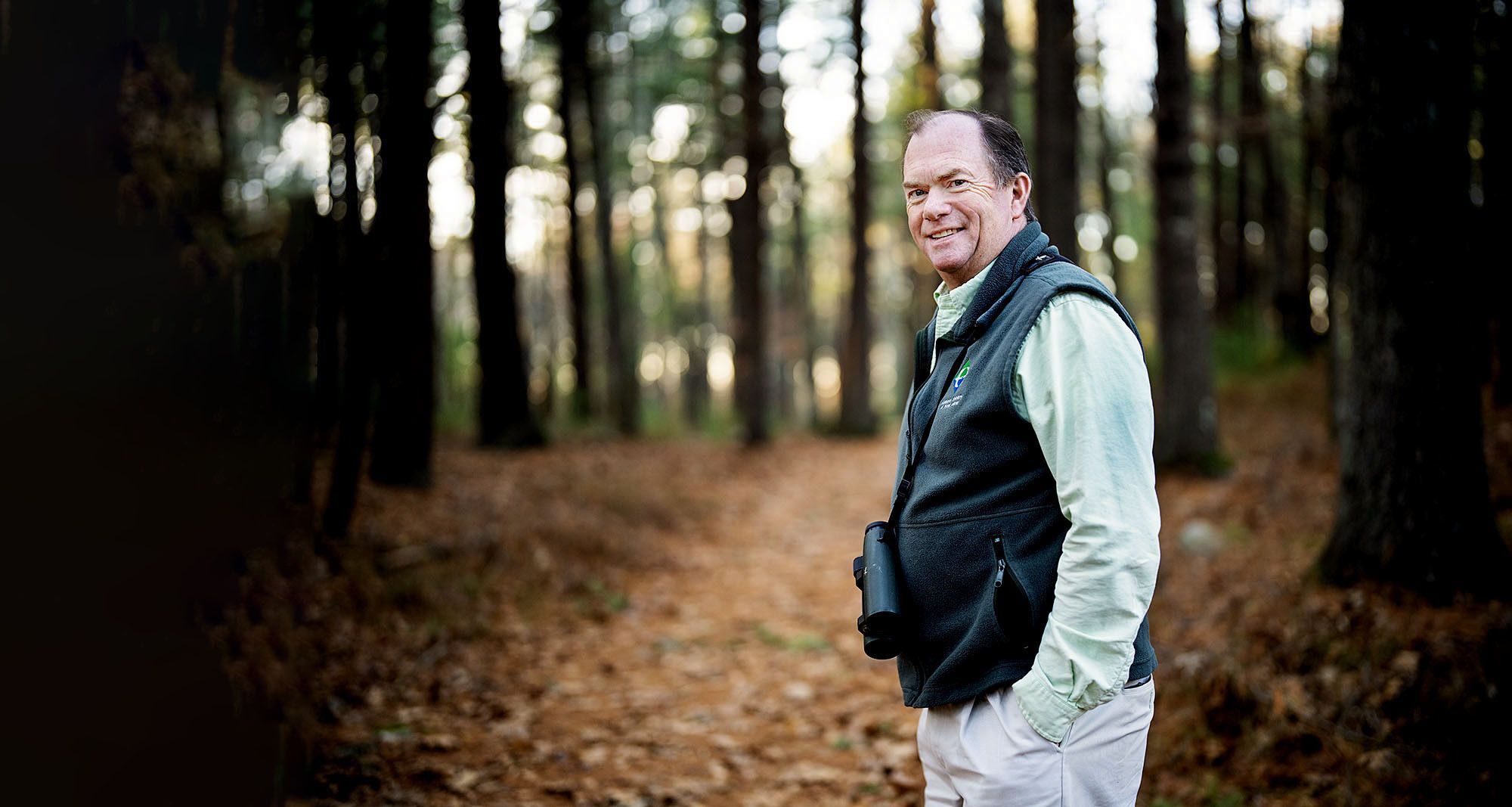 Published on February 1, 2023
Audubon's 'Moment in Time'
By Betsy Sherman Walker
Newly appointed Executive Director Jeff Hall talks about keeping the forests— and the Audubon spirit—alive 
When Jeff Hall walked into the Starbucks coffee shop in North Kingstown in early January to talk about his recent segue into the position of Audubon Executive Director, he had a smile on his face: the telltale grin of a fundraiser with a good story to tell. And it was not just any tale. He had landed in a story that was quintessentially Audubon. 
On his way to our meeting, Hall had stopped in Saunderstown to visit a longtime supporter—someone he had come to know well in his 20 years as the organization's Senior Director of Advancement. In the course of their visit, she told him that she collected dollar bills—specifically, the ones with the bold capital letter A on the front. It is known as the district seal; an A on the face of the bill means it originated in Boston—but for her it meant A for Audubon. At the end of their visit, she presented him with a tidy handful of her rainy-day bills to support the organization. There were more than 500 of them. 
Throughout our conversation he would circle back to the importance of supporters as the organization's lifeblood—as donors, activists, and advocates.  
"If you don't have the 'fuel' of supporters," he said at one point, "you don't have the rocket ship." 
Hall had been Senior Director of Advancement at Audubon since 2003, moving into his office in Smithfield after three years as the inaugural director of the Nature Center and Aquarium in Bristol. He was in middle school when his father and mother developed a love for birdwatching at the Norman Bird Sanctuary (NBS) in Middletown—and they brought their young son right along with them, literally and figuratively. "I got the hook," Hall says. NBS became a second home; he volunteered there for a number of summers; and recalls being there "morning, noon, and night." Hall received his undergraduate degree from the University of Rhode Island in wildlife management, and eventually earned a Master's from Antioch University.   
Hall joined Audubon in 2000, serving as the first director of the Nature Center and Aquarium and later as senior director of advancement. Shown here, Hall engages guests in his popular role as MC of the annual Party for the Peregrines.

Hall doesn't need an agenda to promote. After more than 20 years with Audubon, there is most likely no one with more of a sixth sense about how things interconnect, and what lies ahead for the 125-year-old organization. Much of the discussion that afternoon focused on what he sees as the two most important natural resources on his chessboard—one endangered; one not: land and people—and how the former urgently needs the latter.  
 
In no particular order, we talked about carrying on Audubon's mission—its issues, goals and challenges, which became his to oversee in December.
Hall is proud of how diversity and inclusivity have become an integral part of the organization's mantra, how the environmental education program has become an Audubon life force; how the Storm-water Innovation Center at Roger Williams Park in Providence will broadened Audubon's reach into communities across the state with nature-based solutions to climate resiliency, and how the work being done through the new Avian Research Initiative will affect conservation efforts throughout Rhode Island and New England. All part of the Audubon Strategic Plan, which was approved in 2020 and then temporarily derailed by the pandemic.
On balance, in Hall's eyes the abundance of topics—forest protection, the health and survival of Rhode Island's bird community, the future of wildlife, butterfly highways (a real thing), regulating pesticides, addressing climate change, solar development, property stewardship—all can be tied to one thing: land—how it is used, how it is preserved, how it is being threatened; how it can be saved. 
"Audubon has a large footprint in the state," he says. "Protecting the land right now is crucial. If you look at night photos of western Rhode Island, the dark spots show where the forests are." Everything falls under the umbrella of keeping the forests thriving. "Forests are critical to bird species and other wildlife. They are a haven for biodiversity, clean the air we breathe, improve water quality, absorb carbon from the atmosphere, and more.  They are critical in the face of climate change. But forests are not protected like saltmarshes or wetlands." 
At the moment Hall sees the greatest threat to those verdant swaths of darkness as the lack of holistic solutions to land use and development decisions that put our natural resources and climate change solutions at odds. "In the last two or three years the greatest threat to forests besides climate change," he explains, "has been the proliferation of solar farms in forests." The problem, he says, is that it is more economical for developers to cut down trees to build solar fields on pristine woodlands than to repurpose unused and already disturbed properties such as parking lots and abandoned industrial sites. "There is currently no incentive for developers," he adds, "to look any further than the forest. Audubon is fighting to change that." 
Equally as prominent on Audubon's horizon is the outlook for birds living in a world vastly different from where they were feathering their nests when the organization was founded in 1897. Simply put, says Hall, "their habitats are in crisis."  
The Rhode Island Bird Atlas was a labor-intense five-year state-wide bird survey completed in 2021. Led by Dr. Charles Clarkson, the atlas created a statewide inventory of birds and ultimately led to the appointment of Clarkson as Audubon Director of Avian Research in September 2021. "Charles Clarkson is easily one of the most knowledgeable individuals in Rhode Island when it comes to birds," Hall says. "His new avian research on Audubon properties will provide comprehensive information on how birds are faring, adapting, and surviving (or not) in our small state—and will be invaluable in providing data on the impact of climate change. This work will not just impact how we manage habitat in Rhode Island, but it will be shared with scientists throughout New England." 
To enable all of this—the foundation upon which Audubon can carry on its mission, he says, is the people who support it. He sees the potential, given the motivation, for Audubon members to become even more powerful advocates and activists.  
And while having no personal agenda, Hall does admit to a pet project. "The Monarch butterfly is being wiped out because of chemical pesticides and loss of habitat," he explains. What Hall envisions to save it: a "butterfly highway—a pesticide-free zone for pollinators—formed by piecing together areas of conservation land in partnership with other land trust organizations and private landowners." Looking ahead, he says he can picture "'Nature at Work'" signs everywhere—linked areas of conservation land, native plants used in yards and gardens to support pollinators, wild fields thriving, all without the use of dangerous pesticides." 
Hall has a background as a publishing entrepreneur (the Mac came along at the right moment in time, is how he explains it) which has given him ample opportunity to put his strong creative abilities to use. He has always approached Audubon communications—and solutions—from a strong marketing perspective.  His vision is clearly imprinted in Audubon publications, marketing materials, and other forms of communication.  "I've always thought that all the great environmentalists" he says, "had art as a component in their work. I always felt a connection to that." 
The following day, this writer happened to be at the New Bedford Whaling Museum, taking in a roomful of 19th-Century American landscapes. The theme of the exhibit was how these great masters painted through the eyes of environmentalists. The introductory panel featured a quote from Thomas Cole (1801-1848) that resonated, not only with Hall's previous-day observations and concerns, but also clearly illustrated that, the more things change, we also might be frozen in time: 
"I cannot but express my sorrow," Cole wrote in 1836, "that the beauty of such landscapes are quickly passing away—the ravages of the axe are daily increasing—the most noble scenes are made desolate, and often-times with a wantonness and barbarism scarcely credible in a civilized nation. The wayside is becoming shadeless, and another generation will behold spots, now rife with beauty, desecrated by what is called improvement." 
The arc seems to connect the two. "I believe this is our moment in time," Hall says. 
---
Betsy Sherman Walker is a Rhode Island native who writes for area non-profits, news, and lifestyle publications, and who has recently discovered the joy and wonder of birding. Touch base at walkerbets@gmail.com.