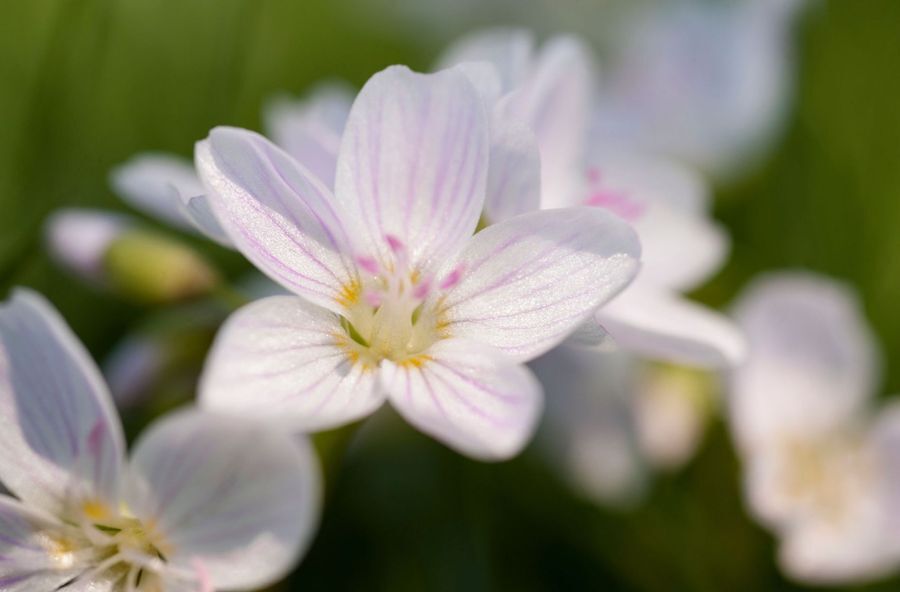 Published on May 1, 2023
Fleeting Beauty: Ephemerals on the Forest Floor
By Scott Ruhren, Senior Director of Conservation 
Each spring in forest and fields throughout Rhode Island, several plant species appear early, just as the days warm. They flower, spread seeds, and then disappear before summer. The plants do not die but go dormant underground.  
Every living creature has a life history. Through natural selection, significant stages have been fixed from birth to death. Broad life history examples in the plant world are perennial and annual. A feature of life histories is phenology, the timing of life events. Many forest herbs exhibit a fleeting, or ephemeral, spring lifestyle with an early flowering phenology.   
Some examples of these spring flowers in our forests are trout lilies, dutchman's breeches, wild ginger, bloodroot, wild trilliums, and eastern spring beauties. Introduced spring ephemerals are more commonly recognized and include spring bulbs such as crocus, daffodils and tulips.  
Small, inconspicuous, yet crucial native bees and large queen bumblebees are the prime pollinators of many of these flowers. The hard-working bees search the forest floor methodically and since the trees have not developed their full canopy, the forest is bright. Spring ephemerals are taking advantage of this momentary warm, wet, and sunny period. They put out showy flowers with pollen and nectar as rewards. The bees oblige, eager to collect spring nutrition. The plants store enough energy in their underground tissues during these quick weeks to allow them to come back early the next spring.

In Rhode Island, several spring ephemerals have declined over the decades. Liverworts are becoming difficult to find. Once abundant east-ern spring beauties and wild trilliums have declined statewide. Likely, habitat alteration and loss have contributed to this decline, made worse by species collection by people. Spring ephemeral diversity has always been lower in Rhode Island than mid-Atlantic states. One theory suggests that what geologists consider recent glaciation and relatively young forest soils in southern New England are to blame. In the future, warmer and drier springs may cause both changes in phenology and possibly disrupt relationships with native pollinators. This could cause further population declines of spring flora and native pollinators.

Clockwise from top left: Bloodroot, Dutchman's Breeches, Trout Lilly, Wild Trillium, Wild Ginger, Eastern Spring Beauties. 
Gardeners can plant spring ephemerals at home but should be certain that plants are appropriate for their region and that these ephemerals have been cultivated, not dug out of habitats. Many species have declined because of unregulated wild collecting.  
Audubon protects crucial tracts of forest, home to the remaining spring ephemerals. In Bristol, trout lily flourishes in the dappled sunlight and rich, moist soil of the deciduous forest along the boardwalk at the Nature Center and Aquarium. Countless yellow flowers bloom in April, attract our native pollinators, and produce swollen green fruit that burst open when ripe. Ants quickly collect the seeds and safely store them underground. This unique relationship with ants helps protect the seeds from drought and fire as well as feeds mice and chipmunks searching for a meal.  
Spring ephemerals are key members of the forest community, yet their brief appearances are often overlooked. If you are on forest trails in spring and early summer, slow down and look for these plants before they hide underground. But remember, they will be back next year as long as forest habitats are protected. 
---
Scott Ruhren is the Senior Director of Conservation for the Audubon Society of Rhode Island. Reach him @sruhren@asri.org