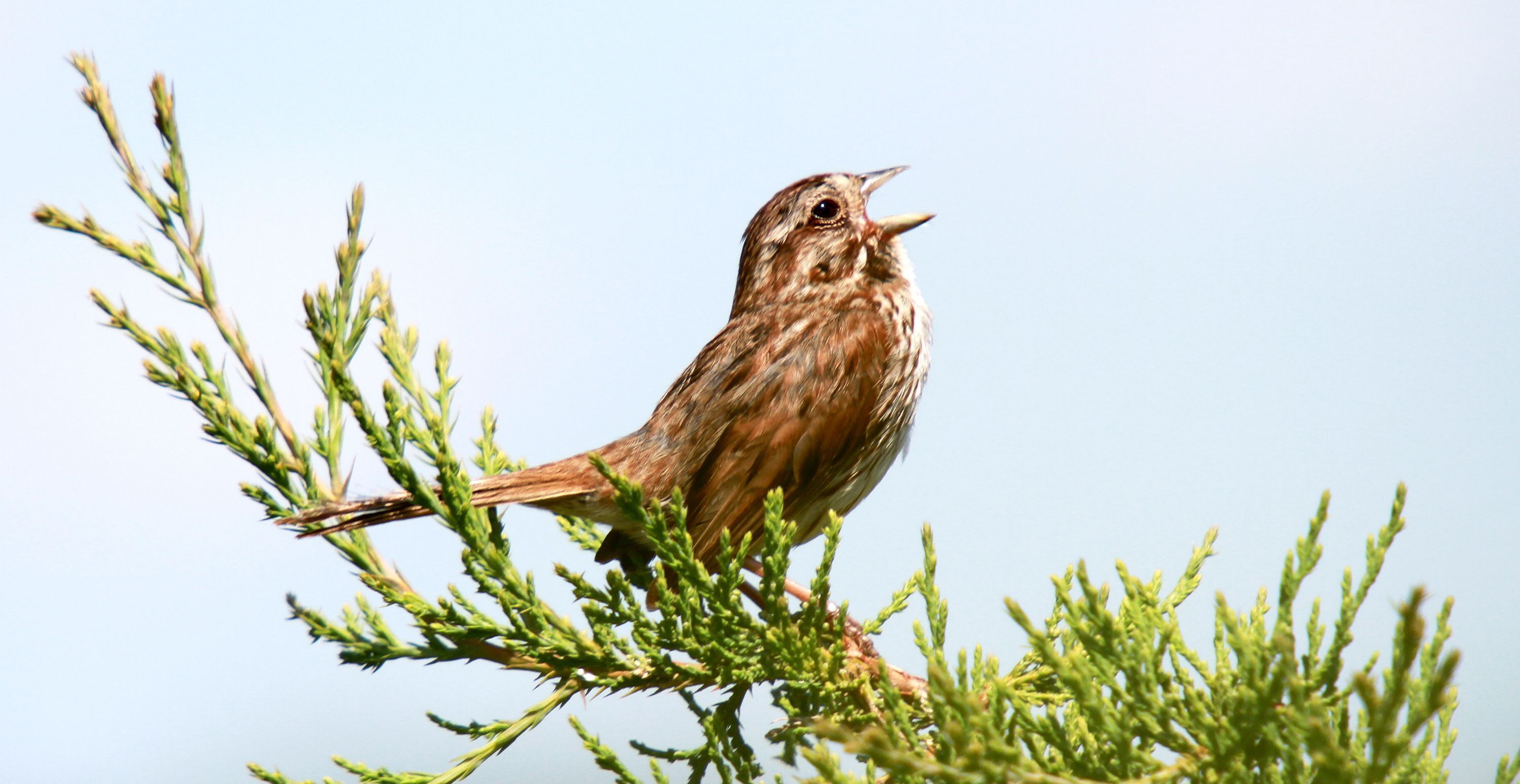 Published August 25, 2023
Grab Your Field Guide…Sparrows are Coming! 
By Laura Carberry
October is coming, and so are the sparrows! Yes, we have some resident sparrows throughout the year in Rhode Island, but autumn is the time we see an influx of those hard-to-discern little brown birds. People often overlook this low bush, grass dweller. Some say they all look alike. However, with a little time and patience, you may just fall in love with these feathered friends. 
Sparrows are typically small and brown with conical-shaped bills that are great for eating seeds. They are Song Sparrow most often found on the ground or low in the bushes. They form small flocks during the winter, and several species of sparrows often intermingle. Did you know that Juncos and Towhees are also part of the sparrow family? 
When people look to identify these birds, I often suggest starting with a backyard feeder. Sparrows love millet seed and Song Sparrows, Dark-eyed Juncos, White-Throated Sparrows, and sometimes Fox Sparrows can be found searching for dropped seeds on the ground. 
If you want to identify a species of sparrow, start by looking at their chest. Is it streaked or non-streaked? Most field guides divide small, brown sparrows into these two categories. After the chest, look at the tail. Is it long or short? Is the tip forked or flat? Is the tail outlined in white when the bird flies? Then, move on to other identifying marks. Does the sparrow have an eye ring? What color is its bill? All these clues can help you to correctly identify sparrows. It can be a little difficult to start, as you often need to study these birds for a while.  
Once you have mastered the back yard feeder, take a walk on an Audubon wildlife refuge. Sparrows love old grassy fields and fall gardens as well as low brushy areas. Be patient. Sparrows often quickly fly out of view and deep into the grasses. If you watch the area quietly, they will often pop up after a minute or two. Walk slowly if you find a path in a meadow. Sparrows often fly into the shorter grass looking for seeds. Watch from a distance with binoculars and pick out their different features. Go through the same checklist as above. In autumn, you may find American Tree Sparrows, Field Sparrows, White-Crowned Sparrows and others. The more you observe and practice, the better you will become at identifying these tricky birds.
A couple of great places to look for sparrows around the state are Avondale Preserve in Westerly, Ninigret Park in Charlestown, Snake Den State Park in Johnston, and Godena Farm in Jamestown. Join me for Audubon Wednesday Morning Bird Walks throughout the fall to learn more about our local sparrows. Visit asri.org/calendar to register. 
---
Laura Carberry, Director of Properties at the Audubon Society of Rhode Island