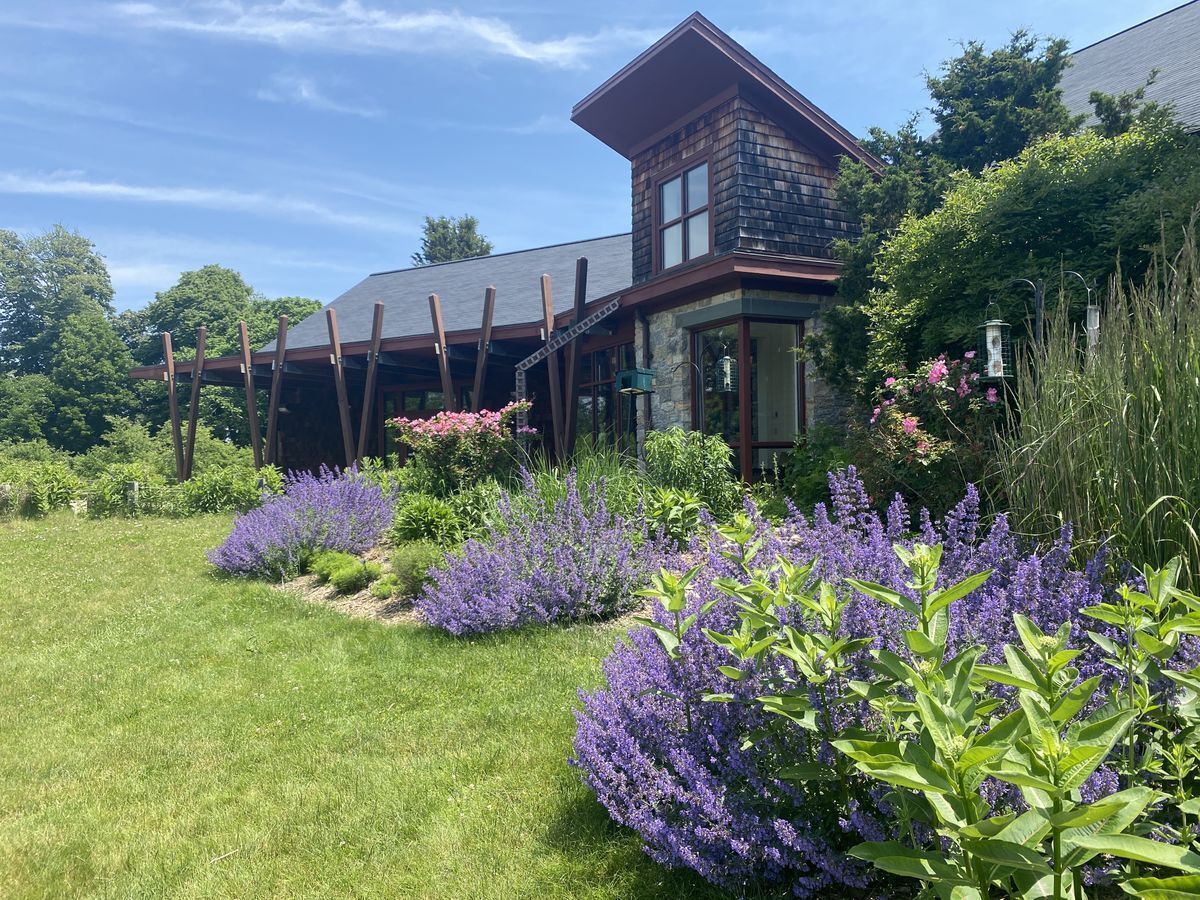 Published on June 17, 2023
New at the Nature Center: Meet a Shark, Skate, and Dinosaur too!
What's New This Summer at the Audubon Nature Center and Aquarium
1401 Hope Street, Bristol, RI
There is so much to discover at Audubon this summer! Come welcome new marine life in their aquatic exhibits: a chain dogfish and little skate. Search for a dinosaur on the wildlife refuge or follow the StoryWalk® trail that highlights a new children's book about Audubon Ambassador Zach the Raven. Learn all about birds with natural specimens and a digital microscope in the Curiosity Corner and then head outside and enjoy the fragrant blooms and wildlife in the Audubon Palmieri Pollinator Garden. You never know what you may find, so bring the kids to Audubon this summer and discover nature today!   
Chain Dogfish in Aquarium exhibit at Audubon in Bristol, RI

New Marine Life! Visit with a Shark and Little Skate  

Get up-close with a chain dogfish (a type of local shark) and a little skate in new aquarium exhibits at Audubon. Observe these fascinating fish up-close and learn all about their traits, habitats, diets and more.  

Little Skate in Aquarium exhibit at Audubon in Bristol, RI

Dinosaurs at Audubon

In Partnership with the Roger Williams Park Zoo's Dinosaurs Among Us Exhibit 

Did you know that birds evolved from a group of meat-eating dinosaurs called theropods? Dinosaurs may be extinct, but there's much we can do today to protect their descendants.  

A non-animatronic Compsognathus dinosaur model will be at the Audubon Nature Center and Aquarium (as well as at Audubon Fisherville Brook and Powder Mill Ledges Wildlife Refuges) through August 13, 2023, for the public to search for and discover. Learn more about local songbird conservation actions through accompanying summer-long programming. Visit rwpzoo.org/in-the-wild for details.   

A non-animatronic Compsognathus dinosaur model will be at the Audubon Nature Center and Aquarium

A Raven on the Refuge  

Audubon Educator Tracey Hall has combined her experiences with educating children, animal care, illustration, and storytelling into a new children's book featuring Audubon Avian Ambassador Zach the Raven.  The book is now available in the Audubon Nature Shop in Bristol. Join Audubon on July 1, 2023, for the opening of a StoryWalk® along the trails and a meet and greet with Tracey and Zach. Details below. 

Zach the Raven StoryWalk® Ribbon Cutting
Citizen's Free Family Fun Day
Audubon Nature Center and Aquarium, Bristol, RI
July 1, 2023; 1:00 pm 

Audubon Educator Tracey Hall and Audubon Avaian Ambassador Zach the Raven
Audubon's Zach the Raven is now featured in his own children's book! Audubon educator Tracey Hall recently published a story all about Zach, his history, and life at Audubon. It has been transformed into a StoryWalk® where families can get outside, follow the pages on a self-guided trail, and learn all about this fascinating bird. After the ribbon-cutting, join a meet and greet with Zach* and Tracey and stay for a book signing. Guests may enjoy the StoryWalk® self-guided trail any time after the ribbon cutting.   
*For Zach's comfort and safety, the meet and greet is limited to 25 people, but visitors can say hello to Zach at other times in his aviary behind the Nature Center. 
All About Birds! 
Curiosity Corner Features Digital Microscope and Natural Specimens  
Discover bones, skulls, nests, and eggs from Audubon's extensive natural history collections. Use a digital microscope to get an up-close look at feathers and other natural items and open drawers to reveal unexpected specimens. Birds are the focus of the Curiosity Corner this summer, so bring the kids and engage with the science behind our feathered friends.  
Spend Some Time with Seahorses  
Watch with delight as lined seahorses dance through the water and propel themselves with rapidly moving dorsal fins. Come learn about these amazing creatures and observe their unique horse-shaped head, delicate movements, and strong ability to camouflage with their surroundings. 
What's the Buzz all About? 
Audubon Palmieri Pollinator Garden is a Delight for the Senses. 
Combining native flowering plants and trees with a small pond and herb garden, the space provides food, water, shelter, and habitat for a diverse array of pollinators and wildlife. Check out Audubon's large insect hotel full of holes, cavities, and tunnels that bees and other insects can use for nesting and shelter year-round.  
Visitors are encouraged to enjoy the Palmieri Pollinator Garden for nature observation, learning, and play, then head out on the trails to further explore the field, forest, wetland, and shoreline habitats that Audubon protects.  Watch for the colorful signage along the trails and in the garden that provide photos and fun facts on the habitats you encounter. 
Audubon Summer Nature Programs  
Search for edible wild plants and herbs on the wildlife refuge, register for bird banding, hunt for mushrooms and more!  Visit the events calendar at www.asri.org for a complete list of programs and to register. Advance registration is required for most programs.   
The Audubon Nature Center and Aquarium is now open with summer hours: Monday – Sunday, 9:30 am – 4:30 pm. We suggest checking asri.org in advance of your visit, as the Nature Center and Aquarium does close on select dates for private events. 
---
Audubon looks to protect wildlife and give birds and animals the best chance possible to survive. You can help by enjoying the trails quietly, observing or photographing nature from a distance, and leaving pets at home as not to scare or disturb the new life that arrives in spring and summer. For a list of Audubon wildlife refuges that are open to the public, trail maps, and directions, visit www.asri.org/hike.