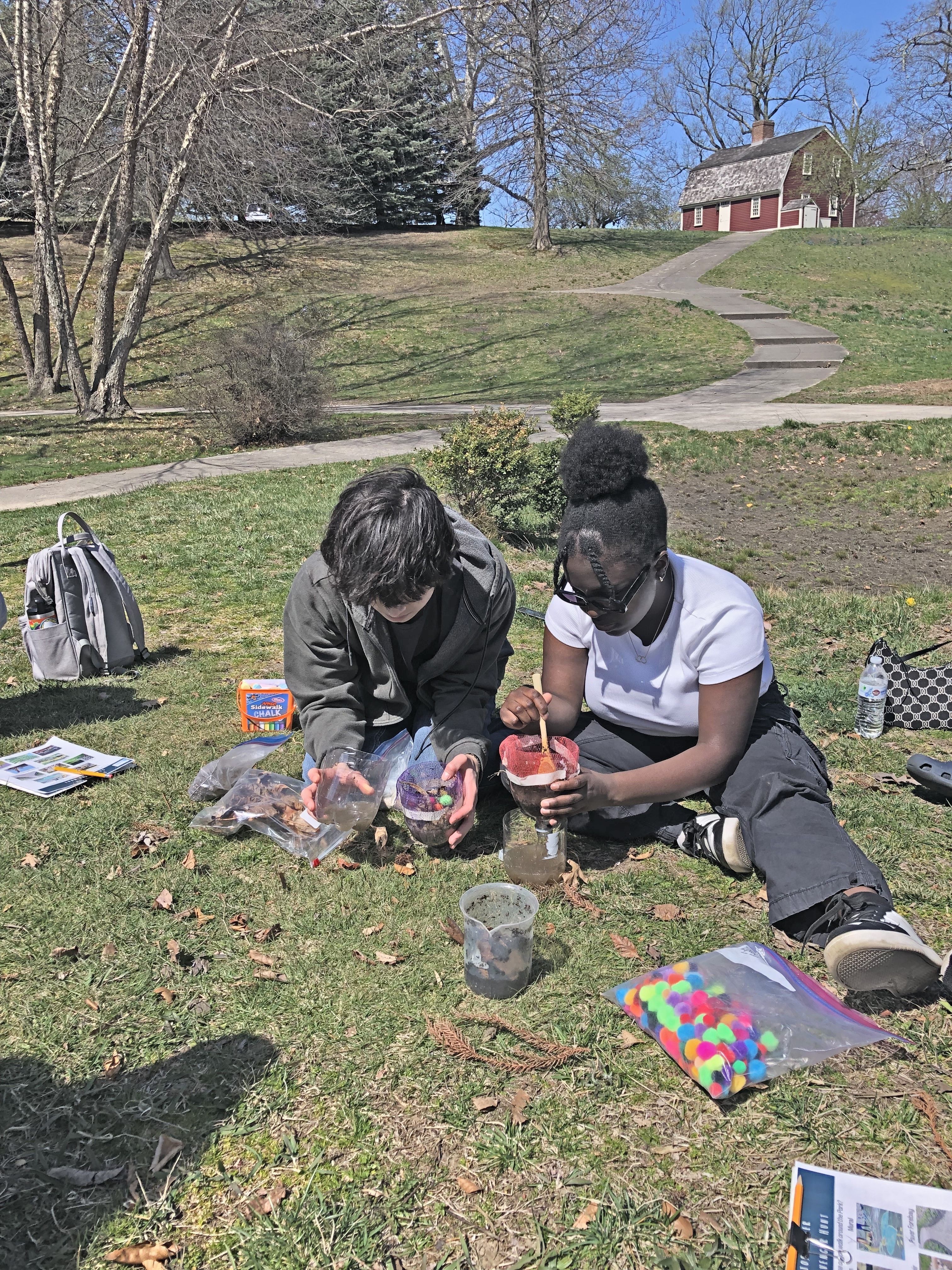 Published on June 9, 2023
Stormwater Mural Project: Providence and Cranston Students Paint Rain Barrels for Community Residents and Businesses 
By Rebecca Reeves, Stormwater Education and Outreach Coordinator 
The Stormwater Mural Project continues for a third year, this time with a focus on rain barrels! This unique partnership between Audubon, the Stormwater Innovation Center (SIC) and The Providence Parks Urban Wildlife Refuge Partnership brings stormwater education sessions to schools and offers students a chance to visit Roger Williams Park for field trips. Participating in the program this year are Sophia Academy, Central High School/New Urban Arts, and the Paul Cuffee School, all in Providence, as well as Eden Park Elementary in Cranston.

Students from Central High School / New Urban Arts program work during a rainwater program at school and present their rain barrel design.

After Audubon brought hands-on science and water quality programs to classrooms, the students visited the Stormwater Innovation Center in Roger Williams Park. They played games, tried experiments, and learned about the importance of managing stormwater runoff, especially by using green infrastructure. Teaching artists were brought on board to work with students to creatively decorate rain barrels, and the resulting artwork is inspired by what students have learned.

Over a dozen large plastic barrels were generously donated by the Coca-Cola bottling plant in Providence to the SIC for student use. Audubon and Stormwater Center staff worked to clean, sand, paint, and prepare the barrels so that they were ready for student creativ-ity! Each school received three barrels and students will be work-ing throughout May to design and paint water quality-related images on them with the help of their teachers, school administrators, and teaching artists.

After the rain barrels are complete, they will be distributed to local homeowners and businesses to be used in urban gardens and land-scapes. We can't wait to see the final designs created by students!
---
Rebecca Reeves is Audubon's Stormwater Education and Outreach Coordinator.