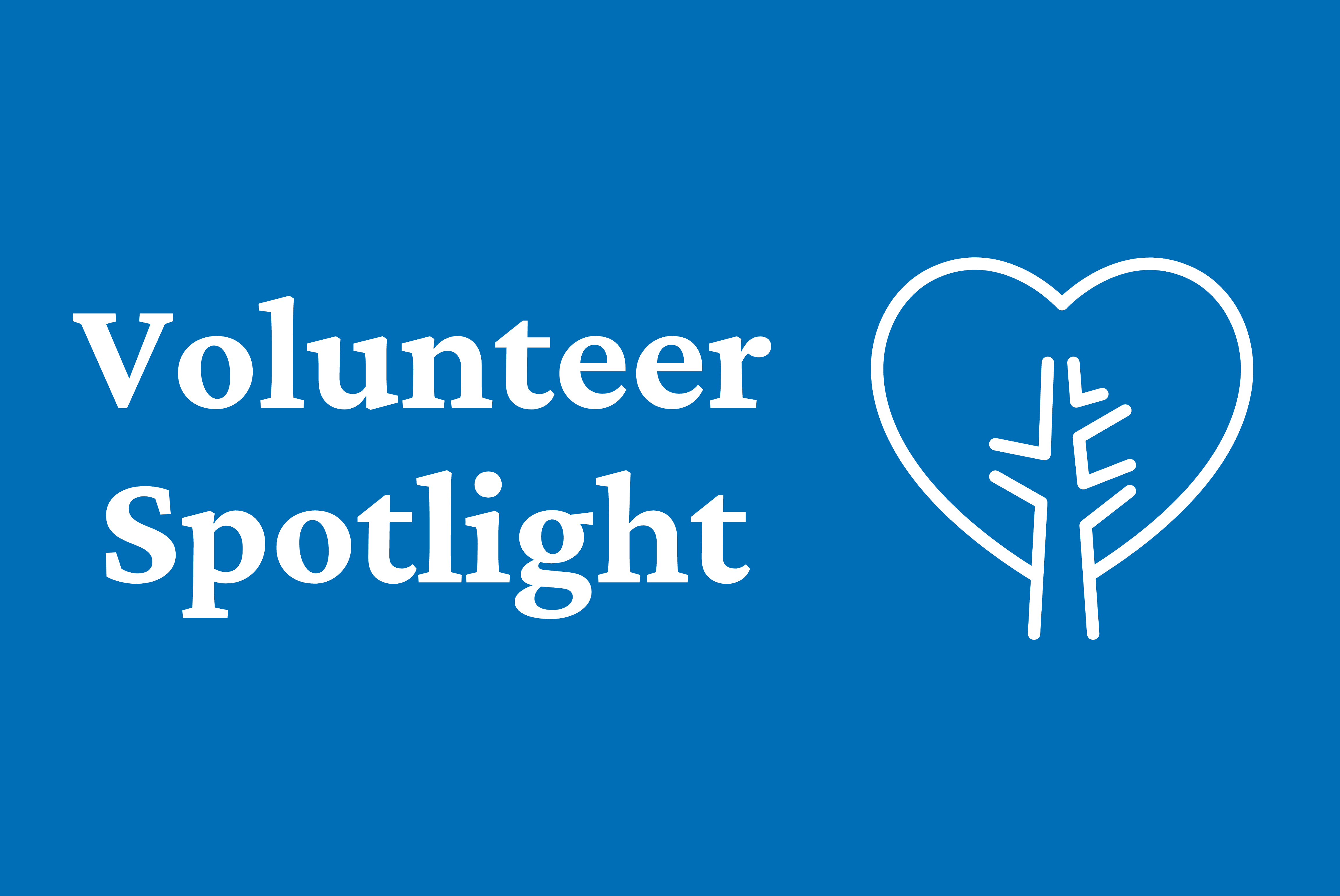 Published August 31, 2023
Summer 2023 Volunteer Spotlights
Volunteers are the backbone of Audubon!
Individuals of all ages, backgrounds, and experiences share their time and talent to support Audubon. We depend on volunteers from interns and educators to gardeners, trail monitors, office help, and more.
Ainsley Gibbons 

Stormwater Innovation Center Volunteer 
Lincoln School student Ainsley Gibbons completed her senior community action project this spring with the Stormwater Innovation Center (SIC). She used her talent in visual arts to decorate rain barrels using images inspired by native plants and butterflies. "Researching rain barrels allowed me to learn about other ways we can care for our environment," she said. "This project gave me more knowledge about the native species that live in our community."

Ainsley also encountered native wildlife at the Audubon Nature Center and Aquarium in Bristol – she noted that she would hear Wild Turkeys gobbling in the mornings. "It felt like they were welcoming me to Audubon every day!" We are grateful to Ainsley for her contributions to the SIC and congratulate her as she moves on to Pratt Institute this fall. – Rebecca Reeves, Stormwater Education and Outreach Coordinator, Stormwater Innovation Center

Bank of America / Merrill Lynch 

Touissett Wildlife Refuge 
A group of volunteers from Bank of America/Merrill Lynch were busy in May at the Audubon Touisset Wildlife Refuge in Warren. This enthusiastic crew cleared trails and built small boardwalks in through the wetland areas. As the Touisset Wildlife Refuge is located along a beautiful salt marsh, the trails can often get wet and muddy from the tidal flow. The work of these volunteers will help preserve the saltmarsh and keep the trails dry and easier to navigate for visitors. Audubon thanks these Bank of America/Merrill Lynch volunteers for their hard work in supporting healthy natural habitats and keeping the Touisset trails enjoyable for all. – Lincoln Dark, Audubon Wildlife Refuge Manager

Volunteers with Bank of America and Merrill Lynch

Cindy Dibble 

Avian Research Initiative Volunteer 
An Audubon member for over 10 years, Cindy Dibble began volunteering after retirement from a 37-year career as a teacher. She has participated in Osprey monitoring, Raptor Weekend and recently data collection for the Avian Research Initiative.

Cindy grew up in Narragansett where she spent her childhood out-doors, and observing birds was a favorite pastime. As an adult, she has been troubled by the persistent decline in the bird populations throughout New England and across the globe. By participating in data collection for the Avian Research Initiative, Cindy says that she feels empowered to do what she can to help our beleaguered birds. "The Avian Research Initiative has given me great hope," Cindy explained. "I am happy to contribute in any way possible." Without the tireless work of volunteers, Audubon would not be an effective conservation organization. Thank you, Cindy! - Dr. Charles Clarkson, Director of Avian Research

Dottie Dylag 

Palmieri Pollinator Garden Volunteer, Audubon Nature Center and Aquarium  
Dottie Dylag, native plant grower extraordinaire, has been bringing joy and humor to the pollinator garden team at the Audubon Nature Center and Aquarium for two seasons. Her wealth of knowledge has been invaluable as Audubon works to expand its native seed starting efforts. Dottie is a member of the Rhode Island Wild Plant Society and a URI Master Gardener intern. She is always working to educate others about the importance and beauty of native plants. Dottie has also worked with other community members to install a native garden at her local post office. We thank Dottie for her many contributions and truly appreciate that she finds the time to volunteer at Audubon. Thank you! - Katie Schortmann, Audubon Garden Coordinator / Environmental Educator
AAA 
Audubon Nature Center and Aquarium, Bristol 
From May to June, the Audubon Nature Center and Aquarium in Bristol hosted five groups of volunteers from AAA Northeast in Providence. And boy, did they get to work! One team cleaned up and prepared Audubon's new outdoor classroom for incoming summer campers. Another headed into the field and helped to remove invasive mugwort in the meadow. Some volunteers mulched and raked garden areas, while others helped to trim back trees and clean up around our long stone walls. These volunteers joined Audubon staff with enthusiasm and willingness to tackle any task. Audubon sends a big thank you to AAA Northeast for supporting our environmental education and conservation efforts this spring. – Christian DeCataldo, Facility Manager, Audubon Nature Center and Aquarium 
---
A huge thank you to all of our Audubon Volunteers, past, present, and future!