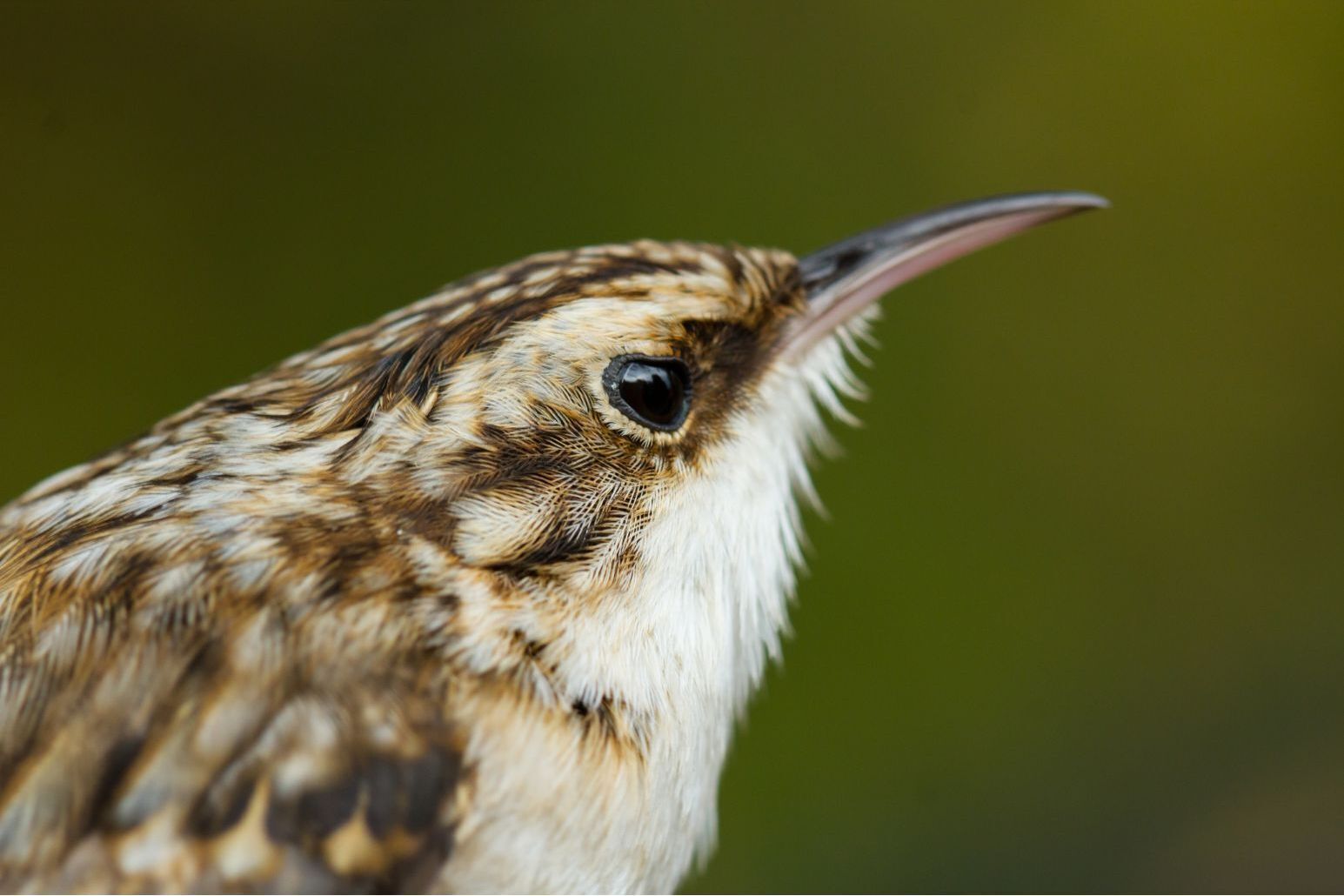 Published on February 15, 2023
The Elusive Brown Creeper
By Laura Carberry, Director of Properties 
As I walk through the quiet winter woods of Fisherville Brook Wildlife Refuge, I hear several high pitch song notes. I stop to listen and watch. First I find several Golden-crowned Kinglets fluttering low in the brush. But I keep listening and I hear a longer note and search the trees around me. There! It is as if the tree bark came alive. A tiny bird, feathered in browns, grays and white starts to creep, spiraling up a tree. The Brown Creeper. This spectacular small songbird lives in Rhode Island all year long, but rarely gets noticed due to its amazing camouflage ability and high pitch call notes that are out of range for some. 
Brown Creepers are found in areas with large trees such as hardwood and coniferous forests. Their camouflaged bodies resemble the color of bark. They have a downward curved bill for gleaning insects off the bark that hide in the grooves where most birds cannot reach. These birds place their short legs on either side of their bodies and use their stiff tails to secure themselves as they creep along the trunk. Because of their position, it is easier for them to hop up the tree versus going down like nuthatches. You will often see these birds fly down to the bottom of a tree and spiral up toward the top before they drop back down to a nearby tree to continue the process of looking for insects. When a Brown Creeper is alarmed it can flatten its body and spread its wings to camouflage itself with the trunk of the tree.

In early spring, males set up territories by singing a beautiful high-pitched song defending a territory that is 5 to 15 acres in size. Both the male and female search for a nest site that is under the loose bark of a tree. Here, the female builds a nest with twigs and bark that she glues together with spider webs. The male helps by bringing her materials. During one of my May birding walks last year, our group was lucky enough to witness a pair bringing nesting material to a tree.

Brown Creeper (Certhia americana)
Once the basic structure is made, the female makes a cup with hair, feathers, moss, and lichen. She then lays five to six eggs, which she incubates for 13-17 days. Then both the male and female will feed the young for about a month. Shortly after, the pair leaves its territory and forms loose flocks with other species. 
In winter, you can often find Brown Creepers with Golden-crowned Kinglets, Black-capped Chickadees, Tufted Titmice and Nuthatches. If you see small mixed flocks, search the nearby trees for the creepers. It is believed that Brown Creepers will communally roost with other creepers in the winter for extra warmth. So remember to leave some of those dead trees standing for creepers to nest and roost in. Some folks have also had success with Brown Creepers coming to their suet feeders.  
Remember to watch carefully when you are walking through the woods - if you see the bark come alive, I would bet that you have just spotted a Brown Creeper! Happy birding! 
---
Laura Carberry is the Director of Properties with the Audubon Society of Rhode Island