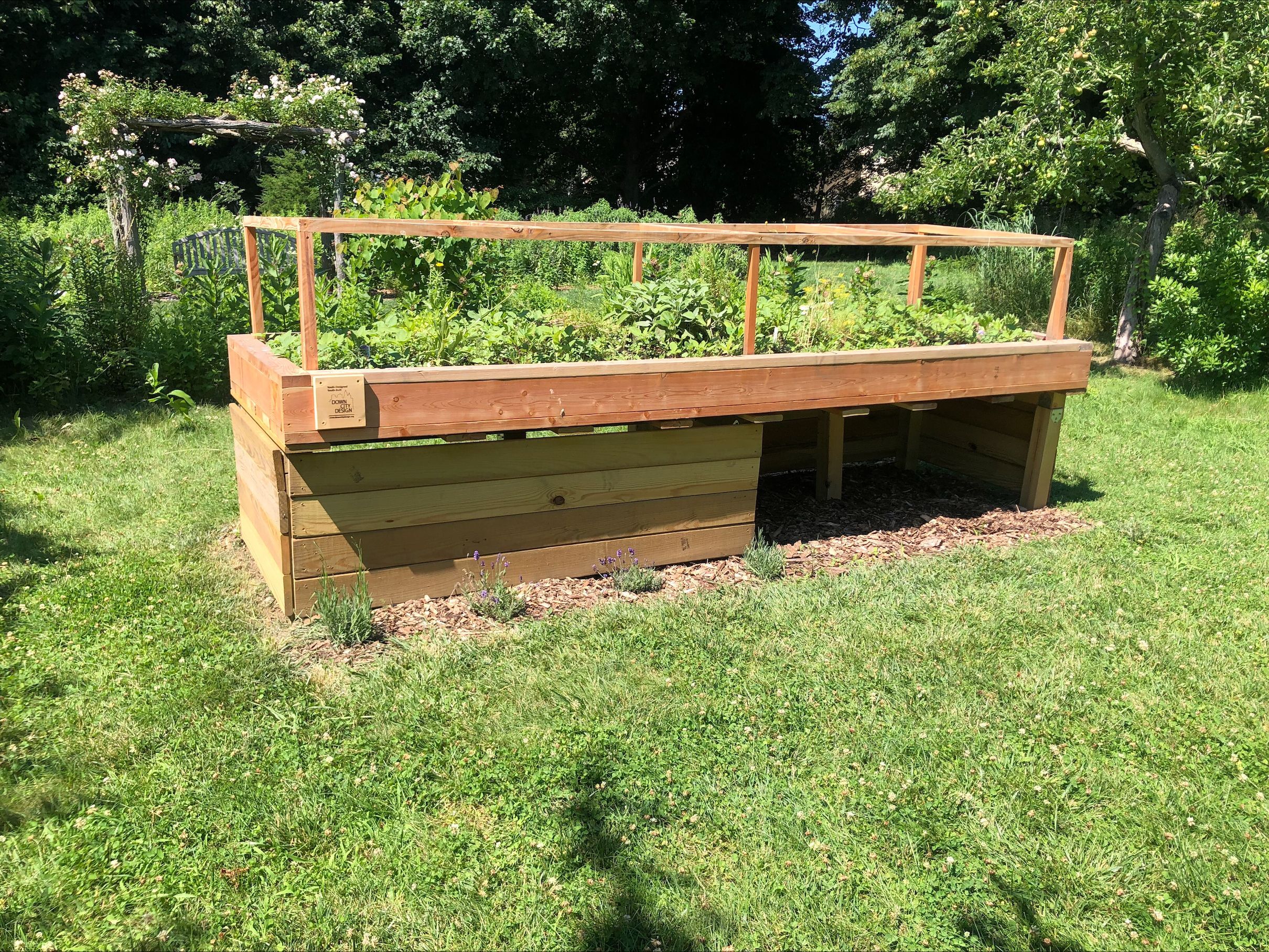 Published August 26, 2023
Watch How Our Garden Grows
By Katie Schortmann
Elevating Community Spaces


This spring Audubon received a beautiful new raised bed for the Palmieri Pollinator Garden thanks to the talented middle school students of DownCity Design (DCD). DCD is a community organization that has served over 2,200 students since it was founded in 2009. Their team of educators empower students to create solutions to community challenges using the principles of design.

Students spent the spring semester honing their design skills to tackle issues of accessibility and critter control in the raised bed. After weeks of brainstorming and more than 15 hours of measuring and building, an elevated planter was installed at Audubon by the students and DCD staff.

Students and staff at DownCity Design of Providence designed, constructed, and installed a new raised garden bed that is more accessible for visitors in the Audubon Palmieri Pollinator Garden in Bristol.
Their final design provides a garden bed that is more physically accessible for visitors, staff, and volunteers. The height of the bed allows visitors to pull up a chair and enjoy sensory plants such as sage, lavender, and oregano. Edible flowers and butterfly host plants like cilantro, parsley and dill are also mixed with pollinator-friendly edible plants. They all grow together in the raised bed.   
This project highlights the importance of collaboration in efforts to make our community spaces both user-friendly and healthy for pollinators. Come by and take inspiration from this new container-style garden bed by visiting the Palmieri Pollinator Garden at the Nature Center and Aquarium. Many thanks to DownCity Design and their creative students! 
Gardening for Wildlife Throughout the Seasons


Designing a garden for all seasons adds beauty to your property and gives your wild neighbors the habitat they need to survive. Autumn is a great time to add plants that provide food and shelter for wildlife throughout the colder months. To get the most bang for your buck, consider planting shrubs and trees that support pollinators with their flowers, as well as provide food and shelter for other wildlife.
Spicebush (Lindera benzoin) is a native shrub that is flush with small yellow flowers in early spring. Beautiful, lemon-scented green leaves emerge in summer that create a habitat for stick insects and katydids. The ripening red spicebush berries in fall are nearly 50% fat, making them a valuable food for songbirds that need to bulk up before migration. Spicebush makes a wonderful replacement for the non-native forsythia and can be pruned into a tree or a shaped shrub.  
Red twigged dogwoods and winterberry shrubs also offer brilliant pops of red color in the dreary days of January. Holly bushes and other evergreens add structure to the garden space and provide animals with shelter from storms and hungry predators. 
Preserving History at Fisherville Brook


Several years ago, Audubon Properties Director Laura Carberry noticed a headstone on the ground in the small cemetery at Fisherville Brook Wildlife Refuge. It was broken into three pieces and in need of repair. The small cemetery contains historic headstones dating back to the 1800s, and many of them stand crooked from hundreds of years of frost heaves and weather damage.

Looking to preserve local history, Audubon decided to refurbish the plot. Working with Carberry, Audubon Council of Advisors Member Everett Stuart contacted Betty and Carlo Mencucci, who are well known in Rhode Island for preserving historic headstones. A generous donor in the area funded the project, and in June the front row of headstones was restored.

Headstone restoration at Fisherville Brook Wildlife Refuge
LEARN MORE: Preserving Historic Cemeteries Lecture 
On November 4, 2023 at 1 pm, Audubon will host Betty and Carlo Mencucci for a lecture on their preservation work and the significance of caring for historic cemeteries on land trust and public properties. Enjoy a lecture in the barn, followed by a walk to see the restoration that they completed in the Fisherville cemetery. Visit the events calendar at asri.org/calendar to register. 
---
Katie Schortmann, Audubon Garden Coordinator / Environmental Educator