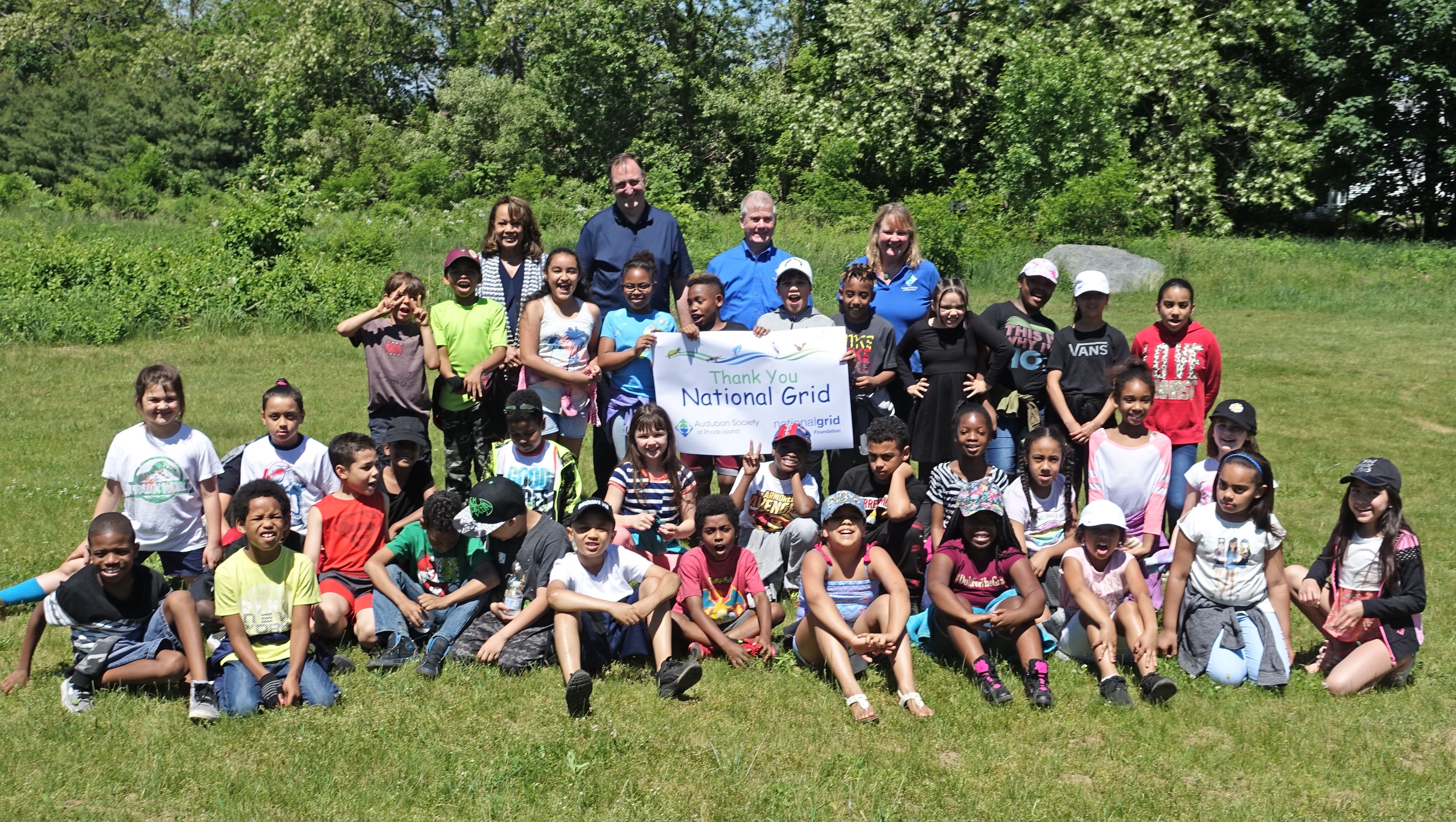 Audubon Receives $20,000 Grant From The National Grid Foundation
06/06/2018
Audubon Executive Director Lawrence Taft announces the receipt of $20,000 from the National Grid Foundation. This grant will support Audubon's Environmental Education for Urban Schools Initiative that allows children with limited economic resources to engage in comprehensive environmental-based science education programs.
Audubon environmental educators reach over 12,000 students each year, covering almost every school district in Rhode Island. With funding from the National Grid Foundation, they will reach even more students in the State's urban communities.
Audubon's Environmental Education for Urban Schools Initiative aims to bring nature-based science programs to elementary and middle school students with limited economic and education resources. Based on both state and national education standards, the program curriculum incorporates hands-on, experiential activities in both the classroom as well as outside in the fields, wetlands, forests and shores of Audubon wildlife refuges.
Audubon is committed to assisting school administrators and educators in offering educational experiences that improve student academic achievement in science and math through innovative environmental based science, technology, engineering, and mathematic curriculum. The funding from the National Grid Foundation will specifically be used to develop and provide innovative science programming that improves academic achievement in schools with economically challenged students in the cities of Providence, Pawtucket, Central Falls, and Woonsocket, Rhode Island.
"Educating students about the natural world is a core mission area of the Audubon Society of Rhode Island," explains Lawrence Taft, Audubon Executive Director. "It is imperative that the next generation have a solid understanding of our natural environment. If children do not form a personal connection to the environment, they will not be invested enough to protect it in the future. This grant allows us to bring innovative science-based environmental education to underserved students across the state. We are grateful to National Grid Foundation for allowing us to extend our reach into urban communities."
"We are pleased to again team up with the Audubon Society of Rhode Island as we work together to help expand students' learning experiences and improve the lives of young people," said Ed White, Executive Director, National Grid Foundation. "We are continually looking for ways to help solve today's educational and environment challenges. Our work with Audubon will help reach more students and help strengthen social fabric of Rhode Island."
One of the largest private environmental educators in the state, in 2017 Audubon staff taught approximately 12,000 students across the region. More specifically, Audubon has been working with urban schools since 2004. It is from this rich foundation that Audubon created the Environmental Education for Urban Schools Initiative.
Over 30 students from the Dr. Martin Luther King Elementary School in Providence headed to the shore of Narragansett Bay to explore. Along the way they stopped with Audubon educators to search for wildlife and discovered field and wetland habitats. There were lots of questions, lots of smiles, and lots enthusiastic students outside learning about nature! This program was made possible in part by this grant from the National Grid Foundation.