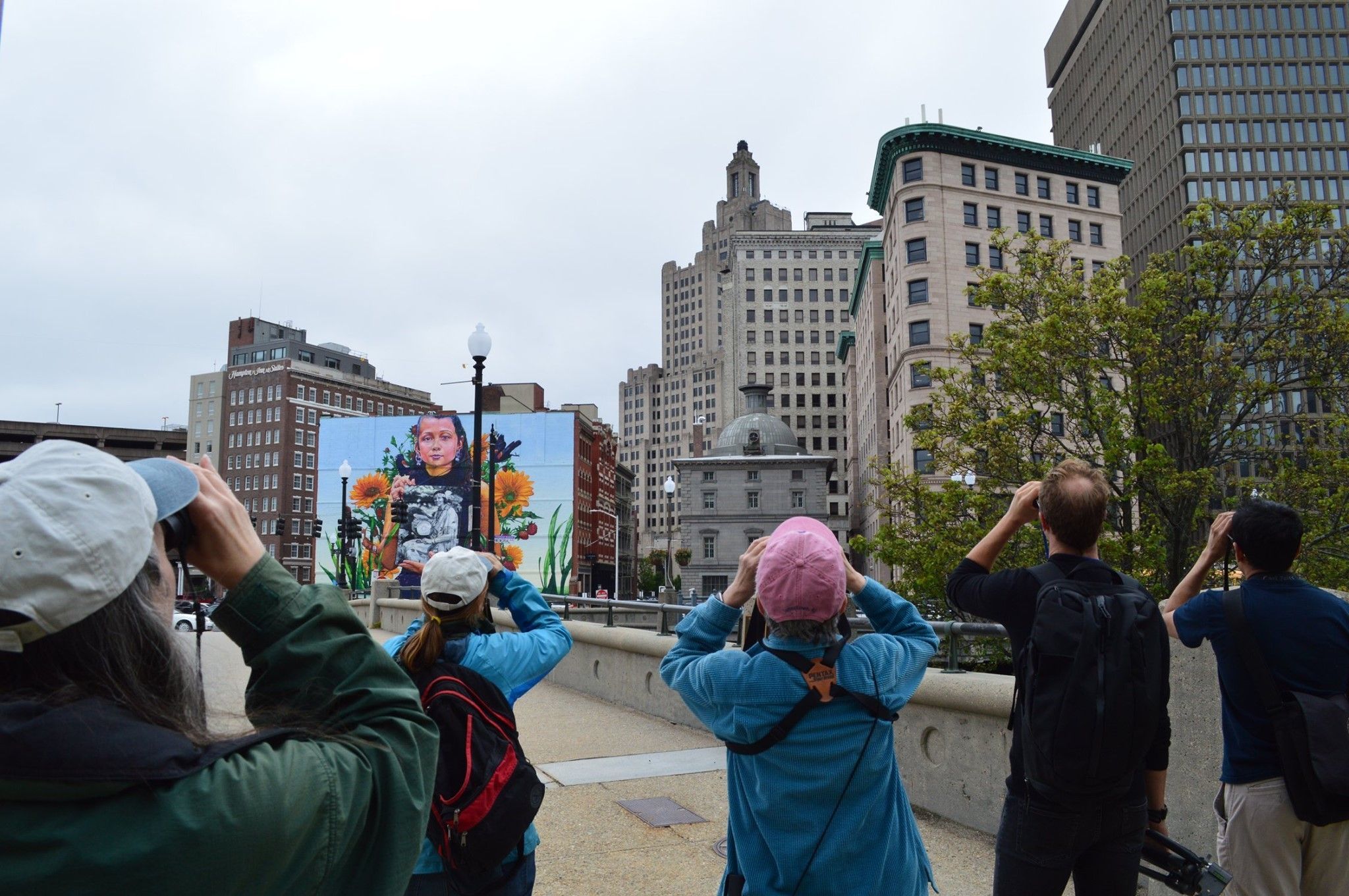 Image courtesy of Providence Parks Urban Wildlife Refuge Partnership, featuring the mural "Still Here" by Gaia.
Providence Birding Adventures
Next Adventure: Monday, May 9, 2022; 12:15 - 1:15 pm.
Join naturalists from the Audubon Society of Rhode Island and the Providence Parks Urban Wildlife Refuge Partnership for a free lunchtime guided bird walk in Providence on Monday, May 9, 12:15 - 1:15 pm.
We are meeting at Memorial Park, located between South Main Street and Memorial Drive, close to where College Street crosses the Providence River. We will gather at the tall statue with the female figure of Peace (Memorial for World War I). We will explore along the Canal Walk and the Providence River Greenway to look for birds along the river as well as to keep an eye out for the raptors nesting in downtown Providence. We might spy the famous peregrine falcon pair who nest on top of the Superman/ former Bank of America building!
We encourage you to walk, bicycle, rideshare or take the bus into downtown (the main bus hub is at Burnside Park only a few blocks away from Memorial Park). If you are carpooling or driving yourself, there is metered parking along South Main Street or South Water Street between the Crawford Street bridge and the Pedestrian bridge.
Our rain date will be Wednesday, May 11 at 12:15 pm.
Some safety recommendations:
Dress for the weather and wear sturdy walking shoes.
Please wear a mask if you are not vaccinated or if you feel more comfortable doing so. 
If you are fully vaccinated, then you may attend without a mask, but we will still remain aware of how close we get to each other when looking for birds.
Families with children who may not be able to be vaccinated, please feel welcome joining us!
We encourage you to bring your own equipment - binoculars and field guides – so that we can limit sharing among participants.
We acknowledge that these lands we will explore are the traditional, ancestral and contemporary lands of the Narragansett, Nahaganset, Wôpanâak, and Pokanoket nations. Mashapaug Pond has been and continues to be a very special and important place. We are grateful to these local indigenous nations for being the first to steward these lands and waters, and for continuing that stewardship in the present and into the future.  
Join us! Click here to register.
•  •  •
Thanks to the U.S. Fish and Wildlife's Urban Bird Treaty Program, and a partnership between the Providence Parks Urban Wildlife Refuge Partnership and the Audubon Society of Rhode Island, these free, monthly bird walks will be held at various urban parks.
These birding adventures began in 2018 as part of the Urban Bird Treaty Program, and last year in 2019, Providence was designated a Bird Treaty City. To read more about the Urban Bird Treaty and other participating cities, download the fact sheet and visit the website.
---
Looking for Audubon's Free Wednesday Morning Bird Walks with Laura Carberry? Please click here for each week's locations, updated every Monday!