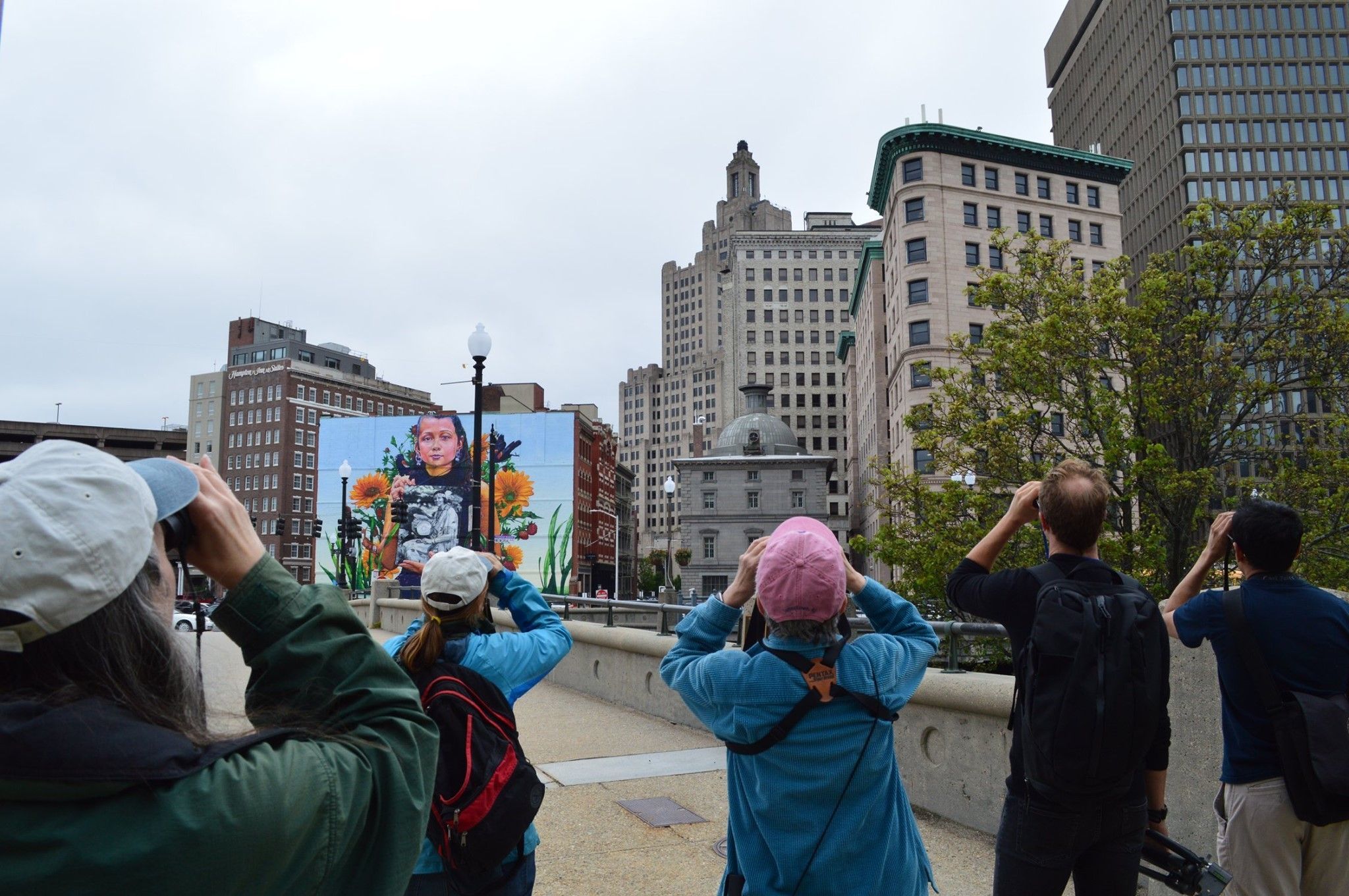 Image courtesy of Providence Parks Urban Wildlife Refuge Partnership, featuring the mural "Still Here" by Gaia.
Providence Birding Adventures
Next Adventure: Monday, November 28, from 3:00-4:00 pm. 
Join naturalists from the Audubon Society of Rhode Island and the Providence Parks Urban Wildlife Refuge Partnership for a FREE guided bird walk in the afternoon of Monday, November 28 from 3:00 pm-4:00 pm at Swan Point Cemetery. This beautiful cemetery is an oasis for birds in the city, and many of its grand trees are labeled so we can learn more about this park habitat while we are there.
Here are some specifics:
Dress for the weather and wear sturdy walking shoes. Since it may be getting dark as we are finishing the walk, feel free to bring a small flashlight to help you find your car.
Note: We will not be shining our flashlights into the trees to flush any birds; this is just for your own safety.
We will meet at the small parking area to the left of the main entrance of Swan Point Cemetery, at 585 Blackstone Boulevard.
The walk will head to the left side of the cemetery and down toward the Seekonk River. This is along a paved road, so it is handicapped accessible. We may stop and look into the forested trails at the end of the walk; those trails are dirt and a little uneven underfoot, so are more challenging to traverse than the paved roads.
We encourage you to walk, bicycle, ride the bus or carpool to our meeting spot if you are able.
The RIPTA bus route #1 stops on Hope Street before Chace Avenue, near India Restaurant. Then walk down the path on Blackstone Boulevard until you see the entrance to Swan Point Cemetery on the left.
If driving, there is room in the parking lot across from the information kiosk, or you may park along Blackstone Boulevard near the entrance.
Please do wear a mask if you are not vaccinated or if you feel more comfortable doing so.
If you are able to bring your own equipment - binoculars and field guides – please do so. We will bring some extra binoculars and fold-out field guides.
We acknowledge that these lands we will explore are the traditional, ancestral and contemporary lands of the Narragansett, Nahaganset, Wôpanâak, and Pokanoket nations. We are grateful to these local indigenous nations for being the first to steward these lands and waters, and for continuing that stewardship in the present and into the future. 
These birding adventures began in 2018 as part of the Urban Bird Treaty Program, and in 2019, Providence was designated a Bird Treaty City. To read more about the Urban Bird Treaty and other participating cities, download the fact sheet and visit the website.
•  •  •
Thanks to the U.S. Fish and Wildlife's Urban Bird Treaty Program, and a partnership between the Providence Parks Urban Wildlife Refuge Partnership and the Audubon Society of Rhode Island, these free, monthly bird walks will be held at various urban parks.
Looking for Audubon's Free Wednesday Morning Bird Walks with Laura Carberry? Please click here for each week's locations, updated every Monday!