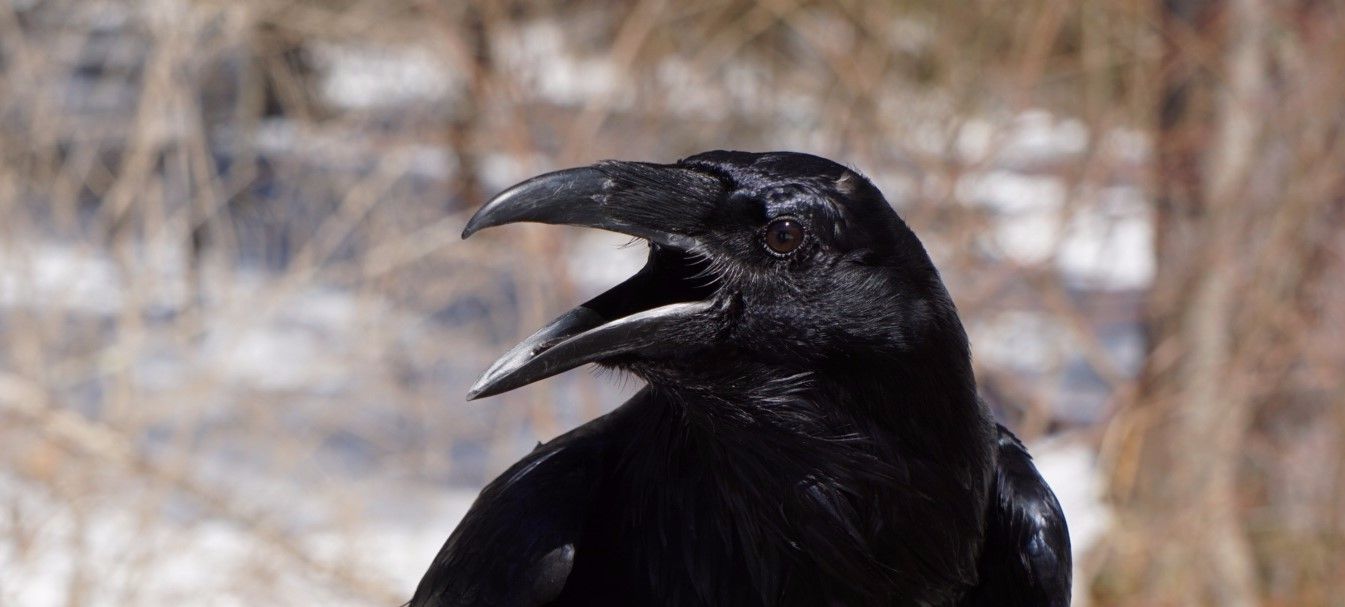 Let's face it. Historically, literature and folklore haven't always been kind to the Raven. With its sleek black feathers and piercing eyes, this bird has long been associated with the dark stories of Edgar Allan Poe and old European tales of misfortune. They have traditionally been depicted as the bad guys – even as a collective group they are called an unkindness of Ravens.
But if you ask the birding experts at Audubon, they will tell you that this bad reputation could not be further from the truth. And they should know. A very clever Raven named Zachariah has recently found a new home with the organization and has brought his mischievous nature to roost. Many may not know that Ravens are among the most intelligent animals on Earth and amazingly playful. These avian wonders use snow, sticks, pinecones and other found objects to entertain themselves. They are tricksters that prank on other Ravens, gesture to communicate, identify and empathize with other birds, and can even learn to imitate human speech. Although Zach fractured his wing as a young bird and now can't fly more than a few yards, his injury has not altered his inquisitive personality. Zach is stirring it up over at Audubon and is being met with enthusiasm and delight from visitors and staff alike.
In addition to the Raven, Audubon has recently adopted two Red-tailed Hawks and a Great Horned Owl from a retiring wildlife rehabilitator in Maine. The new additions make for a full nest over at the Audubon Society of Rhode Island. The organization now cares for 9 rehabilitated birds that cannot be released to the wild: four Red-tailed Hawks, an American Kestrel, a Barred Owl, two Great Horned Owls and the Raven.
Two of the Red-tailed Hawks may be viewed daily at the Audubon Environmental Education Center's hawk observation exhibit during regular business hours. Although the other birds are housed in private aviaries not open to the public, visitors can meet them during Audubon public education programs that are scheduled throughout the year. Or, you may plan a Raptor Encounter for your school, library or other community group.
For those interested in getting to know Audubon's mischievous Raven, we encourage you to attend one of the autumn programs listed below.
That dismal Raven reputation is about to be dispelled.
Audubon's Perfect Pumpkin Party
Audubon Environmental Education Center, Bristol, RI
October 28, 2017; 10:00 am – 4:00 pm
Search for hidden pumpkins, try your hand at pumpkin games, visit a silly fall photo booth, and meet Zachariah the Raven – Audubon's new avian ambassador.
Free with admission, no need to register. Click here for program details.
The Day After Thanksgiving
Audubon Environmental Education Center, Bristol, RI
November 24, 2017; 10:00 am – 3:00 pm
Give thanks for all that nature has given us! Bring the brood for crafts, animal interviews, nature walks and more. Audubon's new avian ambassador, Zachariah the Raven, will be making a special guest appearance.
Free with admission, no need to register. Click here for program details.