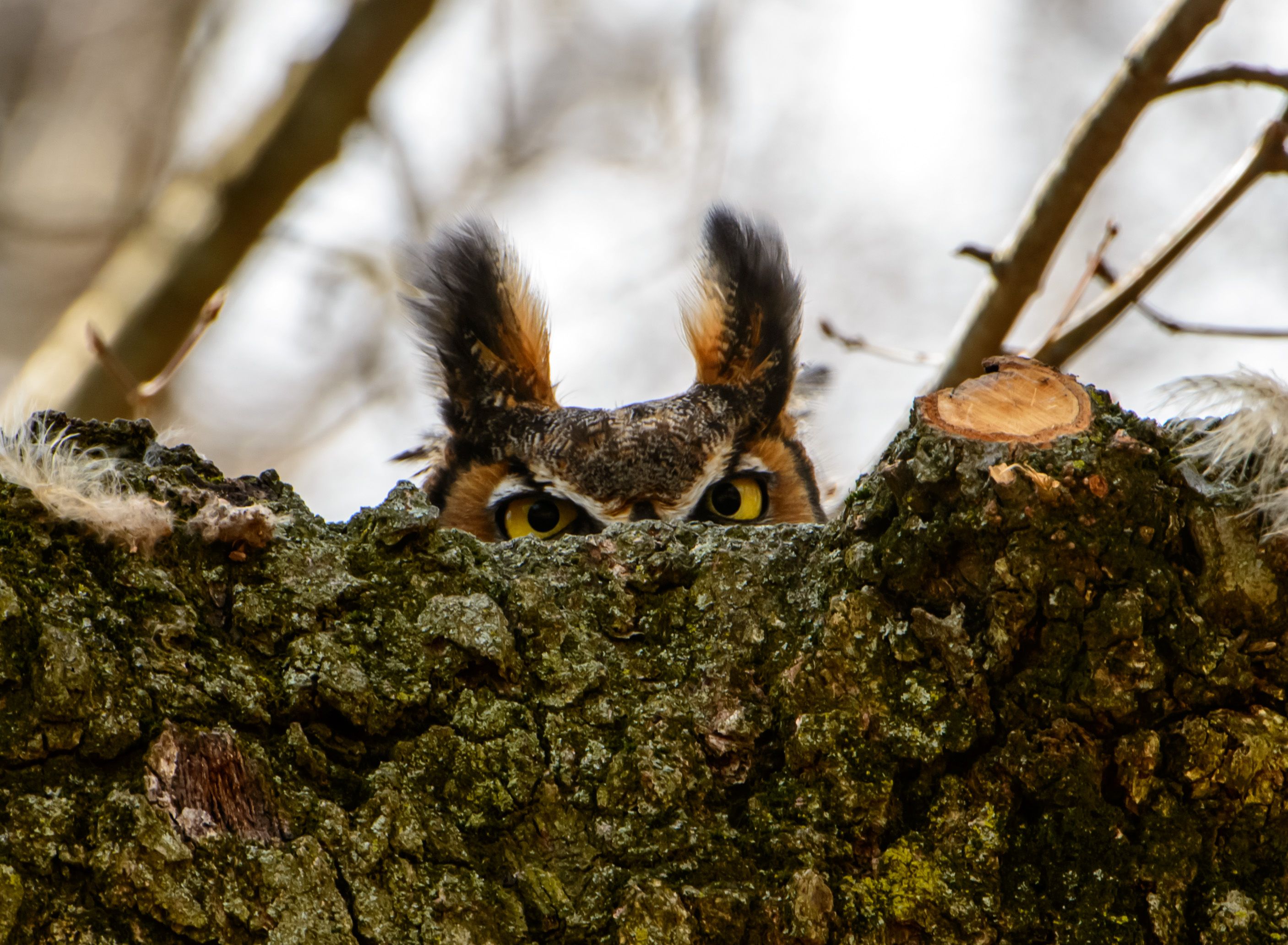 Part Three of the Audubon Report 2017 Series on Climate Change by Todd McLeish
•••
At Audubon's final Wednesday morning bird walk of the season in June, nearly two dozen Rhode Islanders – most of whom are regulars at the weekly walks – gathered at the South County Bike Path. They were searching for warblers, vireos, flycatchers and whatever other birds were willing to make their presence known at the peak of the breeding season. Led by Audubon naturalist and Fisherville Brook Wildlife Refuge manager Laura Carberry, the group spotted more than two dozen species, including Eastern Kingbird, Great Crested Flycatcher, Veery and even a Barred Owl.
In her introductory remarks before the walk began, Carberry reminded the participants about several topics they had discussed in previous weeks, all related to climate change and the strategies each of them could employ to help reduce their carbon footprint. She recommended that the group consider enrolling in a program that provides renewable energy to their homes, reducing their fossil fuel use by carpooling or bicycling, and installing rain gardens in their yards to absorb stormwater run-off. And she thanked them for joining with her in building a pollinator garden at Fisherville Brook to boost the local population of bees, butterflies and other pollinators.
If offering climate change mitigation tips during a bird walk sounds out of place, it shouldn't.
"Everyone who cares about the environment needs to be talking about climate as often as they can," said Barbara Sullivan-Watts, a bird walk regular. "And I think a bird walk is as good a place as any. Birds are declining because of climate change, so why wouldn't Audubon talk about it during a bird walk?"
The feedback has been similarly positive from others in the group as well. Several said that Audubon is a credible source of useful information about climate change, and Carberry is someone they trust to offer factual messages that they are happy to act on.
"Those that attend bird walks are already environmentally aware, so they're on this wave-length anyway," Carberry said. "I've been pleased with how receptive they've been."
Carberry's climate change messaging is part of a strategic initiative Audubon launched last year with partner organizations Massachusetts and Connecticut Audubons to incorporate climate-related information in existing programs.
"We've learned that people just don't sign up for climate change workshops or lectures," said Lauren Parmelee, Audubon senior director of education. "In order to provide that information to the public, we have to successfully weave it into our other programs led by people like Laura, who our members already know and trust."
Several Audubon environmental educators attended a workshop last year sponsored by the U.S. Environmental Protection Agency to improve their own climate literacy and learn how to communicate about it without overwhelming program participants or making the issue seem depressing. The ultimate aim is to inspire the public and empower them to take positive action in their communities.
In addition to the Wednesday morning bird walks, the initiative has been incorporated into numerous Audubon programs, including the annual maple sugaring event in March. In addition to climate messaging in each element of the program, a gift of a sugar maple seedling was offered to all participants as a way of encouraging action in their own yards. Climate-related lessons were also part of Parmelee's Beginning Birding class and Audubon board member Dr. Charles Clarkson's Birding: The Next Step class, and Audubon Refuge Manager Kim Calcagno's Greening Your Home program.
"You really have to think about the messaging," Parmelee said. "You can't just tell people the facts and expect them to take action. You have to tap into their values."
Some of the things that people value most are their families, homes and communities. Many Rhode Islanders have already felt the effects of climate change in their towns, basements and backyards as a result of storms – exacerbated by the world's changing climate. In 2010, extended rains caused massive flooding along the Pawtuxet River. The river rose more than 15 feet above flood level and inundated three wastewater treatment plants – West Warwick, Cranston and Warwick. Untreated sewage mixed with floodwaters flowed into homes and businesses. Two years later, in 2012, Super Storm Sandy rushed on shore, devastating more homes and businesses along Rhode Island's southern coast. Misquamicut Beach was one area that was devastated.
State and local agencies are starting to take steps toward making the region more resilient to the coming changes, and residents need to stay abreast of the projects that are in the works.
The Division of Statewide Planning, for instance, recently completed a study of the socioeconomics of sea level rise to identify who is likely to be affected the most.
Parag Agrawal, the division's associate director, said that while most of the climate-related planning under way focuses on infrastructure, "no one is thinking about who the people are that are going to be most impacted," he said. "We've come up with fact sheets for each of our towns identifying the demographics of the people who will be impacted."
The report found that Westerly has the most homes vulnerable to increased sea level rise, while Newport has the highest number of commercial structures at risk.
In addition, a report of the most vulnerable infrastructure in Rhode Island found 175 miles of roadway and 81 bridges will be at risk from sea level rise and storm surge by the end of the century. Among the most vulnerable roads are Hope Street in Bristol, Memorial Boulevard in Newport, Wampanoag Trail in Barrington and Canonicus Avenue in Jamestown. The bridges most vulnerable to sea level rise include the Barrington and Warren bridges on Route 114, the Apponaug Bridge on Route 1 in Warwick and Easton's Beach Bridge on Route 138 in Newport.
As demonstrated by the floods of 2010, some of the infrastructure most susceptible to flooding and sea level rise are Rhode Island's wastewater treatment facilities, which have been intentionally con-structed in low-lying areas near waterways. Wastewater plants take advantage of gravity to deliver waste to be processed, cleaned and discharged into a river or the Bay.
"Wastewater facilities and infrastructure are ground zero of climate change in Rhode Island," said R.I. Department of Environmental Management engineer Bill Patenaude, who analyzed the risk of each of the state's 19 wastewater treatment plants. "We knew that going in. The question is how much flooding are we looking at and how soon. And what do we need to do now and in the future?"
Patenaude said the facilities are designed to handle the flooding from 100-year storms, but now the state is experiencing flooding where it has never seen it before. So he came up with 270 recommendations of measures that could improve the resiliency of the plants.
"What we learned from Warwick and West Warwick during the floods in 2010 is that it becomes too expensive to keep the water out, so you let it in and make sure you can rebuild quickly," Patenaude said. "Just protect the electrical equipment and make sure the tanks are sound and the buildings are sound."
Most of the officials responsible for the state's wastewater facilities are heeding his advice and making plans to increase their flood protection capabilities to match the projected increases in precipitation and sea level rise.
"As communities come to us with new designs for upgrading the facilities, we're engaging them in the process," he said. "We talk to them about what the conditions are going to be like in 50 years and what they can do to make their facilities more resilient. We learned a lot from the 2010 floods. In a way, it was a good thing, because it helped us prepare for when it happens again."
The climate change challenges facing urban communities are somewhat different from their rural and suburban counterparts, due largely to the dense development and abundant pavement that rapidly carries polluted stormwater through neighborhoods and into local waterways. Audubon is a leading member of the Rhode Island Green Infrastructure Coalition, a collaborative group of non-profit organizations, businesses, and government staff working to promote sustainable funding for stormwater management. The Coalition promotes softening of urban landscapes by removing pavement and installing green infrastructure like rain gardens, trees and swales to manage stormwater runoff.
The Woonasquatucket River Watershed Council is another member of the coalition that is taking a proactive role in educating local residents about climate change and helping them build resiliency in their communities. "It's only getting rainier around here," said Alicia Lehrer, executive director of the council. "The issues with sea level rise and flooding are very much in the forefront in our watershed."
In the Riverside Park section of Olneyville, the council has created a half-mile walking tour with signage describing each project. And they are working to integrate green infrastructure into the expansion of the Woonasquatucket Greenway Bike Path. Climate change may be the most important issue of the century, and educating our neighbors about how they will be affected and how they can help their communities adapt is vital.
Another key message that Audubon seeks to instill in its members is how important it is to stay informed about the steps being taken at the state and local level to address the implications of climate change.
"Once people become aware of the predictions for sea level rise and increased storms and flooding, it's important that they stay abreast of what their decision makers and local leaders are doing and encourage them to pay attention to those issues," said Meg Kerr, Audubon's senior director of policy. "At the State House, it's not on many people's radar. They're not having many policy conversations about climate change-related issues. And most state agencies are still doing business the way they've always done it. Bolder action is needed at all levels of government."
Kerr encourages all Rhode Island residents to regularly ask questions of government leaders.
"Write the governor to ask what she's doing about climate change. Ask your legislators what the State is doing to be more resilient, or about carbon reduction policies," she said. "The more people who ask those questions, the more likely our elected officials will start paying attention." The same is true at the local level. While every municipality is now required to include hazard mitigation assessments in their comprehensive planning documents, many local officials are unprepared to consider the long-term implications of climate change. So it's up to local residents to make sure it is on their agenda.
"Talk to local decision makers in your town with open-ended questions," Kerr said. "Are they even thinking about climate change? It's not at the top of the mind to most people. Ask them what they're considering, what they're doing, how will the roads handle flooding in the future. Are they thinking about how to keep vulnerable people safe in severe storms? Are they confident that their community water supply will be safe in the future? These are big issues that must be addressed at the local level."
"Climate change has a multiplying effect on all other environmental problems we have," said Audubon's Lauren Parmelee. "As we work to tackle habitat loss, endangered species, invasive species and water quality – climate change is exacerbating those and other environmental issues. If we don't take direct action to alleviate climate change, our other environmental efforts are futile over the long term. It's like we'd be using a toothpick to chip away at a concrete wall."
• • •
—Todd McLeish is a life-long birder, freelance science writer and author of several books about wildlife, including Narwhals: Arctic Whales in a Melting World.
Also by Todd McLeish:
Part One: Rhode Island Birds on the Brink: Confronting the Challenges of Climate Change
Part Two: Rising Seas are Drowning the Salt Marshes