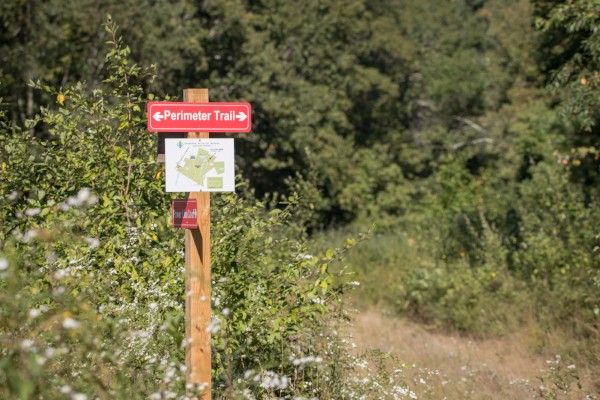 From the big white barn to the meandering trails and crystal-clear brooks, the Caratunk Wildlife Refuge in Seekonk is a placed beloved by nature enthusiasts and wildlife alike. It is one of Audubon's most popular properties.
To better accommodate visitors, Audubon has begun a series of upgrades at Caratunk. First, the trail system has been redesigned and new signage installed to make it easier for hikers to navigate. Future plans include the construction of a more conveniently located kiosk, an improved parking area, landscaping for pollinators, and rain gardens to collect storm water run off.
Over the past year Audubon Board Members Nate Chace and Terry Meyer have teamed with Senior Director of Conservation Scott Ruhren to tackle the first part of the plan. As they revised the trail system and reviewed signage requirements, they also took into consideration the important balance between visitors and the needs of wildlife. Chace, an avid outdoorsman, is actively involved in the future planning and management of Caratunk. His support was key to the development and installation of the new signage. Meyer is a professional cartographer. Her skills were put to good use as the new trail routes were mapped and installed.
As you head over to Caratunk this autumn, be sure to download the new trail map and take advantage of the new signage that directs hikers at many trail intersections.
We extend our appreciation to Nate Chace and Terry Meyer for their ongoing support of the Caratunk rejuvenation project and look forward to additional improvements as this effort moves forward.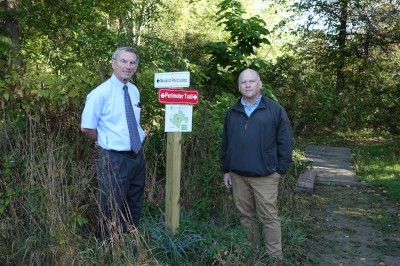 Board Member Nate Chace (left) and Senior Director of Conservation Scott Ruhren near some of the new signage at Caratunk.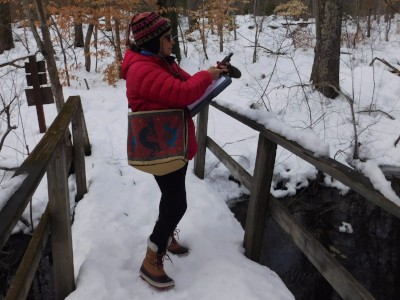 Board Member Terry Meyer hiked Caratunk last winter to map the new trails.