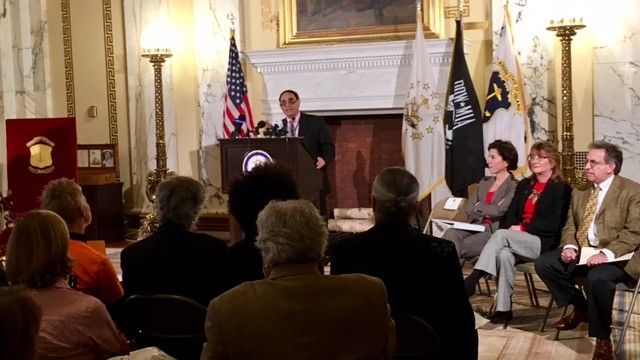 Please join Audubon at the Environment Council of Rhode Island's (ECRI) Earth Day at the State House on Wednesday, April 25 at 3:15 PM in the State Room. ECRI is a coalition of over 60 environmental member organizations working together to address the state's most pressing environmental challenges.
Speakers include DEM Director Janet Coit (invited), Senator Conley (D, District 18, East Providence and Pawtucket) and Representative McEntee (D, District 33, Narragansett and South Kingstown).
Senator Conley is chair of the Senate Committee on Finance and a member of the Senate Committee on Environment & Agriculture. He has long supported legislation to address climate change. He was the Senate sponsor of the 2014 Resilient Rhode Island Act and last year passed amendments to the bill requiring the Executive Climate Change Coordinating Council to examine carbon pricing as a strategy to meeting the state's greenhouse gas reduction goals.
Representative McEntee serves as the second vice-chairwoman of the House Committee on Judiciary and is a member of the House Committee on Labor as well as the House Committee on Environment and Natural Resources. She is the sponsor of the "Plastic Waste Reduction Act" (H 7851) which would prohibit large retail establishments from using checkout plastic bags and would eliminate polystyrene food containers.
This annual event is also called ECRI Lobby Day. Immediately after the speaking program, participants are encouraged to find their legislators on the floor before the start of session. Audubon members are encouraged to talk to your legislators about the $48.5 Million 2018 Green Economy and Clean Water Bond.
This bond has nine components, including $4 Million for farmland and open space protection. Audubon relies on open space grants funded by these bonds to protect essential habitat areas throughout the state. The bond also includes critical funding for local recreation ($5 M), bikeways ($5 M), state parks ($10 M), brownfield matching grants ($4 M), coastal resiliency and public access ($ 5 M), clean water and drinking water ($6.1 M), wastewater treatment facility resilience ($ 5 M) and dam safety ($4.4 M). The bond must be passed by the legislature before it can be put on the 2018 ballot and be considered by the voters of Rhode Island.
Please contact Meg Kerr, Audubon Senior Director of Policy if you have any questions.