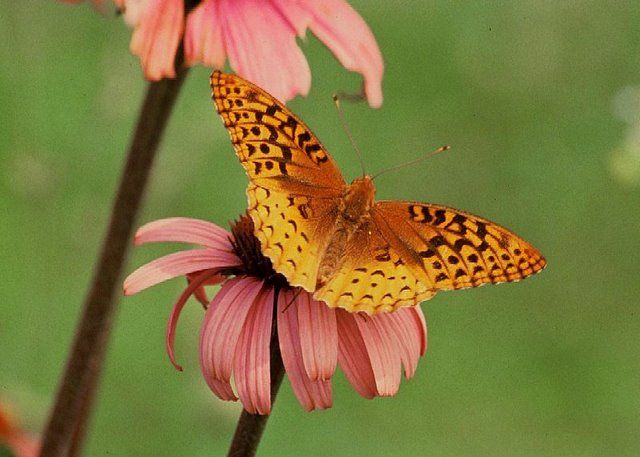 Audubon Designs and Monitors Pollinator Habitat
Winding his way through the forest trail at Fisherville Brook Wildlife Refuge on a chilly spring day, Scott Ruhren, Audubon Senior Director of Conservation, talks about the global pollinator crisis and the efforts that Audubon has taken to support healthy pollinator habitat in Rhode Island. Out of roughly 1,000 acres at Fisherville Brook, 50 acres are mown and being reconfigured as pollinator habitat. As he reaches one of these designated areas, Ruhren stops to explain that Audubon conservation staff has seeded such pollinator-friendly plants as rose milkweed, asters, goldenrods and common milkweeds. "Over the last decade, there has been a gradual change in our focus. Instead of conserving these areas for grassland birds alone, we have been expanding, accommodating, and designing habitat for pollinators as well. We've also arranged for mowing to take place later in the season to help encourage healthy plant growth."
Special care is being taken to use seeds that are native to Rhode Island. "Seed varieties for these pollinator habitats were chosen partially through economic factors," Ruhren said. "Wildflowers are becoming popular with gardeners and getting more expensive to purchase. With the help of volunteers, we have saved money and extracted seeds from existing plants on our properties. For example, last season, a volunteer came and put in a couple of days at several refuges, harvesting seeds from different plants. The seeds were then dried to be planted at a future date." Another method of harvesting seeds came about from a rather unusual source. "When the fields at certain wildlife refuges were mown, we collected a lot of the chaff that accumulated on the deck of the mowers. It is often loaded with wildflower seeds and little bluestem grass that we then spread at the refuges."
The planting process is simple: the ground is tilled, then the seed scattered by hand. Sowing in fall means that the seeds will actually benefit from the snowfall by being pressed into the soil and also kept hydrated. Another technique, called frost sowing, means the seeds may be sown on top of snow. "The good thing about this process is that seeds usually need a cold period to harden off, and frost sowing accomplishes that. The alternative is to bring them home and store them in a fridge to fool the seed into thinking its winter and prepare itself for the next season's germinating."
The seeding process at Fisherville is new this year. "We wanted to increase the diversity of the flower species. One area has pretty fertile soil, but another is quite dry. That means there will be a difference in the type of flowers that will grow, which in turn may mean a difference in the type of pollinators that will come. We'll watch and see as the season progresses."
Pesticides and Pollinators
"The decision to actively protect pollinators began a couple of years ago when the Board of Directors was discussing conservation priorities for the coming year," said Executive Director Larry Taft. "In these discussions, we considered gaps in conservation. Audubon had partners in the field focusing on various environmental initiatives, but we realized that there were no other state organizations that were really highlighting the issue of pesticide use and its impact on the environment."
For Taft and the Board, protecting pollinators was a logical fit. "The more Audubon looked at pesticide use, the more questions were raised. This is an important environmental issue. Part of Audubon's mission is to protect birds and other wildlife. Well, in order to do that, you must protect their habitats as well."
"Our Board was concerned about the widespread use of neonicotinoids, a group of pesticides in wide use on farms and in gardens. These pesticides are absorbed by plants and can be present in pollen and nectar, making them toxic to bees. "We attended informational hearings at the state legislature, and worked with legislators to create the Pollinator Working Group. We need to look at the bigger picture: what is the pesticide use, what is the training (for its use), and what is the status of pollinator habitat in our state? We protect big stretches of forest, but even smaller urban and suburban pollinator areas can make a positive impact." The group made the decision to shine a spotlight on ensuring the health of pollinators through habitat protection and educating the public on what they can do to help.
Protection and Education Go Hand in Hand
Taft realizes that pollinator protection needs to extend beyond the habitat projects on Audubon's refuges. "We have taken on pollinator protection in our advocacy work and on our wildlife refuges," he said, "but we also need good messaging for people about how they can make a positive impact in their own homes and gardens."
"Often people think, 'well, I'll just plant a butterfly bush or I'll put milkweed plants in my garden' but there are many other plants that will benefit and attract a wide variety of pollinators. They can also reduce pesticide use. We need to get people thinking about ways that they can help. It may take a few years to build this important campaign, to spread the word about pollinators and ways that people can get involved, but we are off to a strong start. "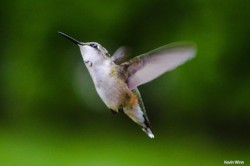 Ruhren agrees. "Some people may think, 'I only have a little garden, what can I do?' But some of these gardens in suburban back yards are enough to support pollinators." The key is to plant flowers and bushes that appeal to a wide variety of pollinators. Even if it is only in window boxes or pots on a deck.
"Some plants have an 'obligate' relationship, where they are only pollinated by specific bees. For home gardeners, we encourage growing plants like cosmos and sunflowers that are less specialized. These big, open flowers encourage lots of pollinators, from bees and wasps to beetles, butterflies and moths."
When it comes to pesticides, Ruhren recommends caution. "We encourage everyone to try and reduce or eliminate pesticide use. Even so-called 'targeted pesticides' have been known to leave residue on flowers that can kill bees." If it is absolutely necessary, we recommend spraying carefully, only on a small designated area, not all over the garden.
"Try to make wise choices, especially by purchasing native plants," Ruhren continues. "For example, blueberries are important because they are often a hummingbird's first meal after migration, even though their normal choice might be red flowers." A vegetable garden can help too. "In my own garden, I always plant flowers like cosmos near my vegetables, and I don't worry so much about having a super-tidy manicured look. The more flowers and vegetables, the better."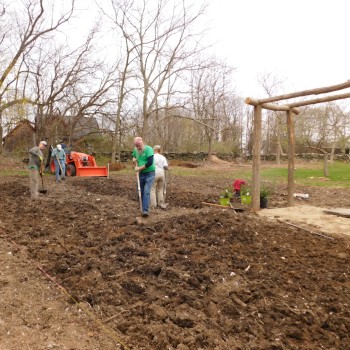 Future Plans for Pollinator Gardens
Taft explains that another important project is also in the works at the Audubon Nature Center and Aquarium. "We're currently building a good-sized pollinator garden in Bristol. We received support from a donor, and a lot of garden expertise from volunteers, board members, and local garden clubs. We're not just planting a garden, we're creating an interpretive, educational outdoor space to educate the public. We want to teach children about how food production relies on pollinators, and educate adults on what they can do in their landscaping to be pollinator friendly." Audubon Advocacy is also talking with the RI Department of Transportation and Department of Environmental Management about ways to use the state roadsides to encourage pollinators by planting wildlfowers, rather than simply mowing every space.
A big public outreach will come in June during National Pollinator Week. Audubon is hosting a "Bee Rally" at the State House on June 19 and has plans to illuminate the State House Dome in bumblebee yellow and black from June 18 to 24, symbolizing bees and bringing attention to the crisis.
Bad Press and Messy Habitats
When it comes to spreading the word about pollinators, Ruhren says the species that usually get the most attention is the monarch butterfly and the honeybee. "The monarch is facing problems because of pesticide use and habitat destruction. It faces the same challenges in Mexico, where they migrate for the winter. Their numbers are plummeting. Many people also know that honeybees are in decline. Yet the strong focus on these popular species leaves out other important pollinators and their diminishing numbers."
"One of the challenges we face in educating the public is caused by all the press about honeybees. In the scientific world, we know that honeybees were introduced and not a native species. Maybe we're focusing on the wrong problem. Our native bees are declining in numbers, and their habitats are also being destroyed."
Many of our native New England bees are referred to as solitary bees. These are species that pollinate plants such as blueberries and cranberries that do not create large hives, but rather spend most of their time foraging and living alone. A lot of native bees nest in rotting logs or under rocks, which is why 'messy' habitat is important. It supports a diversity of natives."
Another problem is the concern many people have about the pollinators themselves. "Some people just don't like the idea of having bees around. These insects have a public relations problem," says Ruhren. "Everyone loves butterflies because they're so beautiful as they flutter by, but when you mention bees, wasps, flies or beetles, people say, 'kill 'em! Who needs them?' But we DO need them. Even skunk cabbage, a common sight in marshy areas, need the pollination brought about through flies."
Standing in the field at Fisherville Brook, Ruhren says Audubon will continue to pursue ways to preserve pollinator habitat and increase their numbers. "People are looking for answers and solutions, but it really has to be looked at case by case, depending on the species. These little creatures are often overlooked, but they are so very important."
• • •
Hugh Markey is a freelance writer, naturalist, and educator living in Richmond. You can read more of his work on his blog, "Science and Nature for a Pie" at www.scienceandnatureforapie.com. Follow him on Facebook at www.facebook.com/scienceandnatureforapie.
---
Bee Empowered and Help Pollinators
I can do it!
Landscape and garden with native plants that provide food for pollinators.
See the list below of suggested native plants that attract bees.
I can do it!
Keep flowers blooming through spring, summer and fall. Try to select a wide variety of plants to keep food sources available through the seasons. Don't forget to plant pollinator-friendly window boxes and containers on decks and patios.
I can do it!
Reduce or eliminate pesticide use.
I can do it!
Leave dead tree trunks in your landscape. They provide homes
for wood-nesting bees and beetles.
I can do it!
Support Audubon Conservation.
Audubon actively manages habitat to encourage pollinator populations.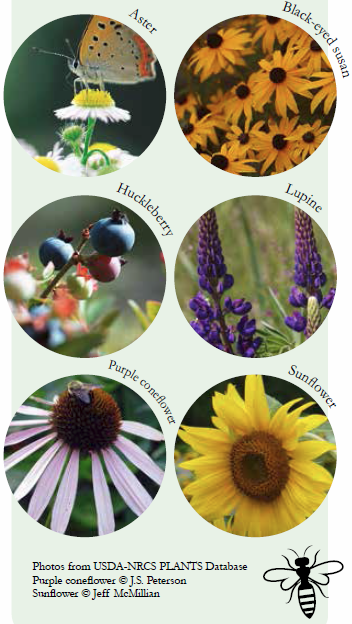 These are for the Bees and Butterflies!
Northeastern United States Native Plants That Attract Pollinators:
Aster (Aster)
Beggar's Ticks (Bidens)
Black-eyed Susan (Rudbeckia)
Blueberry (Vaccinium)
Clover (Trifolium)
Currant (Ribes)
Elder (Sambucus)
Goldenrod (Solidago)
Huckleberry (Gaylussacia)
Joe-pye weed (Eupatorium)
Lupine (Lupinus)
Milkweed (Asclepias)
New Jersey Tea (Ceanothus)
Penstemon (Penstemon)
Purple coneflower (Echinacea)
Rhododendron (Rhododendron)
Snowberry (Symphoricarpos)
Sunflower (Helianthus)
Sweet pepperbush (Clethra)
Tickseed (Coreopsis)
Willow (Salix)