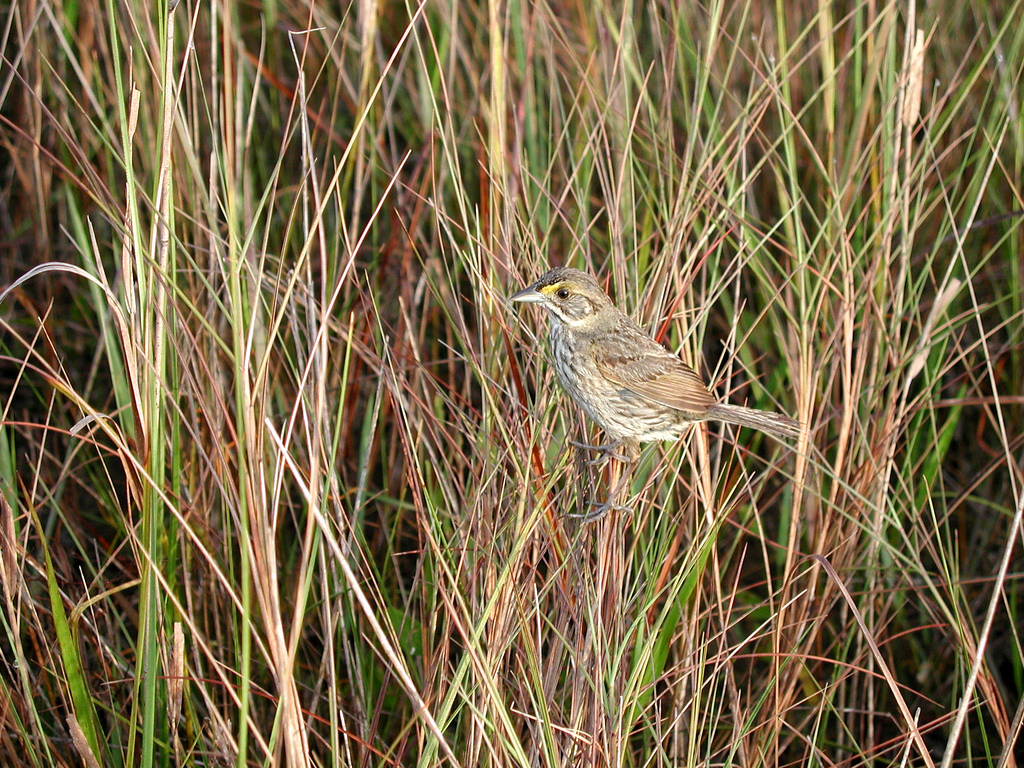 The Saltmarsh Sparrow is threatened by habitat loss due to climate change. Read more here. 
Climate Change
Climate change poses the most significant challenge to Rhode Island's birds, wildlife and natural resources. Climate change policy is a priority issue for Audubon Society of Rhode Island.
In 2014, the Rhode Island Legislature passed the Resilient Rhode Island Act that sets goals for state reductions in greenhouse gas emissions and established the Executive Climate Change Coordinating Council (EC4) to coordinate planning and action among state agencies. The Act calls for significant reductions in the state's greenhouse gas emissions: 10 % below 1990 levels by 2020, 45% reduction below 1990 levels by 2035 and 80 % reductions below 1990 levels by 2050.
 
Audubon Advocacy on Climate Change
Audubon Society of Rhode Island:
·         Implements ongoing advocacy for legislation supporting renewable energy initiatives and programs.
·        Monitors the progress of the RI Executive Climate Change Coordinating Council and advocates for action, transparency and coordination with outside organizations and robust communication.
·        Supports Energize RI, a coalition working to pass carbon pricing.
·         Advocated for the 2016 $35 Million Green Economy Bond which passed statewide 67.4%. Audubon now supports the RI Department of Environmental Management's implementation of these important funding programs.
·         Is a member of the RI Green Infrastructure Coalition (GIC), which advocates for nature-based management of storm water to promote climate resilience.
·         Audubon opposes the proposed 900 MW Invenergy power plant in Burrillville, Rhode Island because it undermines the state's ability to achieve the Resilient Rhode Island Act's greenhouse gas reduction goals. Read Audubon's opposition statement here.
What is causing climate change?
Over the past century, the burning of oil, coal and natural gas and other human and natural activities has released enormous amounts of carbon dioxide and other heat-trapping gases into the atmosphere. These emissions act as a heat trapping blanket and have caused the Earth's surface temperature to rise. Oceans absorb about 80 percent of this additional heat. Oceans also absorb the carbon dioxide which is changing the basic chemistry of ocean waters. This is called ocean acidification.
How is climate change impacting Rhode Island?
We are already seeing the impacts of climate change in Rhode Island:
Sea Level Rise
As the oceans warm, the water expands and takes up more space. High temperatures are also melting polar ice packs and glaciers including the massive ice covering Greenland and Antarctica. Scientists have measured more than 9 inches of sea rise at the Newport gauge since 1930. And the rate of rise is expected to accelerate in the future. In 2016, Rhode Island's Coastal Resources Management Council revised their regulations (Section 145 – Climate Change and Sea Rise) to include the following long term predications of sea rise in Rhode Island, "As of 2015 the range in sea level rise change is projected by NOAA to be a maximum of approximately 1.0 foot in 2035, 2.0 feet in 2050 and 7.0 feet in 2100."
Warming Air Temperatures
Rhode Island's average temperatures are rising both in winter and summer. Increasing temperatures threaten human health and are shifting or eliminating species ranges and threatening biodiversity in Rhode Island.  National Audubon has looked a the impacts of changing temperatures on bird habitats, and has issued a call to action identifying 314 species in grave danger, including the Merlin, Blue-winged Warbler, Scarlet Tanager, Ring-necked Duck, Hooded Merganser and Gadwall.
Warming Waters
Since the relatively cold winters in the 1960s, the annual mean winter water temperature of Narragansett Bay has increased by 2 ° C and the annual water temperature has increased by 1° C.  Warming waters have increased the frequency of intense storms. We are also seeing changes in aquatic species. Winter flounder, once found throughout Narragansett Bay, have disappeared and lobster populations are shifting.
Storm Intensity and Frequency Increase
Climate change will likely cause the intensity of hurricanes worldwide to increase. Globally we are already seeing an increase in the wind speed and duration of hurricanes. Models predict an increase in the frequency of Category 4 and 5 (very intense) in the Atlantic Basin.
Biodiversity
All these factors will affect the biodiversity found in Rhode Island. Plants are already flowering earlier due to warming winters and spring air temperatures. Plants are flowering 7 days earlier now than they were in Thoreau's time. Salt marshes are flooding due to higher seas, affecting many species that rely on salt marsh habitats.
The Providence Journal has covered these issues: 
On Salt Marshes: Drowning marshes: Buying time against the tide, they pour sand in an uphill fight
On the Salt Marsh Sparrow: Drowning marshes: Where does a species go when the nursery floods?
On Salt Marsh Restoration: Saving our salt marshes: Groups work to protect vital ecosystem