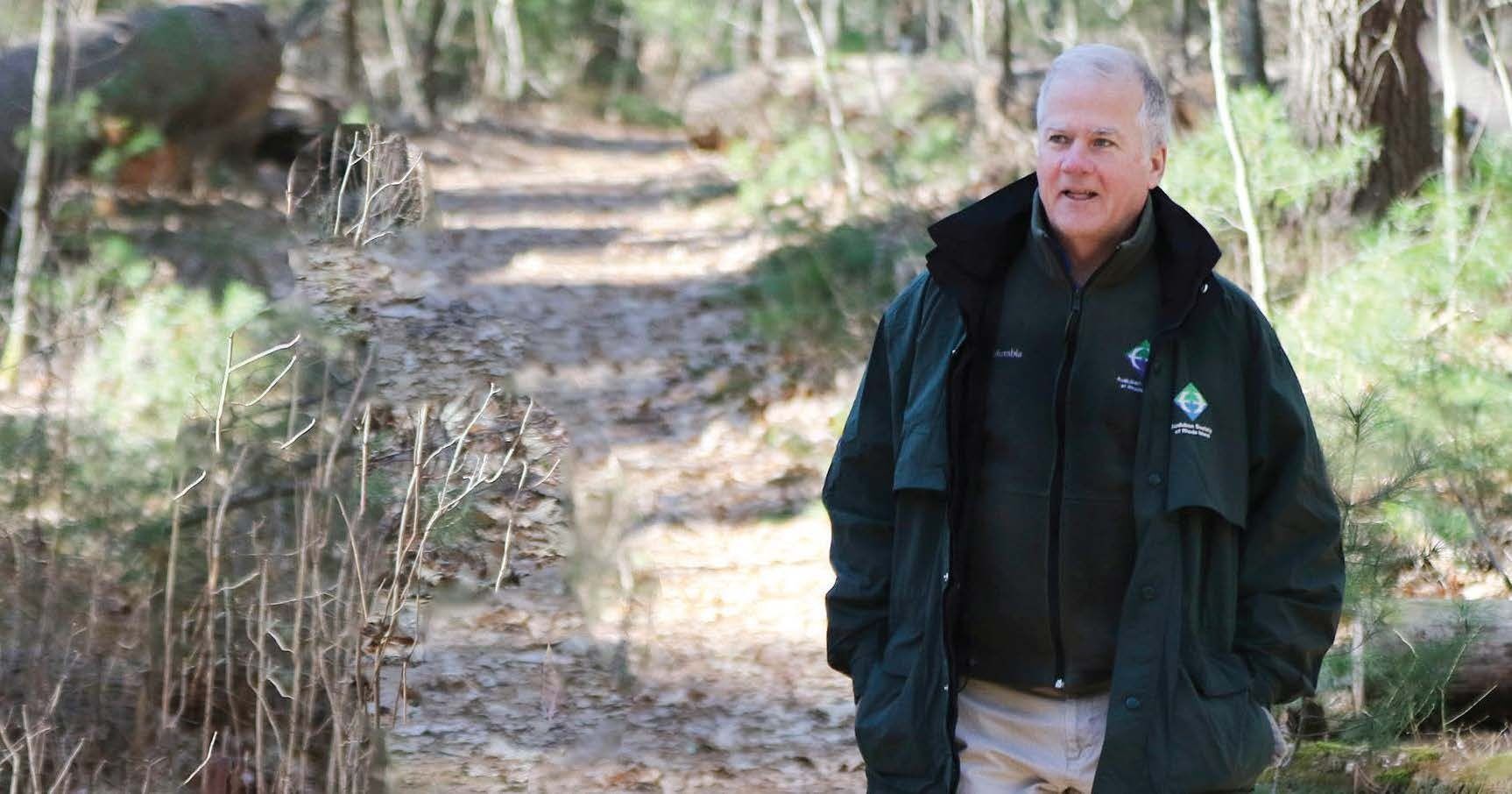 Published November 16, 2023
A Passionate Multitasker: Audubon Executive Director Larry Taft Retires after 17 Years at the Helm
By Betsy Sherman Walker
When he arrived at Audubon in 1999 as Director of Properties and Acquisitions, Larry Taft recalls being "struck by how much responsibility Audubon had and the amount of land it owned." Taft had migrated from the Norman Bird Sanctuary (NBS) in Middletown, where he had served as Executive Director since 1985. Compared to NBS, Taft explained, Audubon was operating on a shoestring budget, and had so much going on that keeping everything on track was an exercise in herding cats. The organization was just coming off the end of celebrating its Centennial, the urban environmental education initiative had just been launched; and the $3.5 million Environmental Education Center (now the Audubon Nature Center and Aquarium) in Bristol was nearing completion.

In 2005, Taft became the fourth Executive Director to helm the Audubon Society of Rhode Island since it was founded in 1897. With his retirement in December, he is leaving a robust, dynamic organization that has remained focused on its original mission while embracing such decidedly 21st-century issues as diversity and inclusivity, as well as the organization's commitment "to be a leader in climate action."
For a farewell chat, it seemed entirely fitting to join him on a rainy October morning in Coventry for a look back—and forward—from the porch of Maxwell Mays' guest cabin overlooking Carr Pond. The small gem on the 295-acre wildlife refuge that bears the artist's name is one piece of an impressive pie that makes up Taft's legacy. Having established a relationship with Mays early in his tenure, Taft was instrumental in navigating the transfer of the artist's beloved Woodlot Farm to Audubon, with the donation of the property subject to a life estate in 2001 to its official dedication in 2011. Mays passed away in 2009.

The raindrops came down while Taft discussed the things that mattered. He spoke of his lifelong passion for protecting wildlife, for supporting habitat and open space preservation; and gave the 2020 Strategic Plan a plug. He also spoke of the importance of current Audubon projects, among them a new Avian Research Initiative led by Dr. Charles Clarkson that tracks and monitors the many different bird species found on the fourteen Audubon properties that are open to the public. Going forward, this critical research will play an important role in determining how the organization protects species and manages habitats. It will also help strengthen Audubon's role as a leader in wildlife protection and preservation.
Owen Heleen and Julie Sharpe share a long history of involvement with wildlife preservation and land conservation, and a similarly long working relationship with Taft. Both say his years at the helm of Audubon have been transformational. Heleen stepped down as Board president, after three years, in October. Sharpe, who currently serves on the Council of Advisors, has worked with Taft over the years through Audubon as well as at a number of other organizations. "We go way back," she says. "I would say he's one of my most important colleagues in the field of land conservation."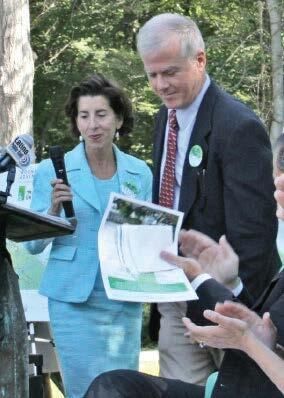 On the porch, Taft described his early days as Executive Director. "The main job of an executive director is to always work on strengthening the organization," he continued. It was a process that involved "strategic planning, fundraising, refocusing our attention and resources on our central mission, and capacity building." No stone went unturned. To an organization that was multi-dimensional, Taft brought an ability to see it multi-dimensionally. It also called for a bit of introspection, for an organization that was unabashedly extroverted.
"Larry has been an advocate for an expansion of Audubon's strategic focus," said Heleen. It would have been easy, he adds, "to dust off an old strategic plan and stay with the tried and true. Instead, with the 2020 strategic plan, we've really pivoted towards more challenging conversations about the climate crisis and diversity, equity, and inclusion."
Sharpe cites his vision and a grasp of what was required. "More than anything, he has prevailed," she said. "There were times when things were more chaotic and—dicey," she added, "and he kept putting one foot in front of the other. He really moved Audubon forward. He kept it out there in the public eye.
Since 2005, Taft has seen the operating budget grow from $2.4 million to $3.2 million. He and his staff have worked on cultivating support from every level. "We have more major gifts, and more contracts," he said, and a host of state, federal and private partnerships whose impact extends from providing school programming and bus transportation for city schoolchildren to explore Audubon's wildlife refuges, to managing the Narragansett Bay National Estuarine Research Reserve; and developing the Providence Stormwater Innovation Center in Roger Williams Park

Finally, he brought the arc of his self-audit around to the things that would make a difference. He cited the Stormwater Center as a project that checks the necessary Audubon boxes: climate change, inclusion, diversity, and urban education. "More than anything," he said, "it gets people involved, helps them relate to birds and habitat in their own neighborhood. It's important for the organization in the future," he added. "When people invest, they benefit, and they feel as if they are a part of it."
Sharpe calls this his ability to "see the bigger picture, see the long view," adding, "He was also extremely adept at keeping the boat on course."
Yet for all the pieces in the pie, nothing better sums up his sense of accomplishment than the moment, last March, when Taft and team completed the application for accreditation by the National Land Trust Alliance (NLTA)—an arduous, five-year exercise in self-assessment and research. Some wondered if it was worth the effort; for Taft, it was a no-brainer. Accreditation would be a crowning achievement, both for Taft and for the organization he has so devotedly overseen for the past 17 years. Sharpe, who serves on the NLTA Board and understands what is involved, said that "every organization that goes through it comes out the other end much stronger."
According to Heleen, Taft was the right person for the task at hand. "Larry is dedicated to doing things the right way and, when it's important, making sure the folks who come after us do things the right way, too, he said. "That's the idea behind our work with the Land Trust Alliance."
At the October 23 Annual Meeting, Taft's legacy of service and leadership was formally recognized by a host of citations signed by Senators Sheldon Whitehouse and Jack Reed, and Representative David Cicilline. "Larry knows this organization from the ground up – literally," Heleen said. "He has walked every inch of the properties Audubon has conserved. What he's done for Audubon over his 23 years with the organization is all built on that deep understanding."
Taft's favorite part of the job, he summed up recently, "has been the feeling of pride and accomplishment I get when things are working out well. And when everyone involved feels a sense of ownership—everyone working together, getting stuff done as a team." NLTA's yae or nay won't come, at the earliest, until next spring. But making a goal of accreditation, he added, "is a good reminder that there's a right way to do things." For birds, for people, and for the Audubon land. It also bestows an irrefutable cachet. As part of a national network of land management and conservation organizations, accreditation will both attract and solidify a more dynamic and diverse membership, as well as a strong community of donors and potential partnerships.
When a random last-minute thought at the end of the porch sit-down led to a rhetorical question about unfinished business, Taft's answer was just what one might expect.
"Audubon's business is always unfinished," he said. Which is exactly what a multi-tasker would say, when passing on the baton.
---
Betsy Sherman Walker is a Rhode Island native who writes for area non-profits, news, and lifestyle publications, and who has recently discovered the joy and wonder of birding. Touch base at walkerbets@gmail.com.