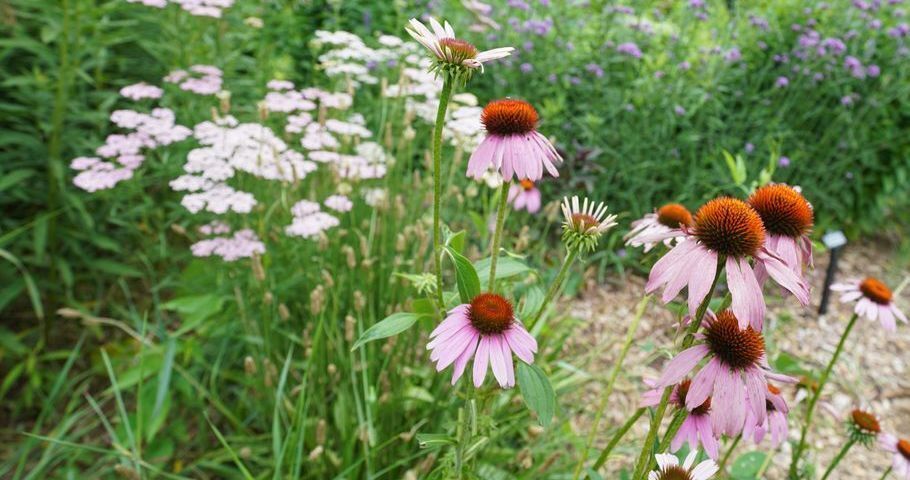 Published June 22, 2022
Habitat At Home
By Hugh Markey
More and more Rhode Islanders are realizing that the plants grown in their yards and gardens can have a positive impact on pollinators, birds, and other wildlife. Native plant species can provide critical habitat where wildlife find the food and shelter that are necessary for survival. Many homeowners are taking a second look at their landscaping and gardens but are wondering where to start.
What changes can be made to landscaping without spending thousands of dollars and tearing out plantings? What plants and shrubs are best suited for various locations in a yard? What variety of plants are needed to support wildlife through all four seasons?
Making smart choices and transforming properties into healthy habitat can seem daunting to many. But Audubon can help.
Scott Ruhren, Audubon senior director of conservation, offers private assessments for properties of all sizes. A PhD botanist, he brings years of experience and expert advice on turning yards, gardens, and larger properties into functioning, natural habitat. He spends time with landowners on their property, reviewing the current landscape, talking about the plants already in place, and discussing their goals and interests.
Ruhren then blends their discussion with his suggestions into a written assessment and plan for the property. "Our starting point is always suggesting that people begin with what they have," Ruhren said. "We're not coming in and telling people to cut down their entire landscape and put in only native plants. I want people to realize they already have a lot of resources to work with. Many are currently doing good things on their properties, and Audubon can help them take it to the next level. Utilizing some of the existing landscaping is good for their wallet, too."
The size of the property is not an issue. "Our work with property owners has run the gamut, from a small 1000 square-foot suburban property to a 60-acre woodland. We are happy to work with landowners to assess all property types, sizes, and shapes."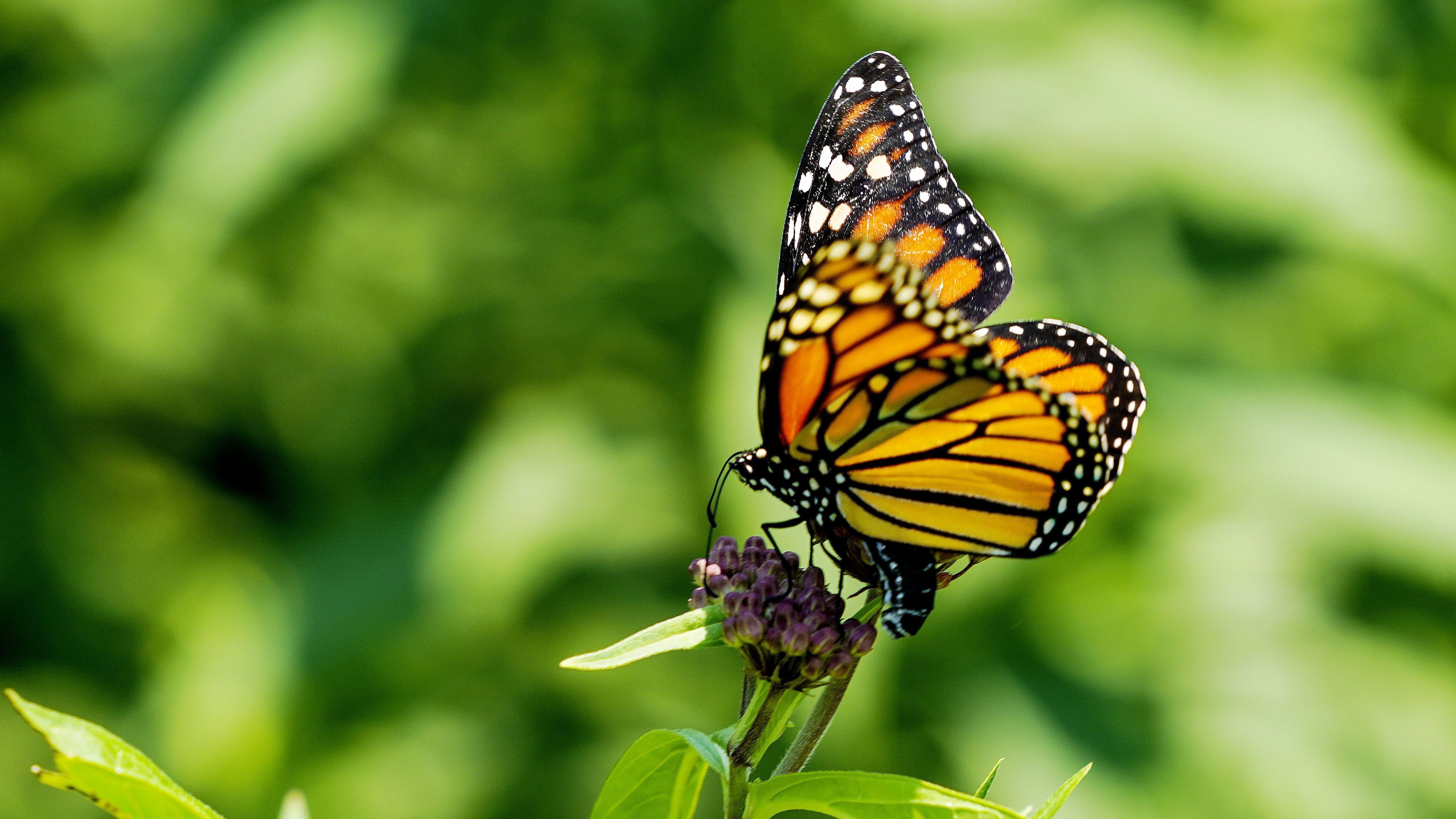 TEN-ACRE TREASURE
Ruhren detailed an experience he had with Mary Ann Cofrin, owner of a ten-acre parcel in Middletown. "Mary Ann has a beautiful, sloping property with a field near her home. She is a dedicated nature photographer and knew she wanted to improve her property to support birds and pollinators. She recognized that there were things on the property that she wanted to change."
Cofrin describes her experiences: "We had only been in Rhode Island a short time, and I started to hear more about Audubon. And it dawned on me that I should be talking to them about our property. They have the experience with managing habitat. We had started some of the process when I met Scott, and he suggested a visit to see what we had in place.
What I like about Scott is that he listens to you and pays attention to what you want. He didn't tell me I needed extreme change to get it right, he made recommendations that work for my lifestyle. Scott makes it easy. You can just take a little at a time and work at it slowly."
Ruhren also found the work rewarding as he was able to apply known science regarding field succession, invasive species, and grassland community dynamics. "We have seen both success and surprises in this restoration project," he explained. "Some plant species thrive, others disappear, and less desirable invaders like knapweed and multiflora rose compete with the natives."
For Cofrin, Audubon's approach to creating habitat dovetailed perfectly to her overall philosophy toward the natural world. "For me, it's peace of mind", she explained. "Knowing that I'm doing something good for the environment and for nature. Beautification is certainly a piece of it, but more importantly it is knowing that the property is safe and healthy for the wildlife that lives here, and we have a part in that."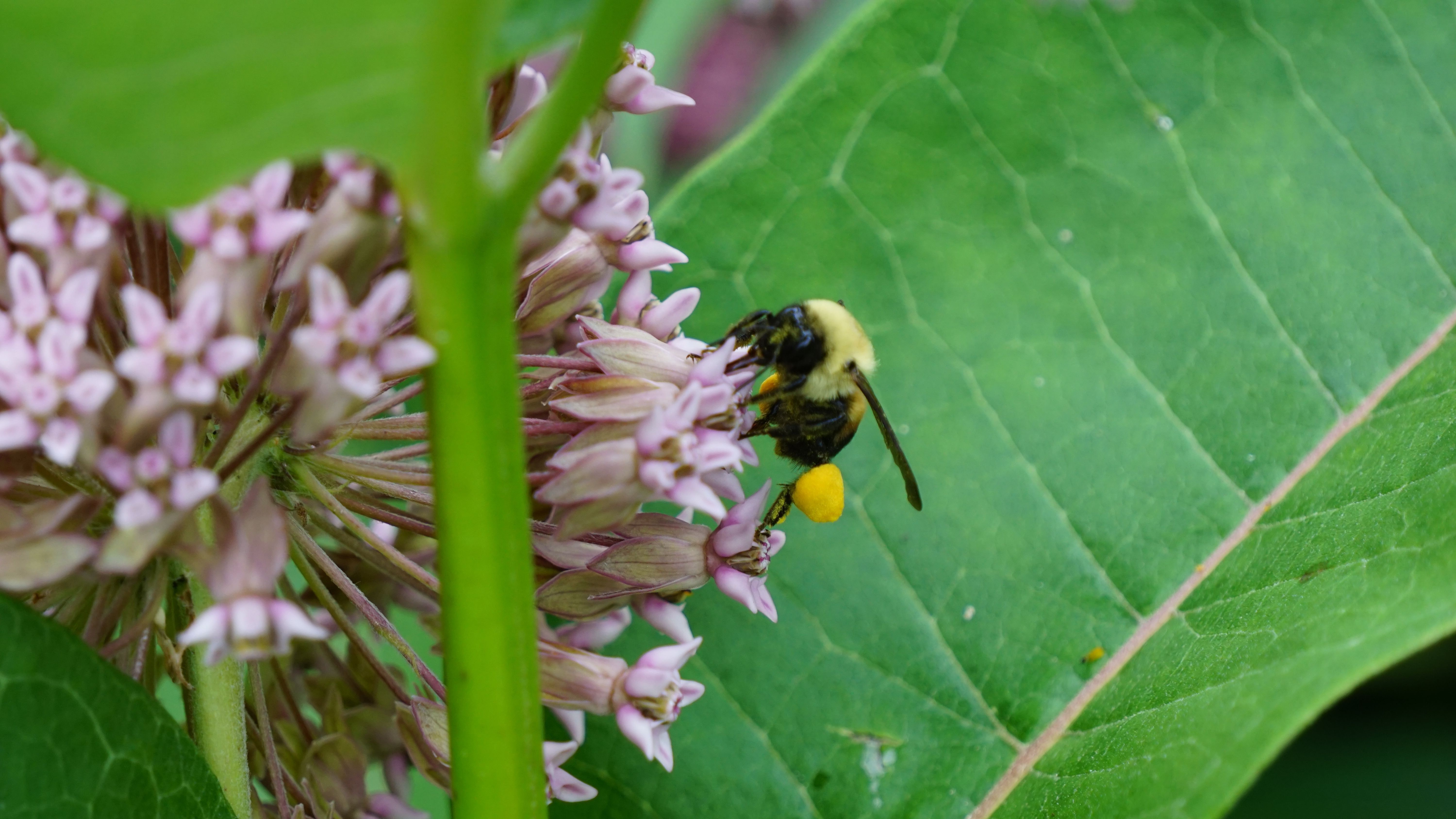 THE SMALL PATCH
When it comes to pollinators, small can be mighty. "A few square feet of native pollinator plants in a garden has been shown to support pollinators," said Ruhren. "So, anyone can make a difference with just a small patch."
Barbara Walsh and Earl Simson's property is typical of the smaller land parcels found throughout the suburbs of Warwick. However, size didn't dampen their enthusiasm for creating natural habitat. "It was absolutely exciting to us, making this change in our yard. We wanted to do the right thing, but we had no clue what the right thing was," said Walsh. They knew they didn't want to bother with the hassle of becoming experts on habitat and landscape design. "We wanted someone that could explain what to do. I didn't know which flowers and shrubs would be good for different seasons of feeding. Scott explained what plants we could use to create a small, healthy habitat, which is just what I wanted," she said.
The steps that Ruhren suggested are always intended to be encouraging, rather than overwhelming. "Barbara and Earl had a grassy lawn in front of their home with some big oak trees. There was English ivy and other nonnatives that I pointed out. But I never tell landowners they must get rid of certain plants. I listen to their goals and make suggestions and provide a written assessment. We encourage these homeowners to do what they can, and we follow up to answer questions and support their efforts."
Walsh and Simson understand the critical need to support birds and wildlife, no matter how large or small the property. "I would highly recommend a visit from Scott to anybody," explained Simson. "Even a 50-foot frontage on a house is enough to make some positive change. Anybody can do this!"
GIVE IT A TRY
Cofrin, Walsh, and Simson are united in the encouragement they would offer to those considering creating a more natural habitat around their home. "You can take Audubon's property suggestions and recommendations that work best for you and don't need to do them all," said Cofrin. "Scott was very helpful, understood my goals, and I would recommend his property assessment to anybody."
---
For more information or to schedule an appointment for Audubon's Habitat at Home program, please email Scott Ruhren at sruhren@asri.org. Fee for a property visit with owners, assessment, written report, and follow-up (for two acres or less): $350. For larger properties, please contact Scott for a custom quote.