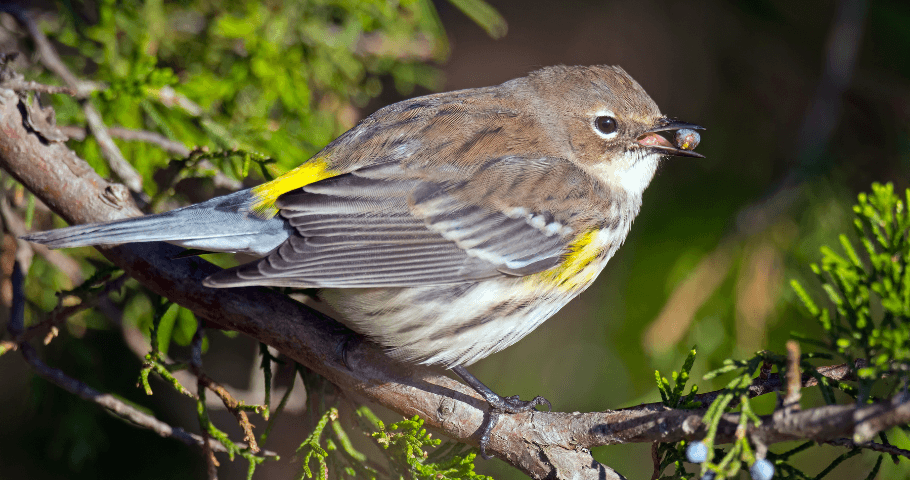 Published December 2, 2022
Let's Go Birding | From Insects to Berries – Yellow-rumped Warblers Adapt for Winter
By Wildlife Refuge Manager Laura Carberry
As the final days of autumn approach, and winter is not far behind, most of the summer warblers have left Rhode Island for warmer climates. But there is one that returns to our state in large numbers this time of year. The Yellow-rumped Warbler is able to switch from eating insects in the summer to consuming waxy berries in the fall and winter. With our coastline full of cedar trees, bayberry, and poison ivy berries, these birds can be found fluttering around in small groups foraging for food. They are the only warbler that can change its diet to eat these waxy fruits. Because of this adaptation, Yellow-rumped Warblers are able to spend more time farther north than other species.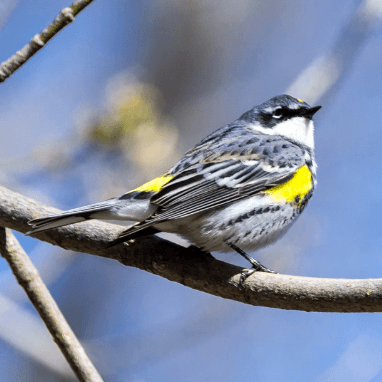 In the spring and summer, Yellow-rumped Warblers show a mix of bright colors in their plumage: yellow, bold blacks, white and grays. But in the fall, their plumage is a drab brown with a streaky chest, although they still have the notable "yellow-rump patch" and varying amounts of yellow on their sides. Yellow-rumped Warblers nest in conifer trees in Northern New England and Canada, as well as the higher elevations out west. In the fall we see an influx of these birds headed south. They can migrate all the way to Central America, but many will stay right here in New England as long as there is a food resource.
You may notice Yellow-rumped Warblers in your yard this winter as they will sometimes visit suet feeders and are known to eat sunflower seeds, raisins, and peanut butter. But for a more natural food source, consider planting red cedar trees or bayberry bushes on your property. These two food sources also provide nourishment for Eastern Bluebirds and American Robins and make excellent roosting trees and bushes during the winter.
I hope you are able to catch a glimpse of these special warblers this fall. Great places to look for them are Sachuest Wildlife Refuge, Napatree Point, Ninigret Park and most coastal areas. And be sure to watch for the Yellow-rumped Warbler to change into bright breeding plumage in April as they get ready to move north!