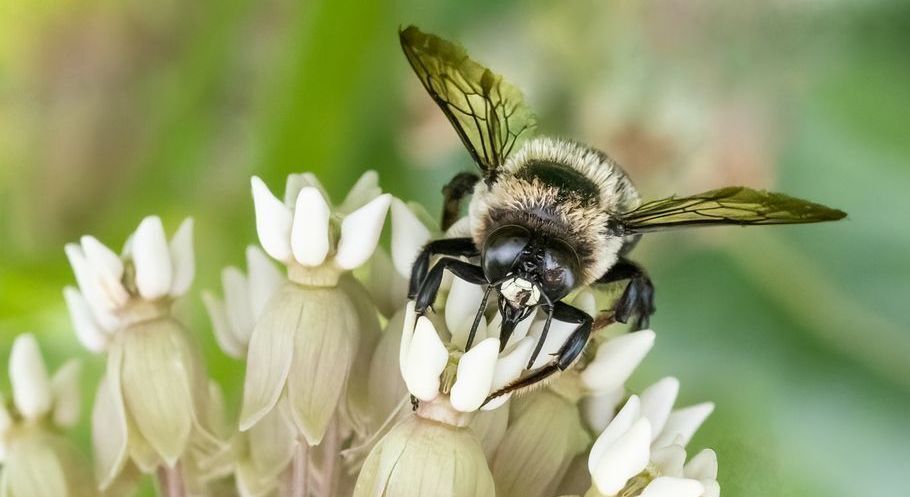 Published December 16, 2022
Nature's Voice: Protecting Birds, Forests and All Living Things for 125 Years
By Kristen Curry
If today's news headlines seem daunting to look at, consider the state of Rhode Island 125 years ago. Land was claimed freely, industrialization spread widely, and there was little concern for the ramifications to public health. Cholera outbreaks were a public health threat and environmental pollution was widespread. The seeds of environmentalism were born in New England in the midst of this challenging time. The Audubon Society of Rhode Island was founded in 1897 by a group of concerned citizens who were looking to take action.
Birds — the original concern of the Society's founding members — are still of concern today and remain front and center in Audubon's work. But a host of other environmental issues have come to the forefront over the years and Audubon has expanded its fight to meet those challenges.
Audubon began moving into local advocacy in the 1950s, starting to play a role as an environmental watchdog in the state. Under the guidance of the late Alfred Hawkes, executive director from 1958 to 1993, the organization moved from being a small group of citizens concerned about the slaughter of birds for fashion, to becoming a strong voice for environmental advocacy, education, and land acquisition. He founded the Environmental Council of Rhode Island and shaped early environmental action and consciousness in Rhode Island, while helping Audubon progress to an organization with a strong voice at the State House.

Hawkes was unafraid to lead Audubon in taking stands on critical issues. His work to ban the harmful pesticide DDT and the preservation of wetlands and salt marshes were among the most important legacies of Hawkes' long tenure.

The late Al Hawkes at an environmental task force hearing in 1976.
Perhaps Audubon's biggest battle in the Hawkes years was against the proposed Big River Reservoir, a project meant to drown the Big River in West Greenwich and Coventry to build a supplement to the Scituate Reservoir. This long, drawn-out skirmish started in the 1960s and lasted until 1989, when the U.S. Environmental Protection Agency stepped in, agreeing that Rhode Island's need for water was not acute enough to justify the destruction of thousands of acres of wetlands and habitat. Hawkes viewed the proposed new reservoir as both ecologically devastating and an unnecessary public expense.
Hawkes helped Audubon turn the lens from individual birds and species to the habitat they lived in and habitat protection. Such views were prescient for the time. In the 1979 Audubon Report, he wrote, "Our degradation of wildlife's environment turns out to be a degradation of our own best interests." In testament to Hawkes' outsize role in statewide advocacy, upon his retirement in 1993, the Providence Journal called Hawkes the state's "environmental conscience.
Audubon advocacy efforts have been directed for years by strong and effective women at the helm. Clockwise from top left: Eugenia Marks, Meg Kerr, Priscilla De La Cruz. Click to learn more!

A Legacy of Environmental Activism

Eugenia Marks
Former Audubon Senior Director of Policy (Retired 2015)

Eugenia Marks, former Audubon Senior Director of Policy, was an unrelenting voice for nature for over 30 years. At the beginning of her career with the organization, Marks brought attention to political and environmental issues as well as natural history through Audubon publications. Gradually shifting to environmental advocacy under the mentorship of the late Alfred Hawkes, she continuously and bravely took a stand for clean water, clear air, and healthy habitats for birds and wildlife.

A virtual encyclopedia of Rhode Island environmental issues and natural history, Marks spent many an evening at the State House and late nights in town meetings tirelessly defending Rhode Island's environment. The environmental committees and coalitions she served on and led are too numerous to mention. Marks retired in 2015 after a long and distinguished career at Audubon.\


Meg Kerr
Former Audubon Senior Director of Policy (Retired 2021)

After three decades as a strong environmental leader in the state, Meg Kerr joined Audubon as senior director of policy in January 2016. She was well-known and respected in her work with the Rhode Island Rivers Council, the Narragansett Bay Estuary Program, and Clean Water Action before joining Audubon. Many have cited her true strengths as being able to communicate effectively on complex issues and her strong collaboration and persuasion skills when working with partners and legislators.

Kerr's long list of accomplishments include leading the climate-change legislation campaign in 2014 and 2019-2021; pushing an agenda to protect pollinators, including organizing the Bee Rally at the State House in 2018; furthering climate change education and initiatives; being a founder of the Rhode Island Green Infrastructure Coalition, which promotes nature-based solutions to runoff pollution; being a key partner in the development of the Providence Stormwater Innovation Center; and a founder of the RI Land and Water Summit. Kerr recently received an EPA Environmental Merit Award in October 2022 for her strong contributions to improving New England's environment.


Priscilla De La Cruz
Current Audubon Senior Director of Government Affairs

Priscilla De La Cruz joined Audubon in 2021, coming from the Environment Council of Rhode Island and the Climate Jobs Rhode Island initiative. She also served as Rhode Island director of the Green Energy Consumers Alliance.

De La Cruz has been a key player in pushing for Rhode Island climate legislation and policy enforcement, forest conservation, renewable energy siting, and climate justice. Bringing her own personal connection to this work, De La Cruz knows how to communicate about challenges and solutions. She has a strong resume of building coalitions and community partnerships.

De La Cruz is also making important inroads in environmental advocacy as a Latina and woman of color. Traditionally the field has been a majority-white space; while she has often been the only person of color in the room doing such work, she looks to help break barriers that keep frontline communities from being at the decision-making environmental advocacy table, and part of the transitions to a healthy, sustainable environment and economy. They are critical voices that tend to live in environmental communities that are overburdened by the impacts of pollution. "I think of myself when I was a child; I didn't even know this kind of work was an option. When I started at Audubon, I really felt humbled. I want to use my skills to help lead this incredible and respected institution; I'm honored to be a part of its growth."

Today, Audubon is continuing Al Hawkes' legacy. Advocating for climate action is a priority, as is reduced pesticide use, protection of pollinators, forest preservation, properly sited renewable energy, climate justice, and more. With the growing climate crisis upon us, Audubon's most critical fight to protect the environment, wildlife and people of Rhode Island, may have just begun.

Leading Change

Audubon's newest advocate at the State House is Priscilla De La Cruz, Senior Director of Government Affairs, who joined Audubon in 2021. While De La Cruz's hiring is in some ways a full-circle position in a sense – she currently leads the Environmental Council of Rhode Island that the late Audubon Executive Director Al Hawkes started in 1970s - her association with Audubon also represents a broadening in direction for the organization's advocacy mission. De La Cruz has experience in bringing diverse communities to the table in environmental discussions, with well-honed communications skills to take Audubon's message and priorities directly to legislators in a strategic manner. "I believe in advocating effectively, efficiently, and collaboratively," De La Cruz says, "and have a passion for people, education, and arriving at solutions."
One change De La Cruz has witnessed during her years in environmental work is the increasing buy-in from others about environmental challenges. Years ago, she was used to contending with climate-change denial, even resistance, in conversations about her work. Now, as if a switch has flipped, people outside the environmental community she comes into contact with also share her concern. In fact, a national academic survey released in 2020 affirmed just that. Rhode Islanders ranked climate change second on their list of concerns, second only to the looming pandemic; they were joined by a few other states. Audubon realized that it was no longer just environmental advocates being concerned about climate change; our neighbors and communities were as well.

Priscilla De La Cruz joined Audubon as Senior Director of Government Affairs in 2021.
Rhode Islanders are looking to experts and environmental organizations such as Audubon to provide needed leadership to face the climate crisis. "There is a real sense of urgency in our advocacy work today," De La Cruz says. "The awareness is there, and people are concerned about what will happen if we don't act."
Much of it starts with education. Audubon reaches approximately 22,000 people a year, providing multiple opportunities to talk about climate change, and manages nearly 9,500 acres of protected properties across Rhode Island and in nearby Massachusetts. One hundred and twenty-five years of advocacy and 5,000 members and supporters make Audubon a valued voice in Rhode Island's environmental community. "125 years and the backing of our members brings influence," De La Cruz says. "The key question is, what do we do with that influence?"
The 2021 Act on Climate enacted into law was a huge win, a real game-changer for the environmental community. "Now we have enforceable mandatory targets and policymakers and the public are actually engaged," De La Cruz says.
Last year also saw the passing of the Ocean State Climate Adaptation and Resilience Fund, which establishes a program and funding to protect and strengthen coastal infrastructure and public access sites threatened by rising seas and erosion; the Forest Conservation Act, requiring the Rhode Island Department of Environmental Management to establish a commission that will look at ways to encourage forest conservation and strategies to preserve private forestland. We also saw the protection of money-saving energy efficiency programs that extend Rhode Island's nation-leading energy efficiency programs; the "ask-first" law for plastic straws; and the prohibition of the intentional release of batches of inflated balloons.
There have been other wins recently, too. In 2022, the statewide plastic bag ban passed and legislation requiring 100% renewable electricity by 2033. The offshore wind industry, launched by the five wind turbines off Block Island, is growing quickly and will continue to advance as the State seeks to procure additional offshore wind. Neonicotinoids — the pesticides that are so dangerous to bees, butterflies, birds and other pollinators — are now restricted to use by only certified applicators, thanks to Audubon's work with the Conservation Law Foundation, The Nature Conservancy, and legislative partners.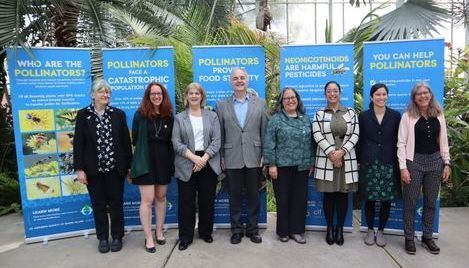 Still, "the biggest threat we all face is climate change," says De La Cruz. "It will have impacts to birds, wildlife, and humans." Despite this, De La Cruz says she's seeing progress and fruitful conversations about the issues and how to protect land, wildlife, and communities in a changing climate. Organizations are considering the best way to advance both the protection of forests and expand clean, renewable energy in homes, buildings, and disturbed land. And there is new attention on the growth of jobs in the climate economy as well. More people are seeing the economic impact of climate change. "We have a real opportunity here," she comments.
Audubon's advocacy work takes years – and many partners – to be effective. The State's first climate bill, Resilient Rhode Island, passed in 2014, setting greenhouse gas emissions targets. Enforceable greenhouse gas limits were enacted in the Act on Climate bill which passed in 2021. "We had to work hard to build a coalition to get Act on Climate passed," recalls Meg Kerr, former Audubon senior director of policy. "The entire environmental community, along with organized labor, eventually got behind the bill and helped get it passed." Kerr led Audubon's advocacy efforts from 2016 to 2021, directing policy issues with skill, determination, and bringing a wide net of environmental partners to the table.
Team Effort
Kerr and De La Cruz both cite the critical importance of partnerships in their work. "Advocacy is a team sport," Kerr says. "Audubon can lead, but without a strong and vocal team of partners working alongside us, nothing would get accomplished. We are very lucky in Rhode Island to have so many strong environmental partners who have a long history of working together. We also have the Environment Council of Rhode Island which is where the organizations come together. But each bill that passes, each power plant that is defeated, is always the work of a group of people and organizations, including Audubon."
Audubon has also been developing strong relationships with labor and union groups, perhaps something the original Audubon founders a century ago might have had a hard time envisioning. Now instead of protesting the use of feathers in women's fashion, Audubon is making inroads to labor, hoping to add more hard hats in the climate jobs sector. Audubon and labor can work together to increase front-line climate change work for existing and future workers. There is mutual support for sustainable wages and good union jobs for workers in clean energy as the State transitions from a fossil-fuel-based economy and the workforce diversifies.

"Our challenge now is how to be effective at sustaining our engagement with the public and policymakers," De La Cruz says. "The warnings are serious, and people are receptive. The recent floods here in Rhode Island not only captured the attention of residents, but they also made national news."

Advocates celebrate the passing of Act On Climate with Governor McKee in 2022.
"We are at a pivotal point," she says, with federal and state goals now aligned and ready money available to invest in climate mitigation. Audubon is in a critical position to see what's coming and offer expert guidance on critical next steps. "Being on the ground provides an advantage," De la Cruz says, "organizations like Audubon are often the first to spot the warning signs and advocate for steps needed. The scientists and those outdoors on a daily basis see the change coming first, they witness it up-close in their work and in the field." Audubon's new Avian Research Initiative is one such program that will continue to provide science-based data to advocacy efforts, as is the work of the Providence Stormwater Innovation Center (PSIC). Audubon supports the PSIC and its efforts to improve water quality as stormwater pollution increases with more flooding from extreme rain events.

The Providence Stormwater Innovation Center engages the community in their work to improve urban water quality through the use of green infrastructure.
Recent open dialogue between various stakeholders is a sign of progress. Audubon is looking forward to expanding partnerships with labor and enlisting the power of labor as environmental justice advocates. "We are more effective working together," De La Cruz comments.
While Audubon had its share of strong and effective advocacy voices in the past (see sidebar on page 5), the organization is now well-poised to speak across divides to different parties. It's less a dictate of what needs to be done, more building a process of listening and working together so all are heard. Although people today are more educated and aware of environmental issues, challenges remain. The work is ongoing, and it can be a heavy load. 
Community Matters
Audubon's critical advocacy work only happens when members and supporters get involved. Individuals can participate in events, stay updated on current topics, and reach out to lawmakers. Legislators rely on hearing from constituents to make their decisions. "We're all ambassadors," says De La Cruz. "Together, we can make a real difference."
Visit asri.org/lead to sign up for Audubon's Eagle Eye updates on policy issues and please consider donating to Audubon's advocacy efforts and supporting our critical work to protect Rhode Island's environment.
---
Kristen Curry works in local nonprofit communications, with recent articles on plankton research at URI's Bay Campus and water improvement in Roger Williams Park. She's taken Audubon's popular Owl Prowl and has also enjoyed walking on Rhode Island's North-South Trail.