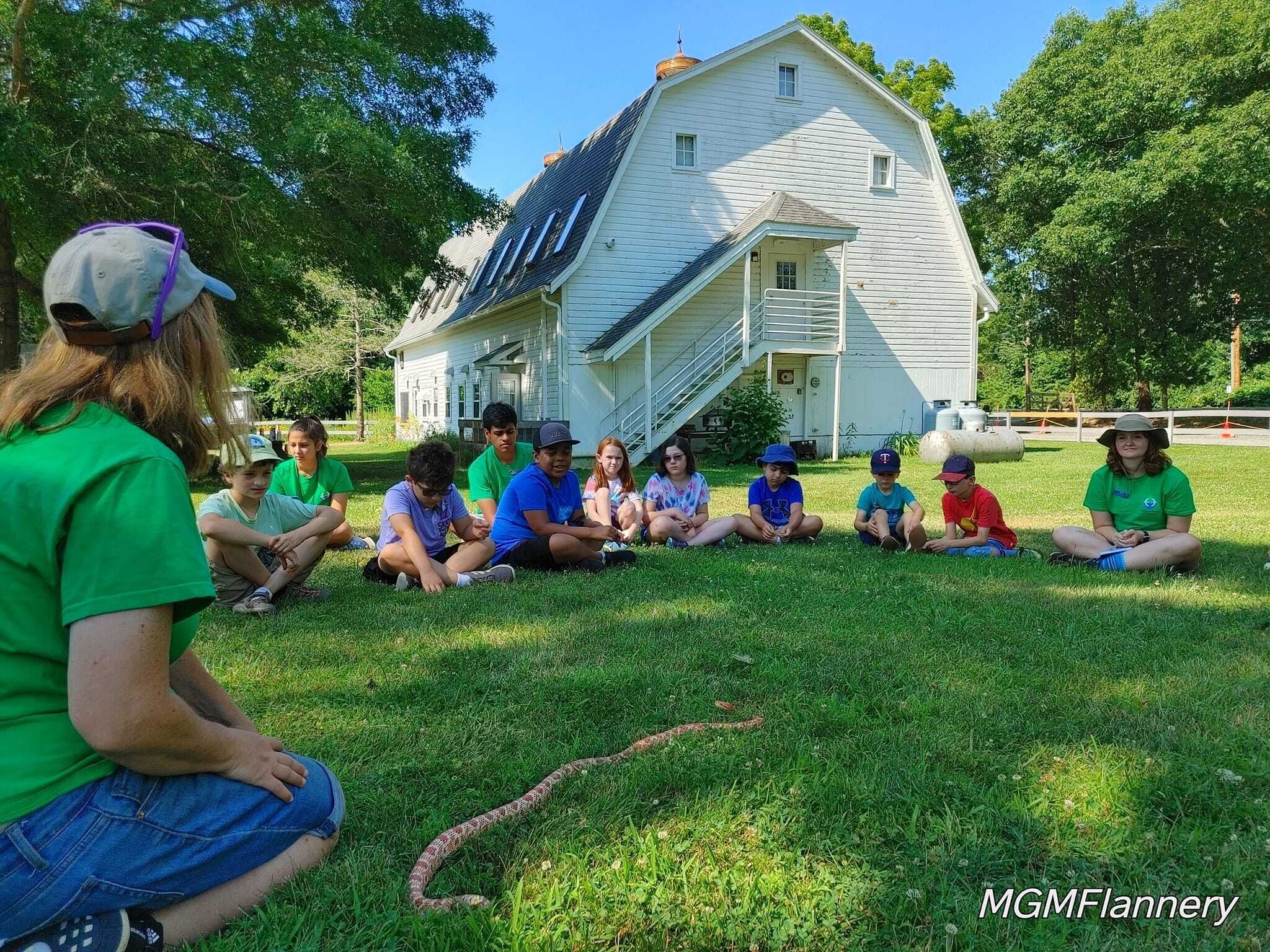 Published December 1, 2022
Scholarship Opportunities and Upgrades at Caratunk
A Generous Gift of $200,000 from the Helen Brackett Trust Brings Scholarships, New Education Materials, and Refuge Upgrades to Caratunk.
Transportation scholarships brought bus after bus to the Caratunk Wildlife Refuge last spring. Over 764 students from 12 schools in Rhode Island and nearby Massachusetts scrambled down the bus steps and into the big white barn to start their nature programs. Newly purchased student tables and chairs were used for nature-based activities and crafts, and the younger children found a spot on the big colorful rug for story time programs.
Students headed out on the trails with brand new discovery tools. Upgraded ponding nets, magnifiers, field guides, bug boxes, and binoculars are now avail-able to young explorers as they investigate local habitats and learn about the birds and animals that live there.
New outdoor picnic tables, including one that is wheelchair accessible, and a recently installed compostable restroom also met the children's needs.
Funds from this generous gift supported five Audubon camp staff and four junior assistants as they led 94 young campers at Caratunk this summer. Fresh art supplies, new books, and selected biofacts were all put to good use over the four weeks of camp.
The funds from the Helen Brackett Trust also allowed for the purchase of two shade tents and safety supplies, including an AED and storage cabinet, staff radios, and first aid kits.
Audubon is grateful for this generous gift and looks to expand scholarship and transportation opportunities with the remaining funds.
Helen Brackett grew up in Seekonk, MA and worked for years with children in need. She championed the mental health benefits of time spent in nature and looked to expand the experiences of children in city communities. This generous gift from her estate has enabled Audubon to purchase much-needed upgrades and education materials for the Caratunk Wildlife Refuge in Seekonk and has allowed hundreds of children to reap the benefits of outdoor exploration. 
---
THANK YOU to our Summer Camp Scholarship Donors
The generous donors noted below sent 10 children to summer camp through the Audubon Camp Scholarship Program. These campers explored field and shore habitats as well as Audubon's large pollinator garden. They made nature discoveries, hiked, visited with live animals, made messy crafts and much more. Thank you for allowing these children to experience nature this summer. Over $6,000 in camp scholarships were awarded.
Elizabeth and Eugene Antonell
Lavinia Connors
Bonnie England and Rita Bugbee
Walter and Eileen Jachna
Maria A. Masse
John Miller
Wendy Miller
Peter A. Tassia, III and Maija Lutz
Images by Marina Flannery