Published February 2, 2022
Unions, environmental, and community groups unite behind climate jobs action plan for Rhode Island
Climate Jobs RI coalition endorsed report by Cornell experts outlining policy recommendations to build a renewable, equitable, and worker-centered economy in RI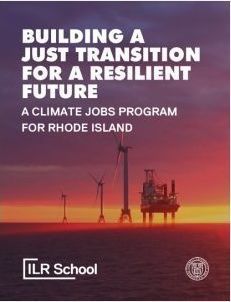 Today, the Climate Jobs RI coalition and experts at Cornell University released a report outlining a climate jobs action plan to put Rhode Island on the path to meeting the state's climate targets and building an equitable renewable energy economy. The coalition has also mailed the report to state and local decision makers as a roadmap to guide pro-worker, pro-climate investment of federal relief and infrastructure money available to the state.
The report outlines a series of wide-ranging policy recommendations to transition the Ocean State's building, school, energy, and transportation sectors to renewable energy with the strongest labor and equity standards. Core provisions of the plan include decarbonizing the state's K-12 public school buildings, installing 900 MW of solar energy, 1,300 MW of offshore wind energy, and modernizing the state's electrical grid by 2030. 
"Climate Jobs RI launched last year because workers and unions in our state know that we're running out of time when it comes to the climate crisis," says Priscilla De La Cruz, Senior Director of Government Affairs at the Audubon Society of Rhode Island and Co-chair of Climate Jobs Rhode Island. "That's why our coalition is uniting behind this comprehensive plan to build a renewable energy economy for Rhode Island. From relieving schools' dependency on fossil fuels to making transformative investments in utility-scale solar and wind, this science-backed report lays out how Rhode Island can take bold climate action that creates family-sustaining union jobs right in our communities, starting with frontline and environmental justice communities who are overburden by pollution and have suffered from decades of disinvestments." 
"We can't build our way out of the climate crisis with poverty-level jobs. That's why the Rhode Island labor movement is leading the way to an equitable renewable energy economy, powered by workers in good union jobs. This Cornell report shows how we can make it happen, outlining concrete recommendations to make sure working families are at the core of all climate policy, from requiring labor representation on government agencies that work on climate change mitigation and adaptation to establishing a Wage Board to set a Minimum Wage for the renewable energy industry," says Patrick Crowley, Secretary-Treasurer of the Rhode Island AFL-CIO, and Co-Chair of Climate Jobs Rhode Island.
"Rhode Island is in a unique position as a state, in 2019 it had the lowest energy consumption per capita across all the United States. Rhode Island can use climate change as an opportunity to eliminate carbon emissions, increase equity, and create high-quality jobs that support working families and frontline communities," says Avalon Hoek Spaans, Research and Policy Development Extension Associate for the Labor Leading on Climate Initiative at the Worker Institute, Cornell ILR School and one of the authors of the report.
"With last year's passage of the Act on Climate, Rhode Island now needs an action plan to reduce climate pollution and build an equitable, pro-worker, healthy economy. This report is the comprehensive, science-based plan Rhode Island needs to address the climate crisis, create thousands of good union careers, and advance racial equity," says Sheila Dormody, RI Director of Climate and Cities Programs at The Nature Conservancy and Chair of the RI Executive Climate Change Coordinating Council Advisory Board. 
"As a small state with one of the lowest emissions in the country, Rhode Island can be innovative and efficient, employing cutting-edge approaches to reverse climate change and inequality. Rhode Island has the potential to be the first state in the country to fully decarbonize and build out a net zero economy with high-quality union jobs. This would make Rhode Island's economy stronger, fairer and more inclusive," says Lara Skinner, Director, Labor Leading on Climate Initiative, at the Worker Institute, Cornell ILR School and one of the authors of the report.
"We are rejecting the either-or fallacy that we must prioritize our planet or prioritize working people. By working together, we can address the climate change crisis and create good, high paying, union jobs that lift up our communities. The RI Building and Construction Trades Council provides a training to our members that uniquely positions them to prepare for renewable energy jobs, while using their existing skills to ensure we rebuild and retrofit in a climate resilient and sustainable way," says Justin Kelley, Business Representative of the Rhode Island Painters and Allied Trades and Climate Jobs RI Steering Committee Member. "We are baking success into the model, by ensuring working folks from diverse backgrounds are able to achieve a career path, through apprenticeship, to build generational wealth, addressing systemic inequities and economic and environmental justice with the shared vision for a better Rhode Island."
The Climate Jobs RI coalition, which includes labor unions, environmental groups, and community organizations across the state, launched in January of 2021 to tackle climate change by creating thousands of good union climate jobs and advancing racial and economic equity. To date, the coalition has launched its "Green and Healthy Schools" campaign aimed at decarbonizing all K-12 public schools by 2030.
The coalition will hold a public panel in March featuring coalition leaders and experts from Cornell University in discussion around the report's findings, recommendations, and Climate Jobs RI's campaign efforts this year. 
---
Climate Jobs Rhode Island is a growing coalition of labor and environmental groups advocating for a just transition to a pro-worker and pro-climate green economy in Rhode Island. Learn more at www.climatejobsri.org.