Introducing Penny and Lucy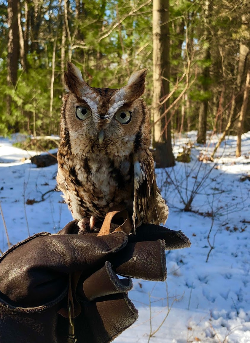 The newest additions to Audubon's animal ambassadors are an Eastern Screech-Owl named Penny whose feathers are the color of her namesake coin and a young Common Raven named Lucy, who was found on the ground last summer at a major road intersection in Connecticut.
Penny also has a wing injury and is being evaluated for a possible vision problem as well. She is getting acclimated to people and the sounds they make by regularly visiting with Audubon staff. Just six inches tall, Penny will be less intimidating to audiences of young children than the much larger Barred and Great Horned Owls, and she will be a useful counterpoint to illustrate the differences between owls of varying sizes.
Less than a year old, Lucy has a wing injury, probably from an impact with a vehicle or structure, and can no longer sustain flight. But she is otherwise healthy and has already made a big impression on her cage-mate Zach. Ravens are highly social animals, so Audubon was hoping to find a second raven to provide company for Zach, although the staff was uncertain if they would get along. They needn't have worried.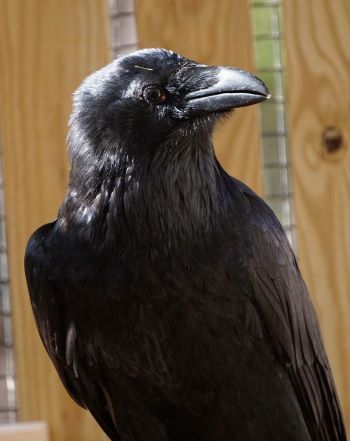 "As soon as we let Lucy in, Zach was so happy. He fell in love on sight. It was amazing," said Parmelee. "Zach is now the
happiest raven in the state. They do all sorts of interesting flirtations – he makes a lot of soft noises to her, and she always
wants to perch right next to him. It's a raven love story with a happy ending."
By summer, Lucy and Penny will have been trained to perch on an educator's glove and be available for public programs; they will not be on permanent exhibit. "The audience for their first programs will be carefully selected so the birds will know they're in a safe situation," Parmelee said.