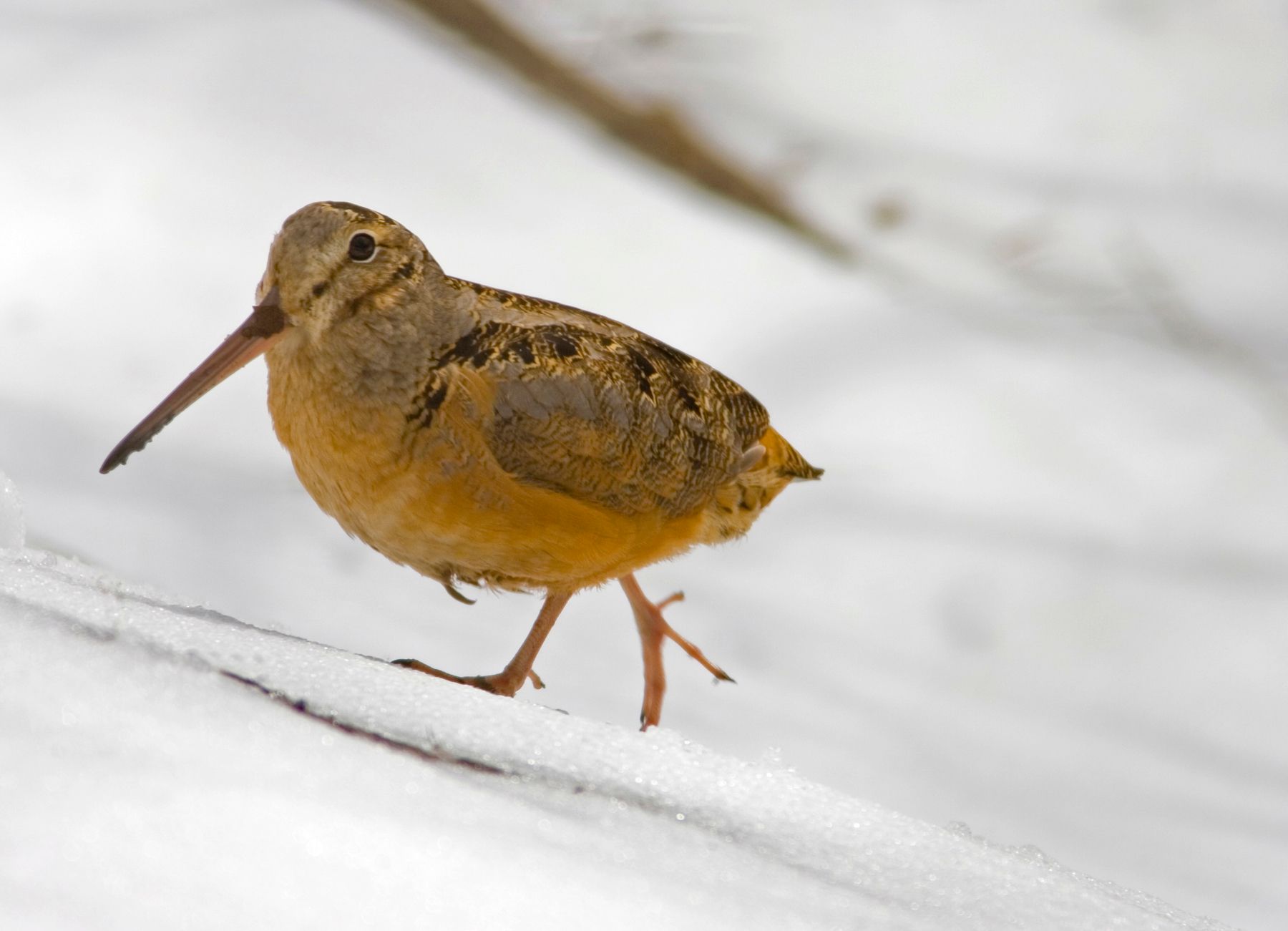 Published March 8, 2019
Updated April 22, 2021
Let's Go Birding | The Amazing American Woodcock
By Laura Carberry
It's almost time to head out and search for one of the strangest shorebirds of New England, the American Woodcock. This peculiar little bird evolved to make its home in dense young forests, not along the coast like many other sandpipers that are in the Scolopacidae family of shorebirds. The Woodcock has a mating ritual like no other and its unique aerial display can only be witnessed in early spring.
The American Woodcock has brown, beige and black feathers that help it camouflage with the leaf litter found in dense young forests. Its eyes are set on top of its head so that it can see above, behind, in front and to the sides, great for detecting predators. It has a long 2.5 inch bill with sensitive nerve endings that probes the soil for worms and insects.
Starting in February and early March, Woodcock will start migrating from their wintering grounds in the southern parts of the United States and make their way back to their hatching territory. Here is where the magic begins. Males will find a clearing near the forest called a singing ground. He will defend it from other males by chasing and cackling at them. At dusk and dawn, the male will begin peenting (vocalizing a nasally buzzing sound) from his territorial spot. After peenting for a minute or two, the male will fly up 200 to 300 feet into the air. He then comes spiraling back down to his spot singing a liquid warbling chuck chip chip as he descends. He will resume peenting once on the ground and start the process all over again. The males often display for about a half hour. He will mate with several females, and the females will seek out the male they feel is the best displayer.
The female often nests within 150 yards of the male's displaying area. He plays no role in the nesting or upbringing of the chicks. She makes a small scrape in the ground where she will lay 4 camouflaged eggs. This is one of the many reasons Audubon does not allow dogs on wildlife refuges. Raccoons, skunks and dogs often find and destroy Woodcock eggs.
After approximately 20 days, the eggs hatch and the chicks are precocial, developed enough to leave the nest after just a few hours. The female will lead them around and defend them, but the chicks can feed themselves after just a few days. The chicks are fully grown and flighted in just four weeks. On average a woodcock only lives 1.8 years, but some have been known to live up to 7 years. Habitat loss, migration and hunting are all obstacles they have to contend with.
In Rhode Island there are many places you can look for Woodcock displaying. Audubon's Parker Woodland, Newman, and Caratunk Wildlife Refuges as well as Trustom Pond and the Great Swamp are just a few spots you can regularly find them. The birds will start displaying March through May. It's a sight to see.