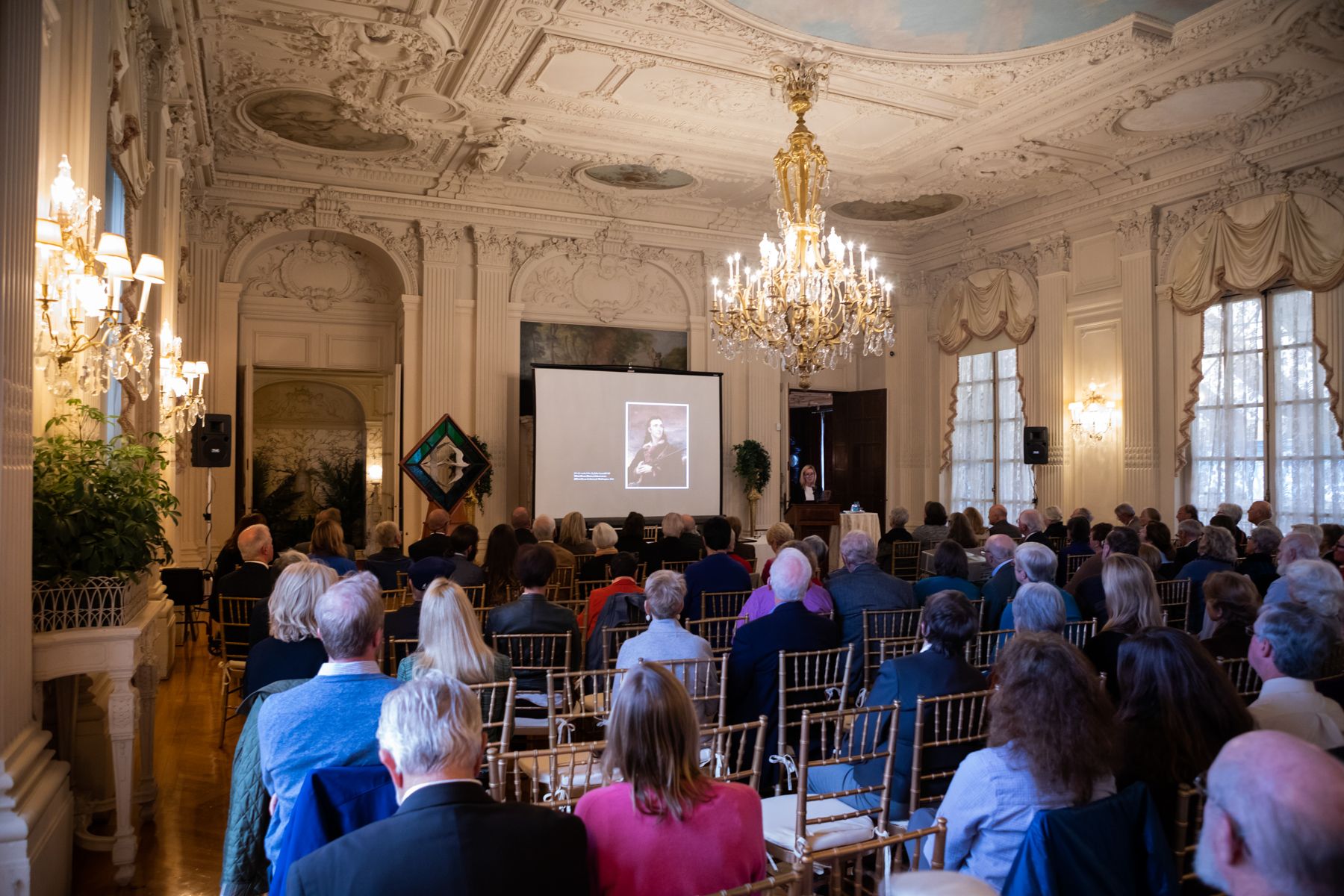 October 21, 2019
Highlights from the 122nd Annual Meeting
The Meeting
The Audubon Society of Rhode Island's Annual Meeting was held on Sunday, October 20, 2019 at Rosecliff Mansion in Newport Rhode Island. Audubon's annual awards for Educator, Legislator and Volunteer of the Year were presented as well as the selection of officers and new members for the 2019-2020 Board of Directors and Council of Advisors.
Ashley Householder, Associate Curator for Exhibitions at The Preservation Society of Newport County, gave a keynote speech on their current exhibition, John James Audubon: Obsession Untamed. Audubon supporters were able to enjoy an exclusive look at the exhibit, which is on display until November 3rd, 2019. The meeting venue was provided by an anonymous donor.
Audubon Announces Record-Breaking Success of the Invincible Audubon Endowment Campaign
We were very pleased to announce the record-breaking success of the Invincible Audubon Endowment Campaign at the Annual Meeting. Invincible Audubon exceeded its original $6 million goal by $1.7 million dollars.
The $7.7 million raised is the organization's largest fundraising effort to date and has nearly doubled the size of Audubon's endowment.
The Invincible Audubon campaign, originally conceived at the end of the 2008-2009 recession, was undertaken to provide financial stability to the conservation organization, regardless of the national or state economic climate. The campaign was officially launched in October 2016.
Endowment funds support Audubon Society of Rhode Island's statewide advocacy program, focusing on protecting wildlife and its habitat, and the stewardship of nearly 10,000 acres of permanently protected land. The funds also support the organization's growing environmental education programs that connect children to nature through high quality, hands-on science programming in classrooms, on wildlife refuges and at the Audubon Nature Center and Aquarium in Bristol.
Cynthia Warren, Audubon's outgoing president, praised the effort of everyone in attendance at the Annual Meeting. "You are nature's true superheroes," she told the gathered Audubon members and supporters. "Your support of the Invincible Audubon campaign has made Audubon a stronger, more resilient organization, ready to take on the myriad of environmental challenges that we, as a community and a state, will face in the coming years."
Lawrence Taft, Audubon's Executive Director said, "I am truly humbled as well as heartened by the generosity of Audubon's donors who stepped up to and gave generously this fundraising challenge. This will give Audubon a stable source of income to help us continue our work of protecting birds and wildlife through conservation, education and advocacy."
Annual Award Recipients
Honored at the Audubon Society of Rhode Island's Annual Meeting on October 20, 2019.
Click each honoree's photo for more information!
Hathaway Elementary School

Educator of the Year

Educators and Administrators at the Hathaway Elementary School in Portsmouth, Rhode Island Receive the Audubon 2019 Educators of the Year Award

The educators and administrators of the Hathaway Elementary School in Portsmouth, Rhode Island have received the Audubon 2019 Educators of the Year Award. They are being honored for their dedication and collaborative efforts to bring environmental education to their students and their ongoing commitment to providing hands-on science and nature experiences in the classroom.

The school's new schoolyard habitat project, created by a collaborative team of Hathaway Elementary School administrators, teachers, students and families is an exemplary model for other schools to follow. A pollinator garden and other plantings are not only beautiful and beneficial for wildlife, but also engage students in science programs and other subjects across the curriculum.  Furthermore, Hathaway School second grade teachers have invited Audubon educators into their classrooms for several years to enhance student learning about nature and the environment. Audubon has also facilitated a number of after school programs at the school.

The Audubon Society applauds the educators and administrators of the Hathaway Elementary School for their dedication to environmental education that creates a greater awareness of the local environment.

---

---

Top Photo: Hathaway Second-grade Teacher Karen Moore accepting the award from Audubon Senior Director of Education Lauren Parmelee at the Audubon Annual Meeting at Rosecliff on October 20, 2019.

Middle and Bottom Photos: The Outdoor Classroom at Hathaway Elementary School.

Senator Dawn Euer and Representative Lauren Carson

Legislators of the Year

Senator Dawn Euer and Representative Lauren Carson Named Audubon 2019 Legislator of the Year

Rhode Island Senator Dawn Euer and Representative Lauren Carson were honored as Legislators of the Year by the Audubon Society of Rhode Island for their dedication to Rhode Island's environment and the protection of birds and wildlife.

Senator Euer, representing District 13 and the towns of Newport and Jamestown, was sworn in to the Rhode Island Senate on September 5, 2017. She is currently the Secretary of the Senate Committee on Environment & Agriculture and a member of the Senate Committee on Judiciary and the Senate Committee on Rules, Government Ethics and Oversight. She is an attorney in private practice at the Law Office of Dawn Euer.  

Audubon particularly acknowledged three of Senator Euer's legislative accomplishments related to flooding and climate change:

Sponsoring the Global Warming Solutions Act (S 658 sponsored by Euer, McCaffrey, Sosnowski, Goodwin, Conley), an Audubon priority that will make the state's greenhouse gas reduction goals mandatory and economy wide.
 
Sponsoring a Real Estate Disclosures bill (S 607 sponsored by Euer) that will require a seller to provide detailed information on the need and cost of flood insurance on the property to prospective buyers.
 
Sponsoring legislation (S 453 sponsored by Euer, McCaffrey) that would require initial, biennial, and continuing education in land use law and planning for local planning, zoning, or historic board and commission members.

Representative Carson, representing District 75 in Newport, currently serves as a member of the House Committee on Small Business. She was first elected in 2014 and is particularly active on issues related to the environment, small business, tourism and government transparency. She has served on the Advisory Board of the Alliance for Livable Newport, the Newport Energy & Environment Commission and the Environmental Council of the Rhode Island Educational Fund Board. 

Audubon particularly acknowledged three of the Representative Carson's accomplishments:

In 2015, she sponsored the creation of two commissions, the first to study the economic impact of sea rise on Rhode Island, and the second to study ways to expand tourism through effective statewide branding efforts. She chaired both commissions' ensuing efforts, sponsoring legislation seeking improved planning for sea-rise-related flooding, and closely monitoring the Commerce Corporation's efforts to revamp statewide tourism promotion. She continues to serve as the chairwoman of the active tourism commission.
 
In 2017, Representative Carson sponsored a law requiring education on flooding and sea rise for local planning board members and creating a unified statewide application process for solar panel permitting.
 
She was a co-sponsor of the legislation that phased out pollution-causing cesspools across the state.

Audubon applauds Senator Euer and Representative Carson for their dedication in supporting legislation that protects Rhode Island's natural resources.

---

Photo from left: Representative Lauren Carson, Audubon Executive Director Larry Taft, Senator Dawn Euer and Audubon Senior Director of Policy Meg Kerr.

Volunteer of the Year

Chepachet Resident Emily Westcott Named Audubon 2019 Volunteer of the Year

Audubon recognized Emily Westcott for her dedication as a volunteer and strong commitment to Audubon.  From monitoring Audubon's less-visited properties, to mapping trails with GPS, and assisting with an upcoming book on Audubon wildlife refuges, Ms. Westcott has taken on a variety of critical behind-the-scenes volunteer roles.

Annual conservation monitoring requires staff or volunteers to hike the boundaries of each property, check for issues such as litter or dumping and document each visit with a report back to Audubon Headquarters.  Ms. Wescott mucked through salt marshes, kayaked to a rocky island full of high-strung herons and cormorants, hiked many miles of beautiful forests, and explored suburban woodlots, sometimes fighting inclement weather. Emily tackled her assignments each week and always asked for more.

 "Property monitoring is a rigorous job," explained Audubon Executive Director Larry Taft. "It is critical that we monitor approximately 9,500 acres of property each year.  Emily has volunteered with enthusiasm and efficiency to help Audubon staff out with an enormous job."

Volunteers form the backbone of Audubon, and the Society applauds Ms. Westcott for her dedication to the Audubon Society of Rhode Island and our environmental mission.

---

Photo from left: Audubon Volunteer of the Year Emily Wescott receives her award from Audubon Executive Director Larry Taft.
Newly Elected Board of Directors
Named to the board of directors of the Audubon Society of Rhode Island's Annual Meeting on October 20, 2019.
Click the photos for their biographies!
Audubon Society of Rhode Island Elects Lincoln Resident Owen Heleen as Board President

Lincoln resident Owen Heleen was elected President of the Board of Directors of the Audubon Society of Rhode Island on October 20, 2019 at the annual meeting of the Society.

Mr. Heleen is currently Vice President, Strategy and Grants at The Providence Center.  He earned a B.A. degree from Johns Hopkins University and a Masters degree in English from Boston University.  Mr. Heleen was formerly the Senior Director of Grantmaking for Blue Cross-Blue Shield of Massachusetts Foundation. Prior to that, he was with the Rhode Island Foundation for eleven years. He also serves on the boards of the PACE Organization of Rhode Island, Continuum Behavioral Health, and TPC Social Ventures.

He has extensive experience working with non-profits striving to change their fiscal or organizational culture. Mr. Heleen has been a member of the Audubon Society of Rhode Island Board of Directors since 2013, previously serving as chair of the Fund Development Committee.

North Kingstown resident Deborah S. Linnell was also elected as Secretary of the Board of Directors.

Ms. Linnell holds a B.A. in English and Philosophy from Wellesley College. She is a nationally recognized expert in nonprofit management and is the lead author of The Executive Director's Guide, published by Third Sector New England.  Linnell is the recent past president of the board of the national publication The Nonprofit Quarterly.  She has worked in the nonprofit sector for 30 years as an executive director, board member, foundation staff, evaluator and capacity builder. She has served on the Audubon Board of Directors since 2012, previously serving as treasurer.

New Board President and Secretary Elected

Audubon Society of Rhode Island Elects Lincoln Resident Owen Heleen as Board President and North Kingstown resident Deborah S. Linnell as Secretary of the Board of Directors.

Pictured: Executive Director Lawrence Taft and Board President Owen Heleen