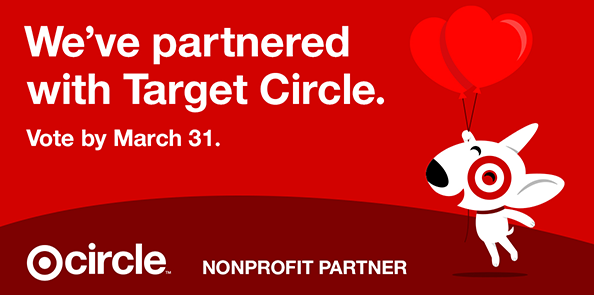 We are honored and excited to announce that we have been chosen to participate in a special charitable giving campaign, sponsored and funded by Target. And you have the chance to help direct a portion of Target's donation to us!
From January 1st - March 31st, 2020​, vote for us through the Target Circle program to help determine how Target's donation will be divvied up. Find out more about Target Circle here: www.target.com/circle.
We're asking our supporters to help us make the most of this incredible opportunity. Every vote counts to help us receive a portion of the available Target funds as we continue our mission to protect birds, other wildlife and their habitat through conservation, education and advocacy for the benefit of people and all living things.

Don't forget, as you earn more votes, you can keep voting multiple times during the campaign!

Thank you for your support, and we encourage you to share your support for us (and your thanks to Target) on social media throughout the duration of the voting!
---
Instructions
Enrolling In Target Circle
Guests can enroll in the Giving Program for free by signing up at target.com/circle​, by downloading the Target App, or via phone number as they check out at their local Target store.
 
Earning Votes
To enable voting, guests earn one vote every time they make a purchase at Target, online and in-store.
To earn a vote on a Target.com or Target App purchase, a Target guest must have joined Target Circle and be signed into their Target.com account when they place their order.
In store, a Target Guest may scan their Wallet barcode in the Target App at the time of purchase, or scan the barcode on their receipt with the Target App within seven (7) days of purchase. You may also enter your mobile telephone number at the time of purchase or pay with the RedCard connected to your Target Circle account.
Some purchases are not eligible to accrue votes. See ​terms and conditions​ for ineligible purchases.

Casting Votes
To cast votes, a Target guest may login to their Target account and follow the prompts and instructions to vote. Nonprofits will display in a list with each organization's name, logo, mission, and website link.
All votes associated with a Target Circle account will expire after one year of inactivity (i.e., no Target Circle earning activity) with Target Circle, unless otherwise messaged to Target Circle users; votes must be cast before they expire. The Voting Period for a particular Giving Program may end prior to the votes expiring; at such time, the votes would roll-over and a Target guest may cast their vote(s) in a subsequent Giving Program.
Target's tally of votes is final. In the event any aspect of Target Circle, including the voting, is disrupted in any way, Target reserves the right to allocate the donation for any affected location in a fair and equitable manner, as determined by Target. All Giving Programs also are subject to overarching Target Circle Terms & Conditions. See terms and conditions of Target Circle ​here​.
---
If you have questions about supporting Audubon through Target Circle, we welcome you to contact Paige Therien at ptherien@asri.org.