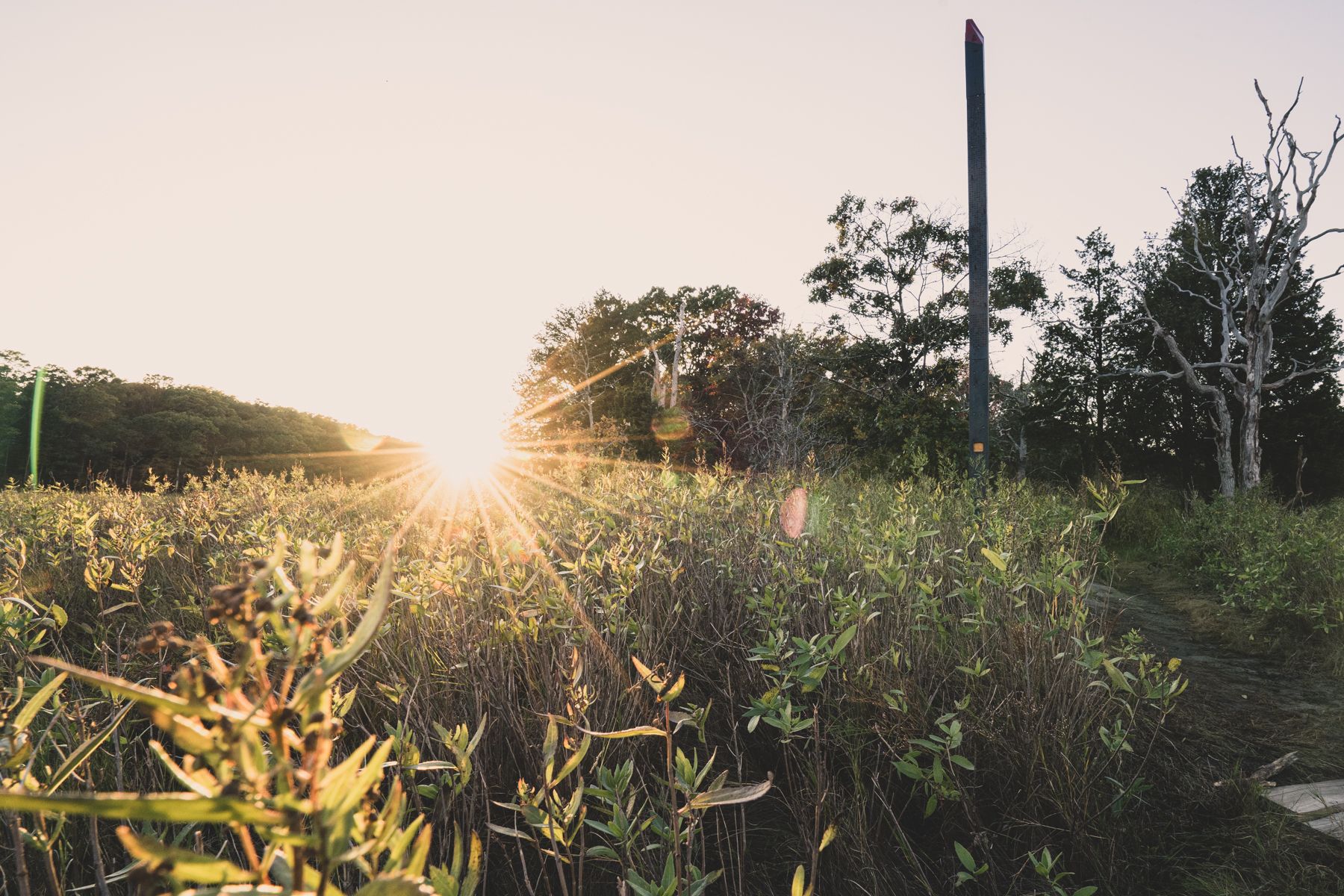 Published February 3, 2020
Art and Awareness
New Ecological Art Installation Depicts the Future of Sea Level Rise
Written by Todd McLeish
An Ecological Art Installation Depicting Future Sea Level Rise Now Shares the Diverse Habitat at Audubon's Touisset Marsh Wildlife Refuge in Warren, Rhode Island.
As visitors traverse trails through hardwood forests, open fields and along a scenic salt marsh at the Audubon Touisset Marsh Wildlife Refuge in Warren, they encounter five twenty-foot tall piers rising out of the ground. A handful of wooden perches for birds protrude from their faces, punctuating lines of circular and oval indents. Etched in Morse code with passages from seminal environmentalists of the 20th Century, the writings on these piers echo the struggles and warnings voiced by prior generations.
A year-long project designed by Leonard Yui, Assistant Professor of Architecture at Roger Williams University (RWU) and facilitated by Audubon Senior Director of Conservation Scott Ruhren, Five Ecological Piers was installed by a team of RWU architecture students and Audubon staff.  While providing opportunities to reflect on messages from the past, the installation also educates visitors on the impacts of climate change. "Audubon has been involved with the project from the beginning," said Ruhren. "We wanted to ensure that the refuge values were enhanced and protected. This art installation fits well into the land-scape, educates on sea level rise, and adds to the visitor experience at Touisset."
The tall piers display expected sea level rise values shared by research organizations like the Coastal Resources Center (CRC) and U.S. Army Corp of Engineers. Visitors with mobile devices such as cell phones and tablets can access educational materials about this installation through QR codes. Resources about climate change, sea level rise, and habitat change will be available in a relatable and accessible manner.
Yui explains that this installation is different from other educational tools available on sea level rise as it connects impacts to a specific location. "Sea level rise oftentimes is studied from kind of an aerial perspec-tive," said Yui. "And there's mass quantities of information. And while that information is definitely important, from an individual perspective, it's really hard to relate to. The strategy with this installation is to have people understand the site first. What is the current ecology of the Tou-isset property and what do visitors enjoy about the site? Then overlay how sea level rise might affect this space."
The Touisset Marsh Wildlife Refuge is one of the Audubon Society of Rhode Island's most scenic properties. Providing a wide variety of diverse habitat, Touisset also borders a saltmarsh that is currently being affected by sea level rise. "This ecological installation is really not about the structure," explains Yui. "It's about helping people to look at the landscape more carefully, and to understand the changes that sea level rise will bring."
Key elements of the installation include:
Reverent Gateways
The tall piers are designed to recognize the forerunners of today's environmental movement: Rachel Carson, John Muir, Marjorie Stoneman Douglas, Wes Jackson, and Aldo Leopold. Their aspirational and cautionary excerpts are etched in Morse code - a language that spanned their generation - and are as relevant today as when they were written. These critical messages, accessible through the QR code on the piers, are intended to stir curiosity and inspire today's digital generation.
Redesigned Lumber
The structures are made from native Eastern White Pine (Pinus strobus) sourced from a local mill. It was cut down for a new development and prepped for architectural use. The wood used in this project has been recycled, adapted and redesigned to include uses for wildlife.
Habitat & Change
The holes and perches on the piers provide habitat for native bird and insect species. The piers also pro-vide information on the ecological differences found in each setting, allowing visitors to view the changes to the piers and the property, especially as climate change influences how this landscape will look in the future.
Sea Level Rise
The piers are designed to display expected sea level rise values shared by research organizations like the Coastal Resources Center (CRC) and the National Oceanic and Atmospheric Administration. Although values can change over time, the trend over recent decades has seen consistent increases, some of which are dramatic. The piers act as measuring devices, inspired by CRC's Teresa Crean, and are situated in various habitats on the refuge that mark expected sea level rise and storm events for the years 2050 and 2100. The physical markers on the piers are in development and will be coordinated with the support of the CRC in the next stage of the project.
QR Codes
QR codes in development will allow visitors with mobile devices such as cell phones and tablets to access digital information and educational materials about this art installation. Designed to serve cur-rent and future generations, resources about climate change, sea level rise, and habitat change will be available in a relatable and accessible manner.
The trails at Touisset Marsh Wildlife Refuge lead visitors through forest, fields and provide stunning views of saltmarsh habitat and the Kickemuit River. Fields of flowers attract butterflies in the summer months, and the flat terrain brings cross-country skiers in winter. While an ideal destination for families and those looking for an easy, peaceful walk, Touisset Marsh also plays a critical role in protecting the coast from storms and rising tides. This property will become even more valuable as sea levels rise and extreme weather events become more frequent.  It is an ideal location to reflect on the past, enjoy the present, and increase one's understanding of what the future will hold.
Visit the Five Ecological Piers at Audubon's Touisset Marsh Wildlife Refuge, 99 Touisset Road, Warren, RI.
For more information visit: asri.org/5-piers-touisset.html
---
Thanks to the Touisset Fire Company, Station 6!
As architecture students and Audubon staff installed the piers, they would leave the refuge covered in soil and cement dust. Touisset Fire Company, Station 6 (TFC) Chief Jim Sousa and company members allowed staff and students the use of their facilities to clean up before hitting the road. TFC has always been a good neighbor at Touisset, and Audubon extends thanks for their assistance during this installation.