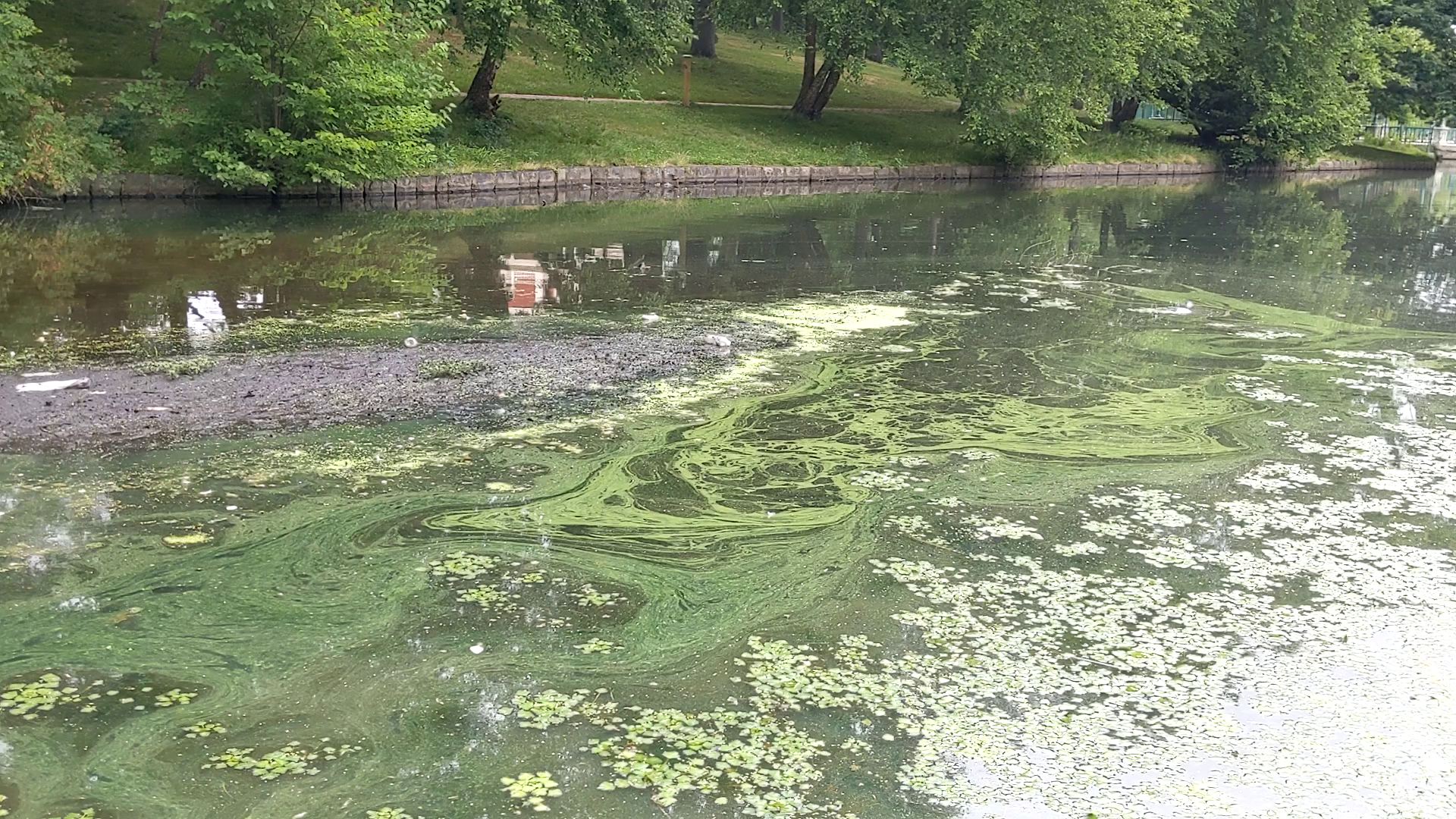 Algal bloom in Roosevelt Lake in Roger Williams Park, July 2020.
Published September 1, 2020
Restoring Balance to Urban Natural Environments
through the Providence Stormwater Innovation Center
By Ryan Kopp, Stormwater Coordinator
While the word 'urban' may bring to mind skyscrapers and crowded streets, our cities also contain parks and natural areas that often include bodies of water like those in Roger Williams Park. In large cities much of the natural soil, grasses and plants have been replaced with concrete, asphalt and rooftops. When it rains, the water cannot soak into these hard surfaces, and instead flows into gutters and storm drains. Urban natural environments face unique hazards and are often impaired due to excessive levels of contaminants from stormwater, such as bacteria, oil, litter, fertilizer and pet waste. These in turn provide an easy food source for algae, which can take over a water body and reduce the oxygen that is necessary for the survival of plants, fish and other species.
Stormwater not only brings contaminants from roads and rooftops, but it also dumps dirt, sand and silt into waterways. These also contribute to urban pollution as they slowly fill ponds and streams. Shallow ponds heat up much quicker than deep ones, and in turn, the higher temperatures promote more algae growth.
This is where green stormwater infrastructure can help. It is specifically designed to divert stormwater out of the gutter and into a system that uses the natural filtering capabilities of soils and plants to improve water quality. There are now over 40 green stormwater structures in Roger Williams Park.
How do they work?
An infiltration basin is one such structure that has been built to contain stormwater and beautify the park. It is designed to allow sediment to drop out of stormwater and deposit on the floor of a constructed forebay, instead of on the bottom of a pond. A maintenance crew will remove the debris after a storm. When enough runoff fills the forebay to flow over the top of a small rock damn, called a weir, the water that has been filtered of sediment then flows into the final line of defense, a stormwater structure called an infiltration basin. The remaining stormwater is slowly absorbed into the ground, removing contaminates from the water.

This one stormwater element is designed to decrease phosphorous concentrations by 90 percent! There are many other green infrastructure models to be seen at the Providence Stormwater Innovation Center. Audubon is working with The Nature Conservancy and the City of Providence on creating a learning and training center focused on nature based solutions at Roger Williams Park.

Located near the Seal House in Roger Williams Park, stormwater runoff is directed to flow into this infiltration basin. The first part of the structure, the cobblestone-like forebay, is a landing spot for the runoff to slow down and temporarily pool up.
The dam-like structure that stops the water and allows the sediment to drop is known as a weir.

An infiltration basin is a shallow basin of modified soils and native grasses where stormwater remains for 24 to 48 hours after flowing over the weir. It is slowly absorbed into the ground, removing contaminates from the water.
Look for more information in upcoming issues of the Report or visit www.stormwaterinnovation.org. If you're interested in taking a tour, please contact Ryan Kopp at rkopp@asri.org.