The Faces of Audubon in the Field
Once each week, Audubon's six-person conservation staff gets together for a work day at one of the refuges. Sometimes trail maintenance is on the agenda, or clearing trees damaged in a storm, or preparing refuge buildings for winter, or even grading a gravel parking lot. During the rest of the week, their responsibilities are even more varied. 
Visitors who view the conservation staff as the face of Audubon should not be surprised to find them mowing grass, repairing kiosks, building boardwalks or doing innumerable other tasks that some may not consider conservation work. But while they are happy to answer questions, identify plants and do whatever else may be necessary to help visitors enjoy their experience on the property, there is always more to do. 
"Conservation work isn't always glamorous; it's not like the traditional park ranger," said Scott Ruhren, Audubon's senior director of conservation. "One of the things that makes us especially complex is that we own a lot of buildings, which require upgrades, repairs and sometimes landlord-type duties."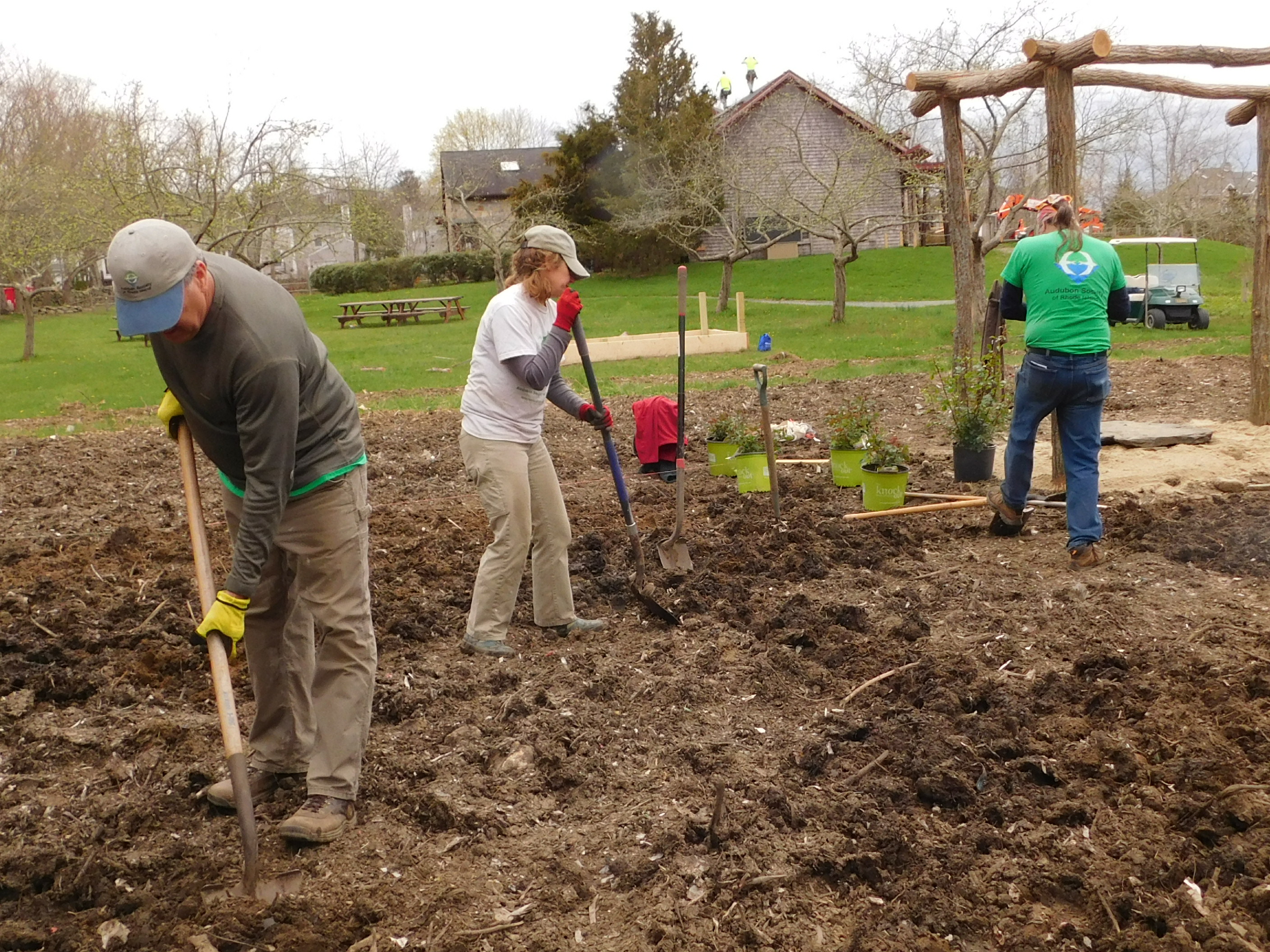 Mike Cavaliere is the resident caretaker at Eppley in West Kingston, for instance, but he is a jack-of-all-trades and can be found doing repairs of one sort or another at any of Audubon's refuges. Laura Carberry is the resident refuge manager at Fisherville Brook in Exeter and an expert birder, so she leads the Wednesday Morning Bird Walk somewhere around the state, teaches birding classes, and conducts bird surveys at a wide variety of Audubon properties. 
Ruhren said that the entire conservation staff floats from property to property, depending on what needs to be done. They lead public events at their designated properties, and they all pitch in at major Audubon events, from Raptor Weekend to Party for the Peregrines. Some, like Kim Calcagno, the refuge manager at the Fort and Powder Mill Ledges refuges, often lead scout programs or bring animals to church groups or nursing homes for nature presentations. 
"I'm really impressed with the varied skills that the staff has," Ruhren said. "And they've developed some unexpected skills as well." 
While Joe Metzen's primary role is facility maintenance at the Maxwell Mays refuge in Coventry, he has taken it upon himself to learn mushroom identification, making him Audubon's number one fungi guy. And although Cavaliere mostly manages properties and equipment, his passion is reptiles and amphibians, which led him to launch a study of vernal pools on Audubon properties. 
"We encourage them to develop their passions, which provides motivation and ensures they're not always doing the same thing every day," Ruhren said. "It's not expected of them, but we encourage it."
"Effective conservation is a balance of science and society." - Scott Ruhren

Scott Ruhren

Senior Director of Conservation

Hiking the trails with Scott Ruhren is like having a walking botany textbook with you. He makes the study of plants fascinating and adds plenty of humorous anecdotes when he is leading programs, giving property tours or talking with the media.

As Senior Director of Conservation, Scott has been at Audubon for 13 years and is responsible for overseeing almost 9,500 acres of Audubon property across the state as well as managing the conservation crew, special projects, partnerships and collaborations with students, interns and other environmental organizations. He holds a masters degree in Botany from University of Maryland and a PhD in Ecology & Evolution from Rutgers University. Scott also has extensive training in rare species biology, habitat management and restoration.

With so many hours in the field, he likes to stress how sometimes the most unexpected things can happen in the most common of places, like how he spotted a rare RI butterfly, the hackberry emperor, in the parking area at Davis Wildlife Refuge after a kayak paddle.

If you happen to meet him on the trails, listen to his tips and guidance on the special flora and fauna that the refuges hold. He has a way of making the ordinary plants along the way seem simply extraordinary.

"Conservation is a rewarding field with opportunities for people with different skill sets. It is not just "hugging tress," but is the field of managing natural resources...for the immediate and long-term." - Jon Scoones

Jonathan Scoones

Refuge Manager at Caratunk Wildlife Refuge

While Jon has been at Audubon for over 7 years, he is the new face of Caratunk. Managing one of Audubon's most popular wildlife refuges involves long hours and creative problem solving. Whether it is rescuing injured birds, repairing an old culvert or keeping 15 third-graders engaged on a cold winter hike.

He explained that the best part of his job is seeing visitors get excited about nature. A favorite experience was with young children on a recent salamander hike, watching their faces light up as four different species of salamanders were found. Jon holds a degree in environmental studies from Connecticut College and a graduate degree from Syracuse University. He is thrilled to be in a job where he can pass along his knowledge and enthusiasm for nature to others.

"We are plumbers, carpenters, foresters, landscapers, birders, scientists, and naturalists. We do it all and most of it is behind the scenes." - Laura Carberry

Laura Carberry

Refuge Manager at Fisherville Brook Wildlife Refuge, Birding Expert

It's not surprising that her favorite Audubon property to visit is Lewis Dicken's Farm on Block Island, as she explains how watching the falcons flying over the bluffs can be magical. Laura Carberry is one of the best-known and respected birding experts in the State, leading the popular Wednesday Morning Bird Walks, Block Island Birding Weekend, as well as many other programs throughout the year.

But that is only part of her job. She holds a chainsaw as comfortably as a pair of binoculars and spends a great deal of time on a tractor in the fields as well. In fact, part of the reason she enjoys her job is the variety that everyday brings. From a very young age she had an insatiable curiosity for nature, which inspired her to pursue a degree in wildlife biology and conservation from URI.

Laura has been with Audubon for over 22 years and has brought her knowledge, skills and love of nature to thousands of people across Rhode Island.

Joe Metzen

Property Manager at Maxwell Mays and Parker Woodland Wildlife Refuges, Mushroom Expert

If you ask anyone at Audubon, Joe Metzen is the "mushroom guy." If you walk with him in fall, you will understand why. Autumn is his favorite season for the diversity of fungi that can be found. He points out species large and small, poisonous and edible, colorful and camouflaged. He has been with Audubon over 18 years, and his mushroom programs are some of the most popular that Audubon offers.

While Joe primarily manages the Maxwell Mays and Parker Woodland Wildlife Refuges, his favorite place to hike or work is the Emilie Ruecker Wildlife Refuge in Tiverton. The diversity of habitats there is a draw to staff and visitors alike. Like all the conservation staff, he is pulled into projects as needed, in all seasons and in all types of weather. Joe is also known for his woodworking, which is put to good use maintaining buildings, kiosks and signs for Audubon.

"One day during a program in the meadow, a child picked a praying mantis egg mass or ootheca. Soon another child found one – then another and another. We realized that the whole meadow was flush with mantis egg cases. We talked about how thousands of baby mantises would hatch in the spring. Sometimes it's hard to get humans excited about invertebrates, but when it happens so effortlessly, it is singularly joyful for me." – Kim Calcagno

Kim Calcagno

Refuge Manager at Powder Mill Ledges and Fort Wildlife Refuge

What do I do with the baby rabbits in my yard? Can I deter that woodpecker on my house?

Hundreds of calls like these are directed to Kim Calcagno each year at Powder Mill Ledges. In addition, she deals almost daily with visitors inquiring about natural specimens, wildlife sightings or trail inquiries. Not only are her naturalist skills second to none, she is also an expert costume designer. Have you seen Audubon costumed characters at events? Those are Kim's handiwork.

Kim has been with Audubon for 14 years, and like the other members of the conservation staff, her job varies from day to day. From leading programs, overseeing repairs at headquarters, caring for our live birds, and discussing wildlife on talk radio, her time management skills and knowledge of nature are put to the test.

She holds undergraduate degrees from Tufts University in biology and environmental studies and a master's degree from Antioch University.

Mike Cavaliere

Property Management at Eppley Wildlife Refuge and all other Audubon Conservation Areas

He can be found at any of the Audubon wildlife refuges, always with a smile and usually handling tools or operating equipment. Mike Cavaliere has been with Audubon for two years and he monitors conditions on all Audubon conservation land, that's approximately 9,500 acres across the state. Like all conservation staff, he is out in all weather conditions, handing everything from removing fallen trees to building boardwalks and repairing equipment. The quiet Newman Refuge in Glocester and Smithfield is his favorite place to work, as that is the rural community where he grew up.

Mike comes to Audubon with 10 years of RI DEM management area ranger experience and he is working on a degree from URI in wildlife conservation biology. He has a passion for conservation and is also an enthusiastic herpetologist (one who studies reptiles and amphibians.) Mike was thrilled to find box turtles thriving at the Eppley Wildlife Refuge.