Published March 13, 2020
Updated December 15, 2020
COVID-19 Updates
The Audubon Wildlife Refuges are open from dawn till dusk daily! Review our trail safety guidelines before your hike.
December 15, 2020 UPDATE:
The Audubon Nature Center and Aquarium is open Thursday - Sunday from 9:30 am - 4 pm (trails and grounds are open from dawn-dusk.)

All indoor Public Nature Programs and Wednesday Morning Bird Walks are canceled (or postponed) for the remainder of December 2020. Please check the events calendar at asri.org/calendar for up-to-date program listings!
Actions We Are Taking in Response to COVID-19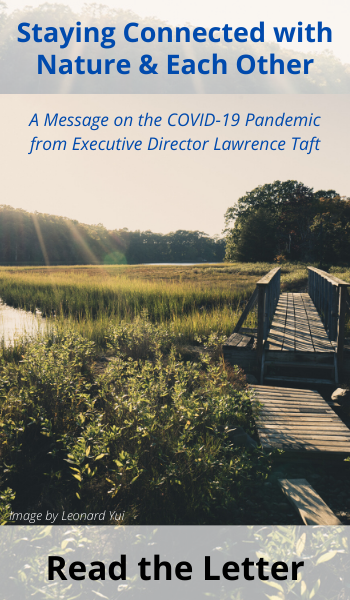 The Audubon Society of Rhode Island is actively monitoring the COVID-19 situation for the safety of our visitors, members, staff, volunteers and community.
As of this time, all Audubon nature trails are open for visitation. Because of the physical and mental benefits of nature, we encourage guests to spend time outdoors and welcome them to visit our wildlife refuges in the weeks to come. Please review our trail safety guidelines before your visit.
 
The Audubon Nature Center and Aquarium is open to the public Thursdays - Sundays, 9:30 am - 4 pm. Learn more about capacity-based entry at the Center. All other Audubon facilities are closed to the public until further notice. Please check back here before you plan a visit to our facilities.
 
12/15/20 UPDATE: Indoor public Nature Programs have been canceled for the remainder of December due to recent COVID-19 guidelines. | Our program calendar will be updated as needed to reflect notices or any further cancellations. If you have any questions about specific events or programs, please contact our office at (401) 949-5454. See below for safety guidelines for program participants.
 
Please stay tuned for 2021 information on Audubon Summer Camp and the Youth Conservation League (YCL)!
Audubon has implemented the following procedures and protocols:
If you have signed up for a program that has been canceled, we can either issue you a gift card to use for future programs or refund your registration fee. You may also make the choice to convert your fee into a donation. This would help us to weather any economic fallout of the virus. Please contact Michelle Solis at (401) 949-5454 ext. 3014.
 
12/15/20 UPDATE: Indoor public Nature Programs have been canceled for the remainder of December due to recent COVID-19 guidelines. | Public Nature Program safety guidelines (Programs to resume January 1st): We will be following CDC guidelines for all programming. Register in advance as programs will have limited attendance to a maximum of 9 people per program, plus the leader. For the courtesy and safety of others, all participants must be mindful of social distancing guidelines and will be required to wear a face-covering during both indoor and outdoor programs. Any registrant not in compliance will be asked to leave the program and will not receive a refund.
 
We ask that visitors to our wildlife refuges follow the guidelines set by the State of Rhode Island for the safe use of parks and open spaces during the COVID-19 public health crisis. Please review our trail guidelines before your visit.
 
All staff members have received recommendations on how to stay healthy and prevent the spread of infection through proper handwashing and social distancing. Staff members will be working remotely as much as possible.
 
We continue to evaluate all measures in response to available information from the Rhode Island Department of Health. We are ready to revise our response and protocols as needed. To stay up-to-date, please check back here (asri.org/covid19); follow us on Facebook, Twitter and Instagram; or join our email list.
Our thoughts are with all those affected by COVID-19.
In this time of uncertainty, walks in nature can provide a much needed source of stress relief. Audubon encourages the public to use the outdoor trails at the Nature Center and Aquarium, as well as trails on all of Audubon's other public wildlife refuges across the state. For a listing of wildlife refuges and trail maps, visit www.asri.org/hike.
Stay Safe,

Lawrence J. F. Taft
Executive Director