Published April 13, 2022
The Future of 111 Westminster: Home of the Providence Peregrine Falcons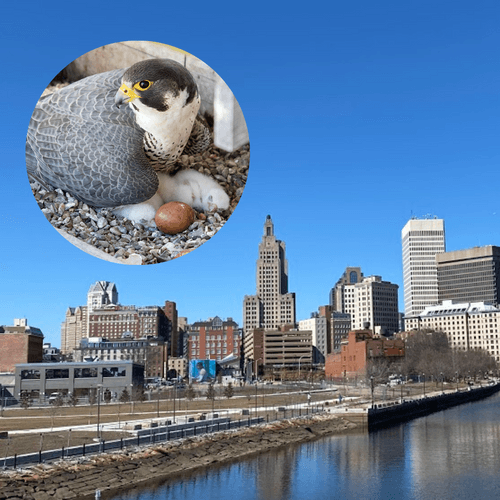 On April 12, 2022, Governor McKee and state and local leaders announced historic plans for the rehabilitation of Providence's Industrial Trust ("Superman") Building into residential units (20% of which will be affordable housing.) This is exciting news for the community and this iconic piece of the Rhode Island capitol's skyline.
If you follow us here at the Audubon Society of Rhode Island, you're probably also aware that this building is the home of the Providence Peregrine Falcons, which are live-streamed each spring thanks to a partnership between Audubon and the building owner, High Rock Development.  
So what will happen to these Peregrine Falcons and the Audubon livestream? Audubon has been assured by High Rock Development spokesman William Fischer that the nest box of the Peregrine Falcons "will be respected and they will not be disturbed in any way shape or form." Audubon will also be able to maintain our access to the camera system.
Audubon installed our camera and the nest box in 2010 and the Industrial Trust building was not fully vacated until 2013. It will be exciting to have vitality back in this historic building, as it did when we first formed our partnership.
Audubon would like to thank High Rock Development for allowing Audubon access to the building all these years - and for many years to come. Each year, this partnership allows tens of thousands of viewers, from all over the country, to witness these incredible birds' nesting cycles, inspiring the respect and care of our local wildlife species and their habitats.
Watch the Providence Peregrines LIVE from atop 111 Westminster: asri.org/view/peregrine-cam.html