Published April 30, 2019
Migrants are on the move!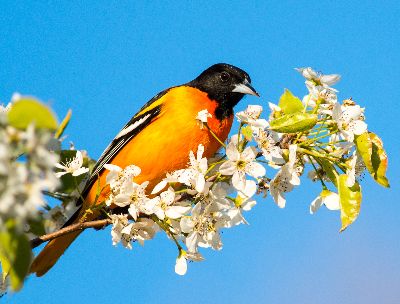 Birders throughout New England are eagerly pulling out their binoculars, hitting the trails and keeping daily records of what birds they spot. Why all the excitement? This is peak time for spring migration in New England and those brightly colored Yellow Warblers, Baltimore Orioles, Scarlet Tanagers, Rose-breasted Grosbeaks and other avian beauties are arriving daily.
North America has over 650 species of breeding birds and more than half migrate each year. That's a lot of birds!
Why do birds migrate?
Migrating birds are primarily looking for food and nesting locations.
In spring, birds that nest in the Northern Hemisphere tend to migrate north for the abundance of emerging insects, budding plants, seeds and the availability of nesting habitat. As the populations of insects and other food sources drops off in the fall, many species turn around and move south again. Although many believe that cold temperatures are what drive the birds to migrate, more often they are in need of food sources. If you only eat bugs, New England is not the place to be in December!
Here in Rhode Island, not only are we welcoming many migrating birds this time of year, but we are also watching others depart for their far northern nesting habitats, such as Harlequin Ducks, Common Goldeneyes, Bufflehead and Snowy Owls.
Although it is not completely understood, ornithologists and other scientists tell us that bird migration can be triggered by a combination of things: food supply, day length, temperature and the genetic makeup of a species can all play a roll.
"Bird migration is one of nature's most fascinating phenomena," said Audubon Senior Director of Education Lauren Parmelee. "Now that it's spring, birders are waiting and watching to catch sight of the first of each species as it arrives. The blackbirds, American Woodcock, Osprey and Great Egrets have returned and more are on their way. At the same time we are saying goodbye to the scoters, mergansers and loons who are moving north to nest."
How Far do They Travel?
Not all birds travel the same distance during migration, and here in New England we have many species like the Northern Cardinal that endure the winter weather and are permanent residents. Others may travel through only a few states to reach more stable food sources, and then there are species that travel long distances and winter in Central and South America. While food may be the primary goal for short-distance migration, long-distance patterns are more complex and scientists believe these to be controlled at least partially by the genetics of the various species.
Join the Audubon experts and discover birding during the most popular time of year!

Upcoming Birding Programs at Audubon
Free May Bird Walks
Locations around the state
May is the peak month for the spring bird migration, with something different moving through each week. Get in on the best birding of the year with Audubon! Walks are geared for teen to adult. Novice birders are welcome.
 
Bird Banding
Audubon Nature Center and Aquarium
May 18, June 29, July 20 & August 17, 2019; 9:30 – 11:30 am
Join Audubon for a bird banding demonstration. Birds will be gently removed from tall "mist nets" set in Audubon's shrubby habitats. The techniques of identifying, measuring, weighing, and banding the birds will be demonstrated before they are released. The migratory habits and life history of each captured species will be discussed. Bring a camera and binoculars. Programs are limited to 15 participants, please register early.  
Audubon Nature Center and Aquarium, 1401 Hope Street, Bristol, RI; May 18, 2019; 9:30 – 11:30 am; Fee: $8/member adult, $4/member child; $12/non-member adult, $6/non-member child. Ages: 6 and up.
 
Bluebird Walk
Caratunk Wildife Refuge
May 26, 2019; 9:00-11:00 am
Come to Caratunk and learn all about beautiful Eastern Bluebirds. Discover their natural history, learn how to identify them and more. Head out to the fields to watch them in action and check out their homes and neighbors. Bluebird boxes will be available for sale. Please dress appropriately for the weather and bring binoculars.

Caratunk Wildlife Refuge, 301 Brown Avenue, Seekonk, MA; May 26, 2019; 9:00-11:00 am; Fee: $8/member adult/child pair, $4 additional member; $10/non-member adult/child pair, $5/additional non-member.  Ages: 10 and up.

Birds and Boats: Kayak Paddle
Westerly, RI
June 6, 2019; 10:00 am – 3:00 pm
Join expert guides from the Audubon Society of Rhode Island and the Wood-Pawcatuck Water Association for a guided kayak tour of the beautiful Pawcatuck River. Travel 7.5 miles down river in search of songbirds, Osprey and herons. Boats and gear are provided. Please bring lunch, snacks, water, sunscreen, binoculars and bug screen. This program is limited to 8 participants; advance registration is required. Rain date is June 7, 2019.
Departs from DEM Boating Ramp, Post Office Lane, Westerly, RI; Fee: $100/person. Ages: 11 and up. Register here.

Twilight River Cruise Aboard the Explorer
East Providence, RI
June 14, 2019; 7:00 – 8:00 pm
Join an Audubon naturalist aboard the Blackstone Valley's Explorer for a relaxing evening cruise along the beautiful and historic Blackstone River. Sit back and gaze out over the river and watch for birds and other wildlife. The Explorer is a covered boat and will go out rain or shine. Co-sponsored with the Blackstone Valley Tourism Council.
Departs from Al's Waterfront Restaurant, 28 Water Street, East Providence, RI; Fee: $12/member; $15/ non-member. Ages: 7 and up. Register here.
Birding Connecticut Hot Spots with Audubon
June 20, 2019; 7:30 am – 5:00 pm
Join Audubon and explore a large diversity of habitats in nearby Connecticut — forest roads, open fields, a fish hatchery, ponds, and more. How many species can be found? Last year Cerulean Warblers and Sedge Wrens were spotted. Audubon volunteer Don Heitzmann will lead a day of birding and exploration. Bring lunch, water, snacks and binoculars. Trip will be cancelled in case of bad weather.
Departs from Powder Mill Ledges Wildlife Refuge, 12 Sanderson Road, Smithfield, RI; Fee: $50/member; $60/non-member. Ages: Teen to Adult. Register here.

Past Events
Spring Warbler Workshop
This two-part class combines a warbler identification workshop at Fisherville Brook with a field visit to Rome Point. Join Audubon birding expert Laura Carberry for a presentation on how to identify spring warblers that visit Rhode Island then take those skills out into the field and view the birds wintering in our area. Please bring binoculars and dress for the weather.
Fisherville Brook Wildlife Refuge,  Pardon Joslin Road, Exeter, RI; May 2, 2019; 6:30-7:30 pm & Rome Point, John H. Chaffee Nature Preserve, North Kingstown, RI; May 4, 2019; 8:00 – 10:00 am. Fee: $30/member; $40/non-member. Ages: 16 and up.
Warblers at Mt. Auburn Cemetery
Spring migration is the best time to visit the beautiful Mount Auburn Cemetery in Cambridge, Massachusetts. The cemetery is a green oasis in the middle of the greater-Boston urban environment, and is known as a great spot to see a wide variety of migrants.  Join Audubon volunteer Don Heitzmann and spend the day walking the paths, exploring the trees and shrubs, looking for both common and rare species. Dress for the weather, bring optics and a lunch. The warblers get up early, so we will be starting early too!

Departs from Powder Mill Ledges Wildlife Refuge, 12 Sanderson Road, Smithfield, RI; May 12, 2019; 6:30 am-4:30 pm; Program Fee: $70/member; $80/non-member. Ages: Teen to Adult.