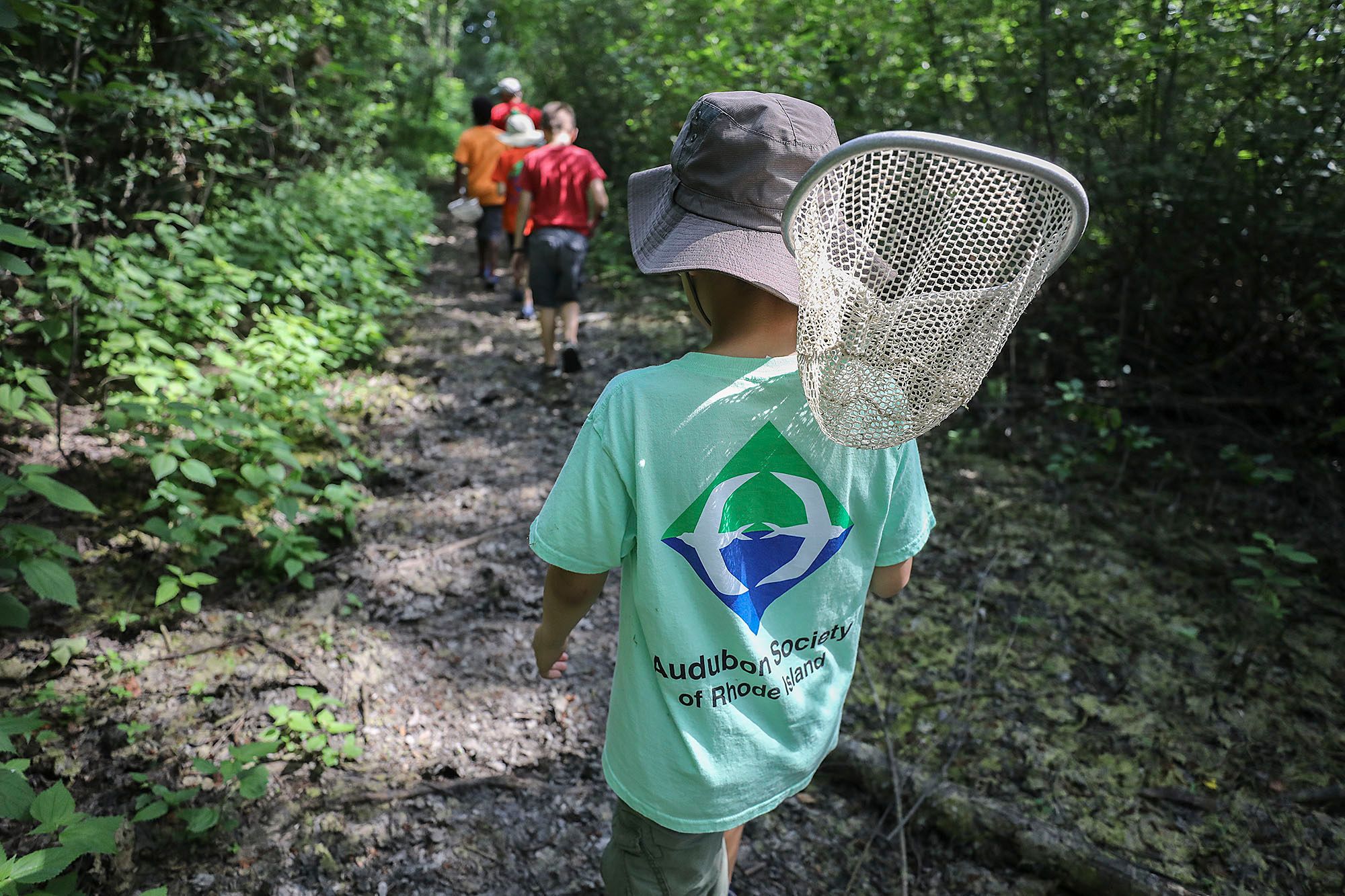 Image by Glenn Osmundson 
August 16, 2019 
Summer Camp at Caratunk
A Time Honored Tradition
The excited voices of children making discoveries around Muskrat Pond is a sure sign that summer camp season is in full swing at the Caratunk Wildlife Refuge. Clothing spotted with droplets of pond water and dip nets containing newly-captured tadpoles, frogs or crayfish means the daily field trip was another success.
This summer, Joe Koger teaches about the painted turtle, a species that thrives at Caratunk.

Caratunk's summer camps are among Audubon's most popular programs. According to instructor Joe Koger, the camps are nearly always filled to capacity because they provide children of all ages with an opportunity to have fun and learn about nature with no technology required.

"It's not competitive. We teach them how to collect animals and release them, how to use recyclable materials for crafts, and we show them what to touch, what not to touch, what can be eaten, and to learn respect for nature," said Koger, a science teacher in the Bristol Warren Regional School District. "Most of our campers come back year after year."

He should know. Koger has worked at the Caratunk summer camps every year since they started in 1982 when he was still in college.
"I was an environmental education major, so I've always had an interest in birds and nature, and I like the idea of educating the public about the environment," he said. 
Caratunk's camps follow age-based themes – focusing on fledglings for the youngest children who attend for half days, up to naturalists-in-training as teens. In between there are camps about birds, nature art, animal homes, wildlife metamorphosis, who's eating who, wilderness skills and more.
During a typical day, children begin with a warm-up activity related to the theme of the day, then a lesson about what to expect in the upcoming field trip. The trip outside allows the children to catch and release various species of wildlife, then they play some games or have free time, and the day ends with crafts or other activities. Teen programs focus on a different habitat each day. 

"This was my work-study job in college, and I never left," Koger said. "It makes my summer complete. I just love it. And so do the kids."

Koger presenting a Barred Owl to campers in the 1980's.
---
More like this...
August 1, 2019 | Renovation and restoration at Audubon Society of Rhode Island's Seekonk, MA Caratunk Wildlife Refuge brings renewal to this hiking hotspot.

From the white barn to the meandering trails and crystal-clear brooks, the Caratunk Wildlife Refuge is a place frequented by nature enthusiats and wildlife alike. With nearly 200 acres of fields, forests, streams, and ponds, Caratunk offers miles of well-marked trails is one of Audubon's most popular properties.